Tim Minchin: It's absurd to question the power of theatre to tell important political stories
Comedian and musician Tim Minchin said it is "absurd" to question the power of artists to provide political and social comment.
The Australian star said all forms of art play a crucial role in sharing stories, no matter what the subject matter is.
His comments came as his own London production, Groundhog Day, based on the 1993 Bill Murray film, scooped the prize for best new musical at the Olivier Awards on Sunday evening.
"I think the arts do have a responsibility to tell real stories," he said.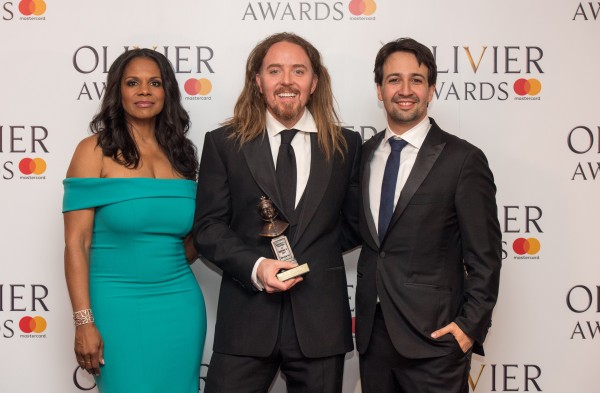 "There is no point trying to define what art is for, but when people say things like 'you're just a musician, shut up', or 'you're just a liberal snowflake, what do you know?' I wonder, how do these people not understand that art and intent, art and political voice, art and social activism are the same thing?
"It's absurd to think that art shouldn't be allowed to speak."
A self-taught pianist from Perth, Tim, 41, is known both for his satirical songs and musical stand-up, as well as composing the hit stage version of Roald Dahl's children's story, Matilda.
As the event celebrated the latest productions ranging from smash hit Harry Potter And The Cursed Child to Don Giovanni, the father-of-two praised the variety of British theatre and echoed the call to support budding artists.
"We need to keep writing original stuff, which means we need to keep supporting the arts," he continued.
"I don't know if more musical theatre composing is the answer, but what I do know is that you have to be brave.
"Shows like Hamilton and The Book Of Mormon are teaching audiences that musicals aren't just one thing, they can have hip hop numbers sung by an entirely black cast or songs about swearing to God.
"Theatre in London is brilliant and beautiful, it's a community and, whether you are doing a huge commercial piece that you have had to remortgage your house to create or a small independent show, it's all about getting good thorough ideas out to the world."
Keeping to his lifetime passion that saw him start writing theatre scores from the age of 16, Tim said he was already working towards some possible fresh projects.
He said: "I've got a couple of ideas but I want to try and avoid doing a film-to-stage show next."