Brides get 'hitched' thanks to police escort to wedding venue
Two brides had a wedding to remember when they were given a lift to the service by police after their coach broke down.
Jemma, 35, and 36-year-old Sian Batchelor-Thomas were travelling from Shirrell Heath, Hampshire, when the coach carrying them and 20 guests broke down near to Hedge End.
As the couple started to panic that they would miss their time-slot for the service, a friend managed to wave down a police car and the officers offered to drive the brides to the service at Westgate Hall in Southampton.
Jemma, a youth worker, said: "We announced to our guests that we had broken down and they immediately thought we were joking, 'Pull the other one, yeah sure we've broken down'.
"We were like 'No, honestly we have' and I started to panic and my now-wife was very calm, she's a nurse and used to dealing with crisis situations and we all got off the coach."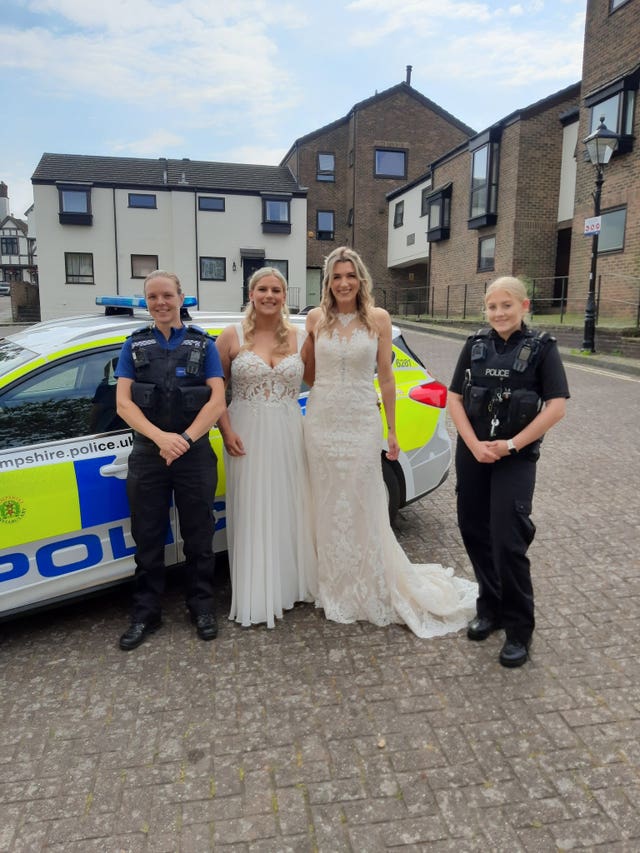 She said that all the family members started to arrange taxis and for friends to pick them up but they were running out of time to get to the service in time.
She continued: "The police were just passing by and one of our close friends stopped them and said "Would you possibly be able to take two brides to their wedding?'
"They said 'Yeah ok then, we will help you guys out', so everyone else was waiting for Ubers and lifts.
"A couple called Mark and Tash, they very kindly offered to take the witnesses and Sian's mum just out of the kindness of their heart.
"And everyone did manage to get there in time, just."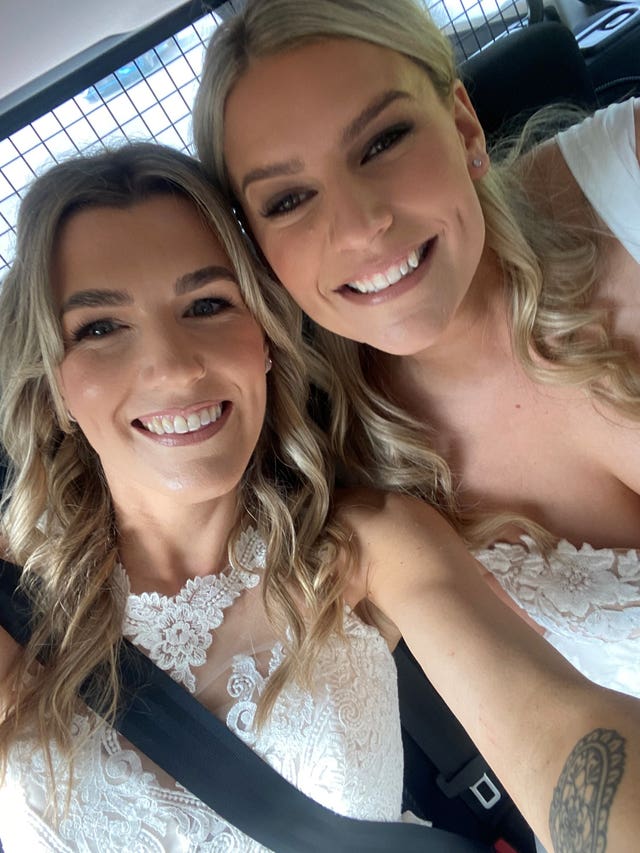 She added: "It really was amazing, we really didn't expect them to be so open to transporting but they were really lovely, really professional, kept us calm.
"We had a really pleasant experience but just not the one we hoped for. It's a bit different to what we expected."
PCSO Rachel Barry and PC Lucy Stoneley of the Hedge End Neighbourhood Policing Team, posted on Facebook: "We wish them all the best for a very happy future together and are very happy that we could be there to help."