Giant inflatable ducks make waves in Hong Kong
Two giant inflatable ducks have made a splash in Hong Kong's Victoria Harbour, marking the return of a pop-art project that sparked a frenzy in the city a decade ago.
The two 18m tall yellow ducks by Dutch artist Florentijn Hofman resemble the bath toys many played with in their childhood.
Shortly after their launch, dozens of residents and tourists flocked to the promenade near the government headquarters in Admiralty to take photos of the birds.
Hofman said he hopes the art exhibition brings joy to the city and connects people as they make memories together.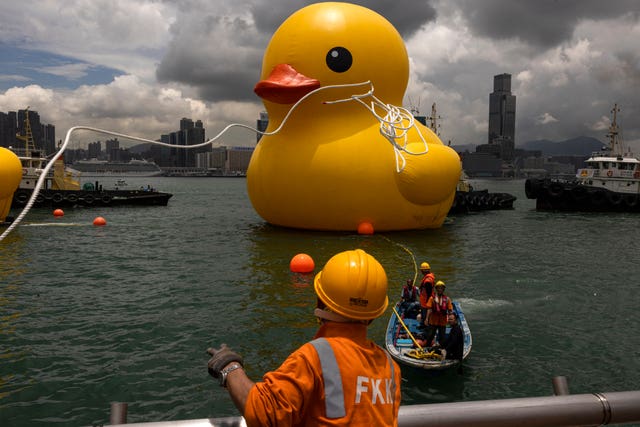 "Double duck, double luck," he said. "In a world where we suffered from a pandemic, wars and political situations, I think it is the right moment to bring back the double luck."
The inflatable ducks will stay in Hong Kong for about two weeks.
Many Hong Kongers at the promenade recalled the happiness his work brought to the shopping district of Tsim Sha Tsui in 2013. Some were excited to see a pair of ducks on Friday instead of just one duck like the earlier exhibition.
Among the visitors was artist Laurence Lai, who brought paint brushes to make watercolours of the ducks. Mr Lai said the city was full of negative vibes during the Covid-19 pandemic and that it is time for the city to move on.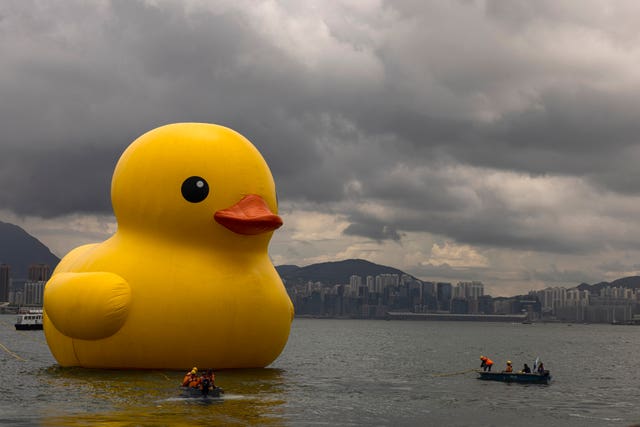 "With life returning to normal, the ducks can bring back some positivity," the 50-year-old said.
Shenzhen resident Eva Yang and her young daughters were also happy to see the ducks, saying they made their sightseeing in Hong Kong more memorable.
"They're spectacular," Ms Yang said.
In 2013, residents and tourists packed streets near the Tsim Sha Tsui pier to catch a glimpse of Hofman's duck.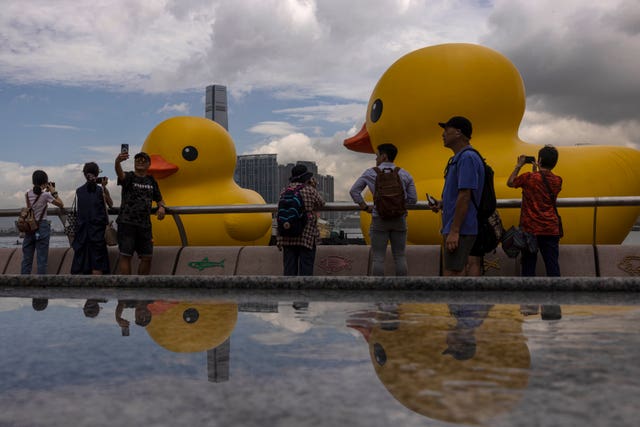 That duck's stint in Hong Kong unintentionally turned political on the social media platform Weibo around the anniversary of Beijing's Tiananmen crackdown in 1989.
Chinese censors blocked searches for the term "big yellow duck" after people shared an image in which the tanks in the iconic image – when a man stood in front of Chinese tanks – were replaced with a line of oversized giant rubber ducks.
Hofman's rubber ducks have been on a world tour since 2007.