Adventurer starts bid to beat Rockall longest stay record
An adventurer has landed on a remote uninhabited North Atlantic rock in a bid to break the world record for the longest stay there and raise funds for armed forces charities.
Chris "Cam" Cameron and radio operators Nobby Styles and Emil Bergmann have arrived on Rockall and are "safe and well on the rock", the expedition team confirmed on Wednesday.
The team plan to spend a week broadcasting radio transmissions from Rockall before the two radio operators head home.
Mr Cameron, an army veteran who served for six years with the Gordon Highlanders, plans to stay on and spend 60 days in total on the rock in an attempt to break the current record of 45 days.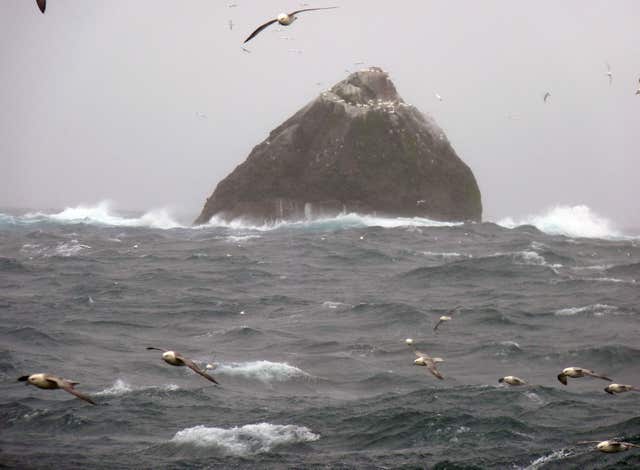 The expedition aims to raise £50,000 for The Royal Navy and Royal Marines Charity and ABF The Soldiers' Charity.
The team began broadcasting from the rock on Wednesday.
A social media post from their support team said: "Latest update (31/05/23) is the team are safe and well on the rock – it was a bit rough getting on to it but all now safe and secure."
It added: "Thank you to every single donor so far, no matter the size. Every penny will help make a big difference to 2 amazing charities – ABF The Soldiers Charity, and the Royal Navy & Royal Marines Charity.
"We still have a long way to go, and Cam has *alot* of nights on the Rock yet – but Phase 1 – the arrival is complete!"
The 45-day record was set by Nick Hancock in June and July 2014.
Situated around 220 miles (354 km) west of the Outer Hebrides, Rockall is an isolated granite islet that the UK has claimed sovereignty over since 1955.
It stands about 70 feet (21 metres) above sea level and is around 100 yards (91 metres) in circumference.
Mr Cameron, a husband and father of two, grew up in Buckie in Moray, trained as a marine biologist and oceanographer in Aberdeen and also holds a PGCE teaching certificate.
Now based in Wiltshire, he works as a senior trainer for Babcock International Group, providing specialist training to military personnel within the UK.
Mr Styles is from Kent and Mr Bergmann was born in Bulgaria and now lives in Germany.
On the expedition's JustGiving page, Mr Cameron says: "My team and I intend to radio broadcast from Rockall, the remotest, loneliest and most desolate place in the British Isles."
After listing the charities he is fundraising for, he added: "Any donations received will be split between these amazing charities, helping our serving personnel, families and our veterans.
"We'll do the tough part – if you could make a donation to the charities, we'll keep going for as long as we can."
Anyone wishing to donate can do so at https://www.justgiving.com/page/rockallexped