Cancer patient given days to live meets stem cell donor who saved him 8 years on
A retired journalist who was told he had just days to live after being diagnosed with leukaemia has met the stem cell donor who saved his life eight years on.
Meeting at the offices of DKMS – a charity that aims to recruit stem cell donors – Ivor Godfrey-Davis, 73, from Andover, Hampshire, smiled and hugged his donor Mark Jones, a 54-year-old railway worker from Witham, Essex.
"We are genetic twins," Mr Godfrey-Davis told Mr Jones.
"Nobody is closer to this guy than me and nobody is closer to me than this guy, thank you so much!"
Mr Godfrey-Davis was diagnosed with acute myeloid leukaemia (AML) in January 2015.
He told the PA news agency: "I asked (doctors) 'how long do I have left?' And she said 'well, untreated, probably seven to 10 days at the most.'"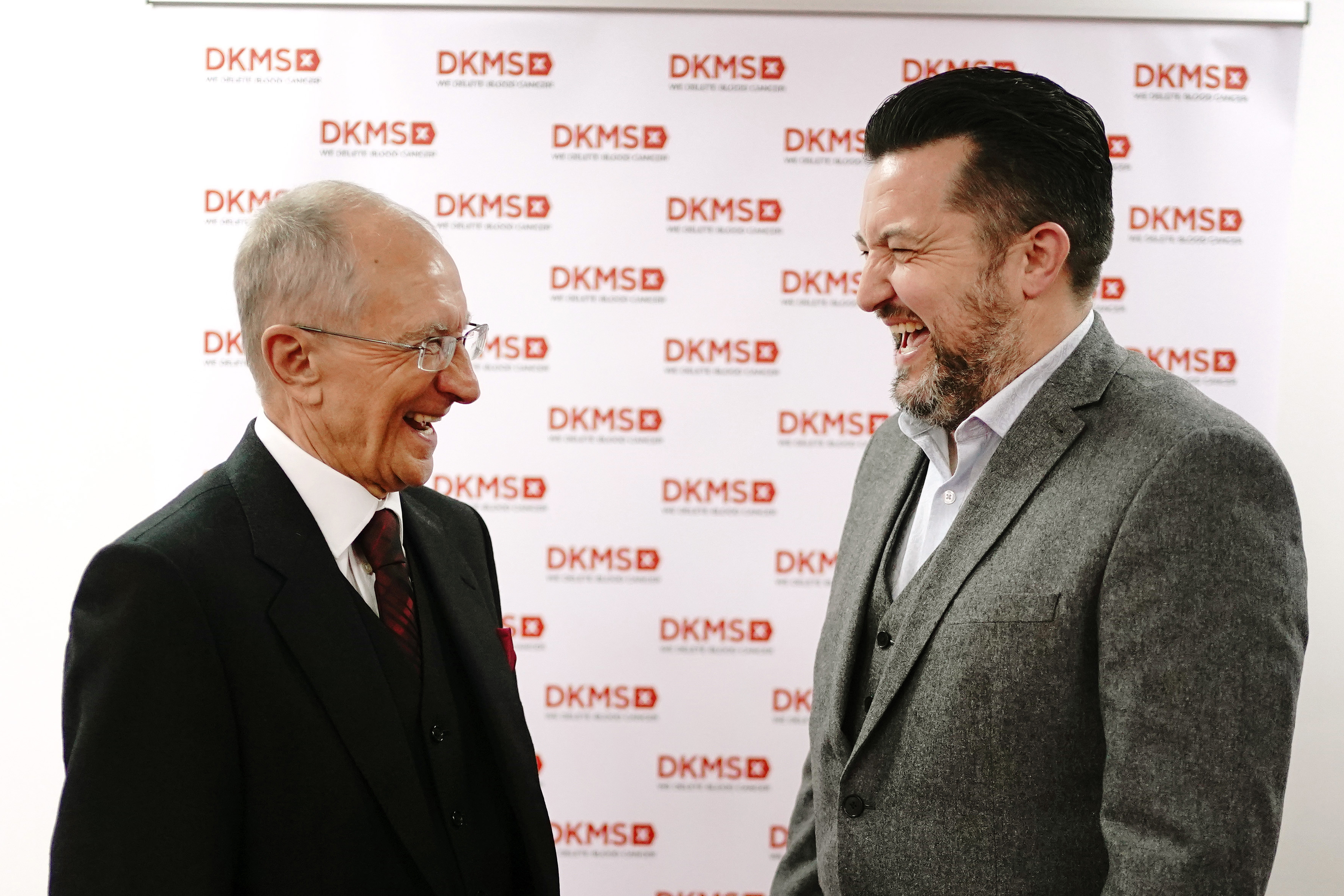 He then received chemotherapy at Southampton Hospital in June 2015, which was successful but doctors told him he had a high chance of relapsing and the cancer returning.
Mr Godfrey Davis said: "I was told that, genetically, I had a predisposition to relapsing at a chance of 75%, with only a 25% chance of not relapsing.
"So then I was told, actually, a stem cell transplant really is the only real hope we have of any success in my case."
However, due to his unusual genetic make-up, there was initially no stem cell match for Mr Godfrey-Davis.
A few weeks later he received the news that two possible donors had emerged – one in the UK and one in Germany.
In August 2015, he received a stem cell transplant from the donor in the UK – who turned out to be Mr Jones – and the transplant was successful.
Mr Godfrey-Davis did develop Graft versus host disease (GvHD) which means the transplanted cells from the donor recognised Mr Godfrey-Davis' cells as foreign and attacked them, the NHS described the condition as 'usually mild'.
"Then that developed into anaemia and I was back in hospital for six weeks at a time, having two blood transfusions twice a day, three days a week," he said.
"But that passed and I have been fine, well and able to lead a normal life ever since; I am truly overwhelmed."
Mr Godfrey-Davis was unable to make contact with his donor for some time – for two years a donor and patient are not allowed to contact each other and must stay anonymous.
After three years he was allowed to send a letter to his donor – however, he did not receive a reply immediately.
"Last August, or September, out of the blue I had a letter from the hospital which I hadn't been expecting because all of my clinical appointments were up to date," said Mr Godfrey-Davis.
"I opened it and it said 'Dear Ivor, here is a letter from your donor'.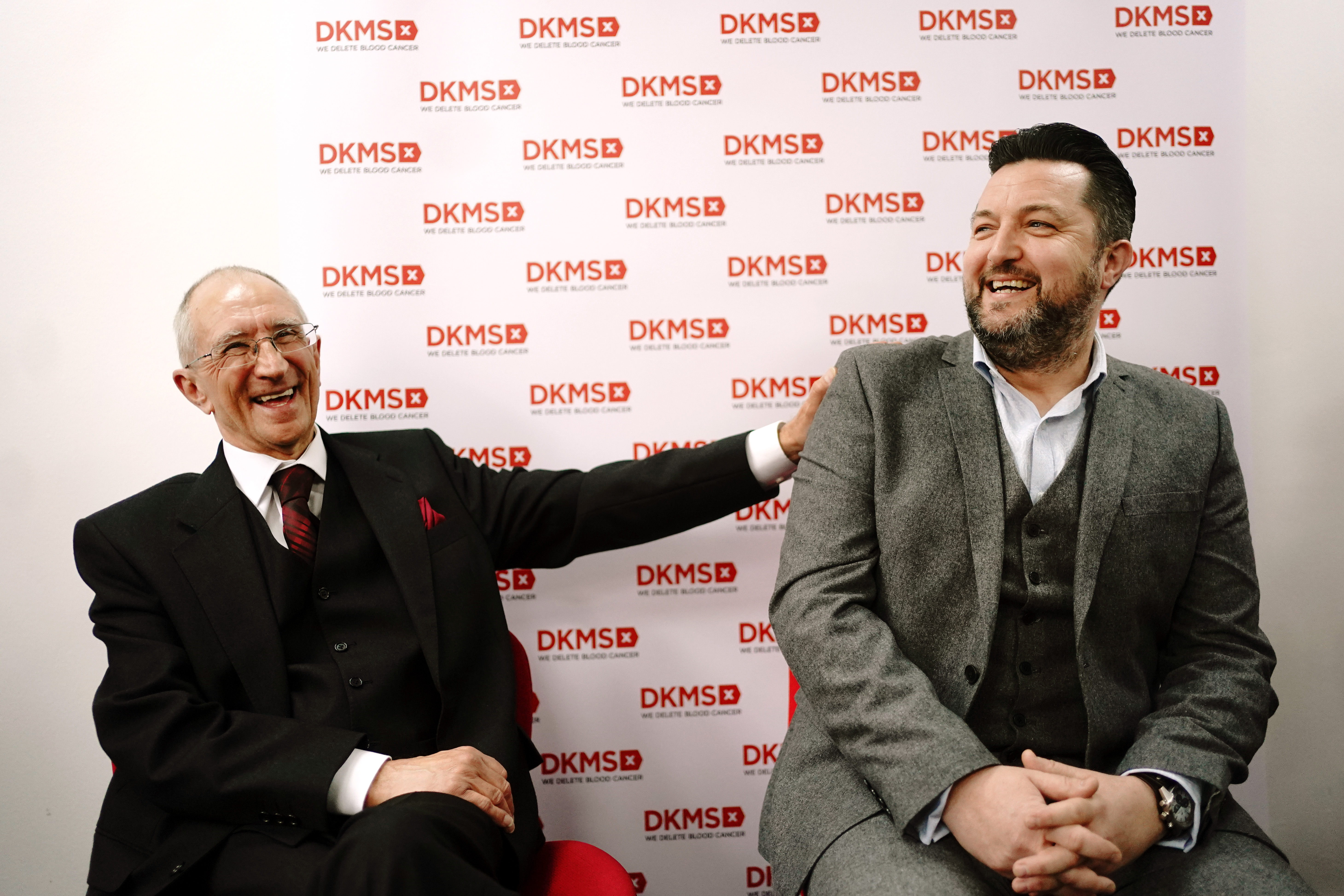 "The letter said a lot of time elapsed, but I think about you often and I really would – if you are interested – like to get to know you, and so on. So, I jumped at this chance."
In 2014, Mr Jones was inspired to join DKMS's stem cell register after seeing a story on Facebook about an American boy who received a stem cell transplant to fight his leukaemia.
"I applied for the pack, it came through – one of the easiest things I've ever done – and the rest is history," said Mr Jones.
"I remember getting a phone call saying 'well, you're a match' and I was like, 'oh my god'."
Mr Jones emphasised how easy the extraction of his stem cells was, saying: "I sat in the chair for five-and-a-half hours and essentially gave blood, such an easy process to go through.
"I had no ill effects, I was able to go back to work the next day without any problems whatsoever."
He only suffered minor aches that were relieved by taking paracetamol.
Mr Jones often wondered if the recipient of his stem cells was still alive after he donated – he was relieved to learn that after seven years in 2022, he was.
"You know, I've actually spoken to the guy whose life I saved, and it's still very much weird," said Mr Jones.
Mr Godfrey-Davis said: "I would have probably been dead eight years ago but for people like Mark making donations, and I regret now that I myself didn't get the opportunity to be a stem cell donor because I certainly would have done.
"I'm delighted to have been able to make Mark's sacrifice worthwhile by still being here today."
DKMS (the German Bone Marrow Donor Centre) is an international charity that aims to fight against blood cancers and blood disorders, operating in countries including the United States, India, South Africa and the UK.
For more information on DKMS, visit:www.dkms.org.