Now That's What I Call Music! reaches album 100, sparking nostalgia-fest online
Twitter users are sharing their personal memories of the Now That's What I Call Music! compilations.
Whether it be vinyl, cassette, CD or streaming online, millions of Brits' lives have been touched by the music collection since the first edition was released in 1983.
From those who own the whole collection to a man who just bought his first Now CD, the buzz about the newest release, Now That's What I Call Music! 100 has inspired people to share their stories.
Peter Davis, 44, owns all 100 Now editions.
He bought his first album in the series (number six) in 1985, but began seriously collecting in 1987 with the purchase of Now 10.
"I have always loved pop music and the charts which is why I loved the Now compilation albums," Davis told the Press Association.
"They are snapshots of lots of moments in time so each era brings back so many memories.
"I have never stopped listening to current music so I have never grown out of the Now albums like so many of my friends did."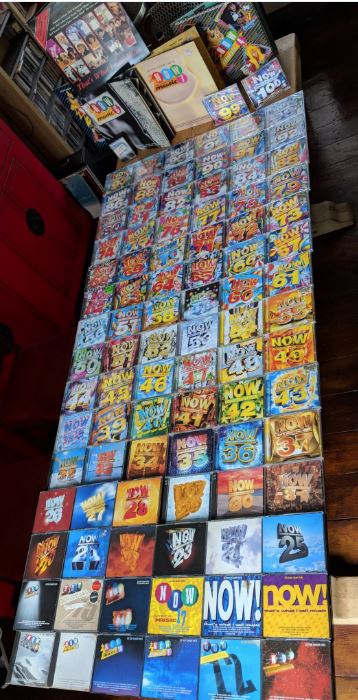 "I'd have to say Now 6 is my favourite album. It was the period of time I was so into music when I was at school and university.
"I regularly listen to all the Now albums from the 80s and early 90s."
Davis streamed Now 100 on Friday morning while waiting for the CD album to arrive in the post.
Stuart McGinley, 46, shared a photo of his 12-year-old self holding the second, third and fourth vinyl albums – gifts from Father Christmas.
The radio presenter from West Sussex says the albums "definitely" influenced his decision to go into radio.
"I used to play tracks from them on my first radio station, 'Bedroom FM'!"
A now almost-defunct form of listening to the Now collections was the cassette tape.
Debbie from County Durham shared a photo of her tapes, lamenting that she had nothing to play them on.
Her first tape was number 21, but Now 25 is her favourite.
"It had Inner Circle by Sweat and Living On My Own by Freddie Mercury. I just loved these two songs growing up.
"I bought them out of my own money which was a lot as a child; I just couldn't part with them."
Despite loving the early editions of the series, Debbie won't be buying the 100th.
"I stream online now, plus the music isn't always to my taste," she said.
"Not enough drums, guitars and 80s' perms!"
One man shared a photo of himself holding his first Now album, number 100.
"I've always been aware of Now albums and have been attracted to their bright artwork and television ads, but have never felt compelled to buy one myself," said Robin Blamires, 33, from Margate.
"It's taken an impressive milestone for me to actually go out and buy one myself."
Despite never buying one before Friday, Blamires admires the franchise.
"It has to be commended not just for reaching the 100th milestone, but retaining a recognisable brand and image for over 25 years," he said.
"The logo's not changed since Now 20, Mark Goodier has voiced all but one of the TV ads since 1992, and quite simply you know it's Now when you see or hear it."
Now That's What I call Fandom.