Flag-carrying ants predict England World Cup win over Panama
England have been backed to beat Panama on Sunday – by a colony of World Cup-predicting ants.
Two of the insects raced along 36 metres of rope carrying Panama and England flags respectively, with the red and white of St George making it back to the queen fastest.
Richard Nicholson, of Cannon Hall Farm, near Barnsley, South Yorkshire, said he was optimistic as the mini-stunt has already predicted a Three Lions win against Tunisia.
But the farm worker, born in 1966, the year of England's only World Cup win, added he was "forever hopeful".
He said: "It's a bit of fun for the World Cup. We have leaf cutter ants in one glass box and they get their food in another.
"They kept overtaking each other, so maybe the match will be closer than we expect.
"I was born in the year we won the World Cup so I'm forever hopeful that we'll win, to be honest.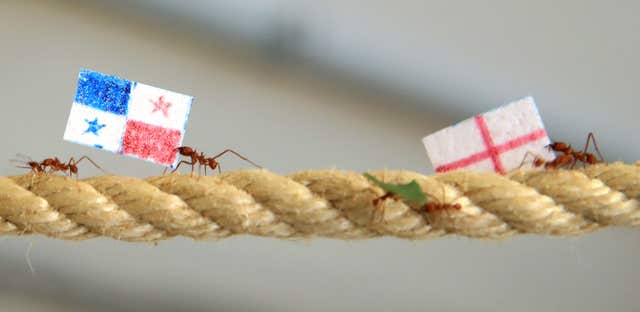 "We've got to live and hope."
Mr Nicholson studied graphic design and put his art skills to use in designing the mini flags.
He added: "I made them out of edible paper and ink – I was surprised they picked them up actually, they are surprisingly willing to carry most things."
England can guarantee a spot in the knockout phases if they win and Belgium beat Tunisia.
However, Panama will be determined to avoid dropping out of the tournament, and need to avoid defeat to do so.