UK Drive: Mazda 3 facelift offers smooth ride with lots of extras
What is it?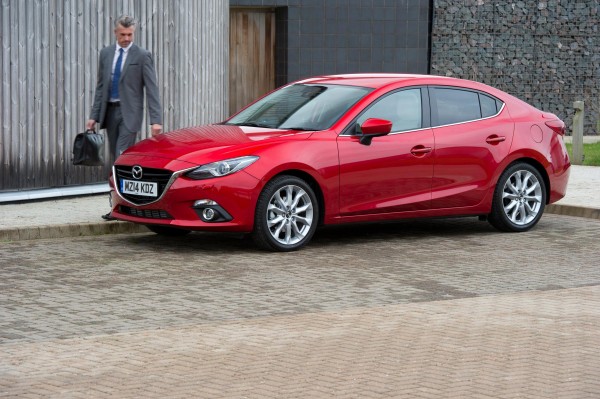 Buyers in the UK are fairly predictable when it comes to family hatchbacks – the Ford Focus and Volkswagen Golf reign supreme. Other manufacturers have given up altogether – notably Nissan, which has recently stopped production of its Pulsar after poor sales.
But on paper, the Mazda 3 has what it takes to challenge the front-runners – a comparatively powerful engine, good levels of equipment, and an established brand with plenty of followers. Plus, it has plenty of successful strings to its bow – the superb CX-5 and brilliant MX-5 are both great examples. So what can the Japanese brand offer family hatchback buyers?
What's new?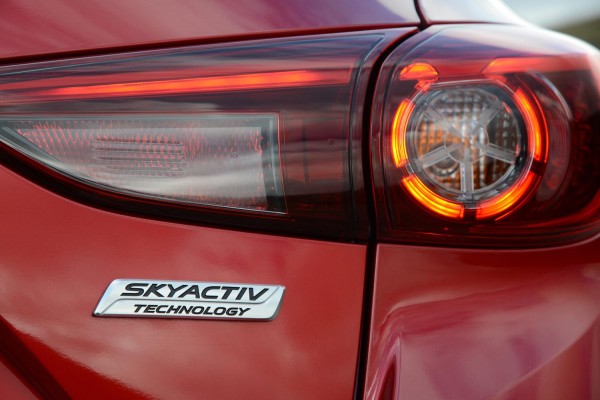 This latest model only offers incremental improvements over the last one, but they're quite noticeable regardless. The adoption of the brand's new corporate styling brings a new grille with a chunky chrome surround, while higher-spec models get super-bright adaptive LED headlights. The rear bumper has been tweaked, too.
The interior receives upgraded switchgear and more sturdy plastic trim, in a bid to conjure up some VW Golf-style solidity. New door cards are the most notable, with piano black trim pieces and a more sculpted armrest.
What's under the bonnet?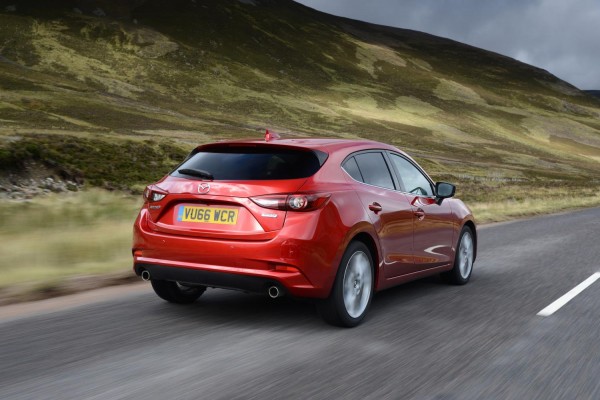 Mazda doesn't subscribe to the fashionable 'downsize and turbocharge' philosophy that most other manufacturers use. So while the Ford Focus and VW Golf engine lineups kick off with tiny, 1.0-litre turbocharged engines, the 3 gains a 2.0-litre naturally aspirated unit. It's good for 118bhp – a useful 20bhp over the equivalent Focus, and almost 40bhp more than the Golf – and will manage 55.4mpg on the combined cycle.
The engine's real highlight is its smoothness. While low-range torque is lacking compared to turbocharged rivals, power is delivered across the rev range, and the 3 is much more willing to be strung out at high RPM than its contemporaries.
Elsewhere in the range, there's another 2.0-litre petrol with 163bhp – but it's barely any faster than the lesser unit, and much thirstier. There are also super-efficient 1.6-litre and 2.2-litre diesels, ideal for motorway work.
What's it like to drive?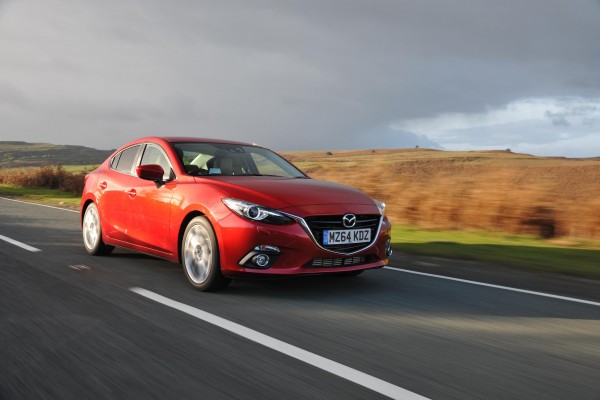 Mazda makes the best-selling small sports car in the world – the MX-5 – so it's got plenty of expertise making tidy handlers. The 3 is no exception. Though it's nowhere near as sporty as the MX-5, it's still a very satisfying car to drive.
The steering is sharp and direct right from the centre, and though it's a little bit light, it's very easy to point the car exactly where you want it on the road. Low weight and a wide track make it an easy rival for the Ford Focus in the handling stakes, and it's far more enjoyable than the stodgy Golf.
Though our car was fitted with 18-inch alloy wheels, the ride wasn't overly firm either. Expensive-feeling damping takes the edge off potholes and rough surfaces around town, and it settles down to a relaxed cruise on the motorway – albeit with slightly too much wind noise.
How does it look?
The 3's design is relatively exciting for a practical family hatchback. Mazda's 'family face' sits at the front of a body covered in interesting slashes and creases. The effect is bold, if a bit jarring at first glance – and it looks great in the optional Soul Red paint of our test car.
However, the 3 can't match the VW Golf's subtle class, and its badge won't attract as much kudos in the company car park either.
What's it like inside?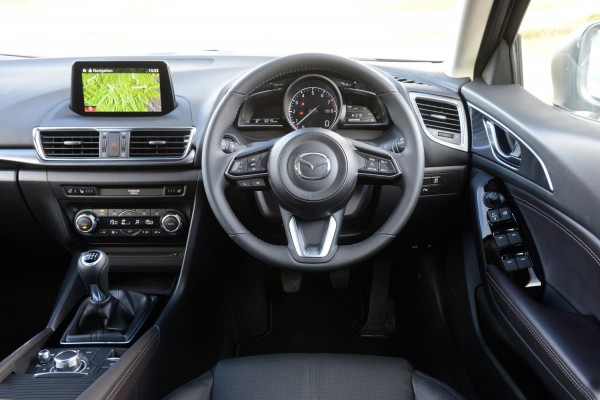 The Mazda's interior is very dependent on spec. In base trim, it can feel a bit dark and dingy. The optional Stone Leather of our car perked it up beautifully though, and it became a very pleasant place to sit – provided you don't probe around too much.
Though build quality seems excellent, material quality is a mixed bag – with some hard and scratchy plastic in areas you wouldn't expect to find it. The infotainment system is a clone of the one in the MX-5 and, though it works quite well and is easy to use, it misses out on the essential duo of Apple CarPlay and Android Auto.
Space in the back is decent for adults, but the boot is only average with 364 litres trailing the Golf's 380 – and it does without clever storage solutions such as a false floor or retaining straps.
What's the spec like?
Equipment levels are generous across the line-up. Trim levels are SE, SE-L and Sport, with 'Nav' variants of each adding, you guessed it, sat-nav to the equipment roster. Even base cars gain alloy wheels, a seven-inch infotainment display, air-conditioning, and four electric windows. SE-L adds LED daytime running and taillights, xenon headlamps, climate and cruise control and parking sensors, while Sport models gain 18-inch alloys, adaptive LED headlamps, a Bose stereo and a heads-up display.
Optional extras are scant, but we'd find it difficult to resist Soul Red metallic paintwork or Stone Leather – the latter admittedly a steep £1,200 option.
Verdict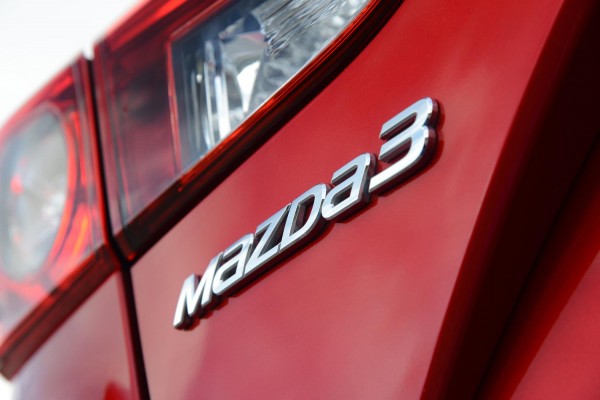 The Mazda 3 is a great family hatchback, which deserves consideration if you're in the market for any of its rivals. Though it's not as premium as some, and could do with an interior overhaul, its great driving dynamics, smooth engines and good value mean it's more than a match for the Focus or Golf.
It's also efficient, easy to drive and should be reliable. We'd happily recommend the 3 to anyone wanting to deviate from the best-selling family hatchbacks and try something new.
FACTS AT A GLANCE
Model as tested: Mazda 3 2.0 Sport Nav
Price: £21,045
Engine: 2.0-litre 4cyl petrol
Power: 118bhp
Torque (Nm): 210Nm
Max speed (mph): 121mph
0-60mph: 8.7s
MPG: 55.4mpg
Emissions (g/km): 119g/km