These signs in a Nova Scotia neighbourhood will probably restore your faith in humanity
Television producer Andrew Killawee was driving towards his family home in Nova Scotia, Canada, when he came across a nondescript, yet direct, sign.
The simple instruction read: "Bring back my wheelbarrow".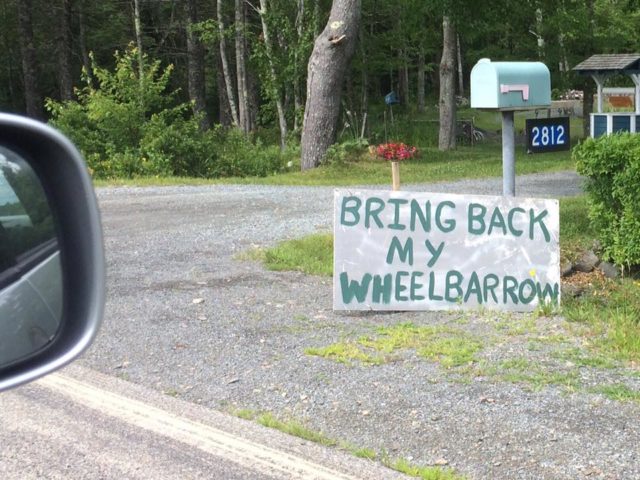 While it was not addressed to anyone in particular, the guilty party clearly knew who they were.
Only a day later, a new sign adorned the same spot, displaying the same, trusty green ink.
Just as plainly, it read: "Thank you for bringing back my wheelbarrow".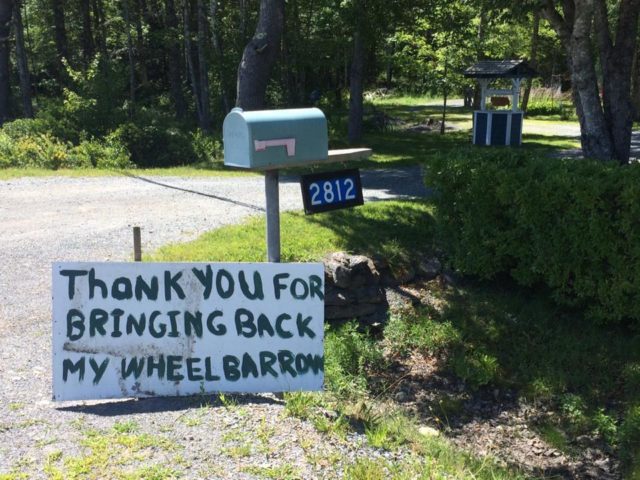 Killawee, who posted the images on Facebook at the end of July, told the Press Association: "I spotted the signs on the road to my family cottage on the scenic south shore of Nova Scotia.
"Along with being one of the most picturesque places on earth – this area has plenty of interesting characters as well. You just never know what you're going to see here!"
His pictures made their way to Twitter by way of fellow Halifax native and pianist, Anna Scott, and shot to fame with more then 13,000 retweets.
Killawee told Buzzfeed Canada that he and his girlfriend "went into gales of laughter" at the sighting.
Although he wasn't sure of the circumstances of the sign, he explained to Buzzfeed that the direct approach was characteristic of the area.
"I don't know if this was a full-on crime or a little family dispute of a neighbour nudging a neighbour… either way it's how folks communicate down there – direct and to the point," he said.