This defiant sign at Finsbury Park Station has captured the mood in London today
London Underground staff left a defiant message for commuters following the Finsbury Park attack.
A man driving a van targeted pedestrians near Finsbury Park Mosque in north London early on Monday, leaving one man dead and eight injured.
And in response to the attack, a Finsbury Park station Tube worker scrawled an inspiring "Quote of the Day" on a noticeboard for everyone passing through the station to see.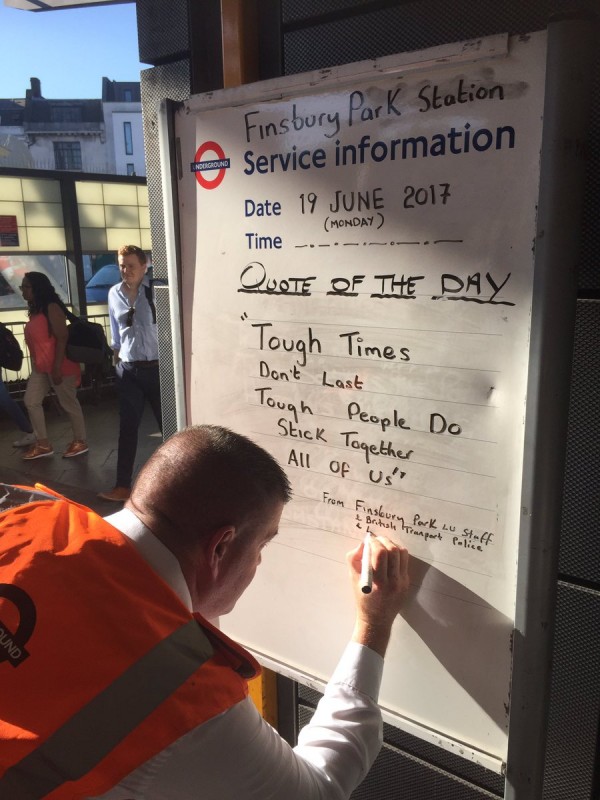 The message, signed "from Finsbury Park staff and British Transport Police", says: "Tough times don't last. Tough people do. Stick together. All of us."
Twitter user Charlie Robertson captured the poignant sign and it has since been widely shared.
Oval Tube Station appeared to follow suit by sharing a similar message of unity – a picture posted on its Twitter account showed a quote from Victoria Osteen that says: "We talk a lot about hope, helping and teamwork. Our whole message is that we are more powerful together."
Added at the bottom of the sign were these heartwarming words: "#FinsburyPark Our Prayers are with you. Our London, Our City, Our Diversity, Our Resilience, Our Strength."
The man held by police over the attack has been identified as 47-year-old father-of-four Darren Osborne.
The man was initially arrested on suspicion of attempted murder but Scotland Yard said he was later arrested for the commission, preparation or instigation of terrorism including murder and attempted murder.
The attack took place as the area was busy with worshippers attending Ramadan night prayers at the mosque.