Enjoy it while you can because forecasters say the warm and sunny weather isn't going to last
You may have enjoyed the cloudless skies as temperatures rose ahead of what is expected to be the hottest day of the year so far.
We hate to break it to you but sadly, forecasters say this unseasonably warm Easter holiday weather is not set to last.
A high of 25C (77F) is forecast for the south-east of the country on Sunday – beating the year's record so far of 22.1C (72F) – before a dramatic 10-degree drop.
Looking a day ahead, Met Office forecaster Emma Boorman said: "We can expect a north-west, south-east split tomorrow.
"So for the vast majority of England and Wales it's going to be another day like today with almost unbroken sunshine, except for the very far west which is likely to see a little bit of cloud later on in the day.
"It'll be a warmer day where we do have the sunshine, a high of 24C or perhaps 25C in the south east corner."
Conditions will become cooler in Scotland and Northern Ireland on Sunday, and revert to the monthly norm by Monday.
Boorman said: "From Monday onwards it's really all-change.
"The rain and cloud across the far north west is associated with a cold front.
"That will be making its way to the south-east during Sunday night and introducing a much colder feel as we head into the start of the new working week.
"Temperatures in some places, for example, could be a solid 10 degrees cooler on Monday than they were on Sunday."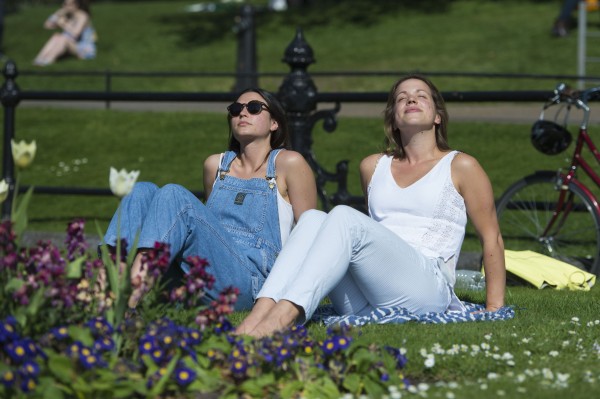 The fall will bring temperatures back to the low teens, she added.
The Grand National spectators at Aintree in Merseyside cheered on the runners and riders as temperatures peaked at 19C (66F).
Elsewhere sun-seekers hit the beach as Wales had a high of 20.3C (69F) and Scotland saw the mercury rise to 18.2C (65F), while Northern Ireland experienced a cooler 16.1C (61F).