Students have been shocked to see racist posters at the University of Texas at Austin
Students from the University of Texas at Austin have expressed outrage after seeing racist posters appearing across the campus.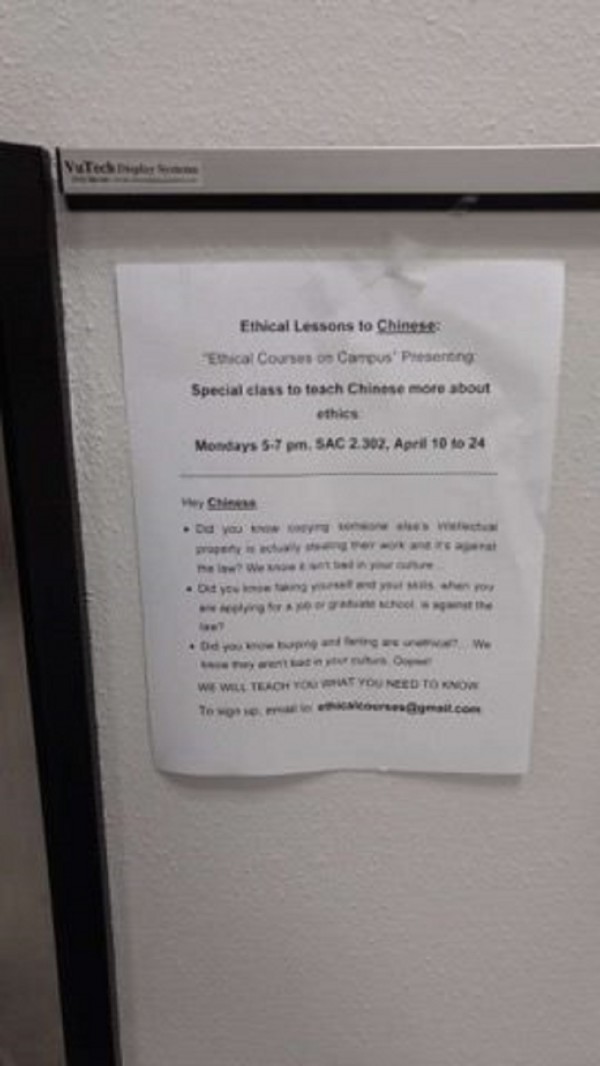 The poster targets Chinese students, promoting a "special class to teach Chinese more about ethics".
It says: "Did you know copying someone else's intellectual property is actually stealing their work and it's against the law? We know it isn't bad in your culture…
"Did you know faking yourself and your skills, when you are applying for a job or graduate school, is against the law?
"Did you know burping and farting are unethical? … We know they aren't bad in your culture, Oopse!
"WE WILL TEACH YOU WHAT YOU NEED TO KNOW."
As you can imagine, such blatant racism shocked many students.
After it came to the attention of the faculty, the university's president, Gregory L Fenves, issued a statement saying: "Such posters are completely unacceptable.
"Consistent with UT Austin's core values, every student, faculty member and staff member who sets foot on our campus has the right to learn, teach and work without fear and without being the object of hate and discrimination."
The university has since worked quickly to get rid of the posters and identify the culprit, which Fenves has said they have successfully done. The person responsible has not been named.
The incident comes after the university implemented a new Hate and Bias Incident Policy at the end of February which "establishes that actions conducted with discriminatory and hateful intent on our campus will be punished rapidly and with greater consequences than in the past". It shows that such a policy is needed more than ever.
The UTCSSA (Chinese Students and Scholars Association of The University of Texas at Austin) posted an open letter on its Facebook page saying: "We are deeply saddened by this act of discrimination. These posters do not represent Chinese culture or traditions, nor the UT students who so proudly honour their country and heritage. They run counter to our university's core values."
The UTCSSA also thanked the students who acted when they saw the posters, and the university for its swift response.