Could this be the New York hotel opening of the year?
Standing tall and proud on Broadway, just a short stroll from the lights and razzmatazz of Times Square, is the Big Apple's most anticipated hotel opening of the year.
So new the scarlet red paint is barely dry, Virgin Hotels has landed on West 30th Street with a level of fanfare and exuberance to be expected from Sir Richard Branson.
During the opening ceremony, there's a streetside sing-song from a Broadway star, performances by unspeakably bendy contortionists and a party for 1,000 people. Yet despite the stiff competition, there was only ever going to be one star of the show. The world's most famous billionaire is on-hand to cut the ribbon and officially launch the latest jewel in his empire, and the seventh property in his fast-expanding collection of city hotels that already includes Miami, Nashville, Chicago, Edinburgh and Glasgow.
But this, in many ways, is the big one. New York is not a place that does things by halves – and nor does its hotels. With expectations high, the pressure was on to deliver a property that's every bit as modern, quirky, surprising and slick as the city it calls home, while maintaining the playful charm and cheekiness Virgin has long been known for.
Of course, this isn't Branson's first bite of the Big Apple. Back in 1984 and the proud custodian of a leased 747 jumbo jet, he launched Virgin Atlantic, with the very first flight taking off bound for New York.
Fast forward several years and the eccentric entrepreneur was back, this time driving a tank into a wall of Coca-Cola cans in the middle of Times Square to mark the launch of Virgin Cola. Despite the bold and headline-grabbing publicity stunt, the drink failed to fizz, but his love affair with New York has stood the test of time.
So, has the new Virgin New York been worth the wait?
Branson's homage to New York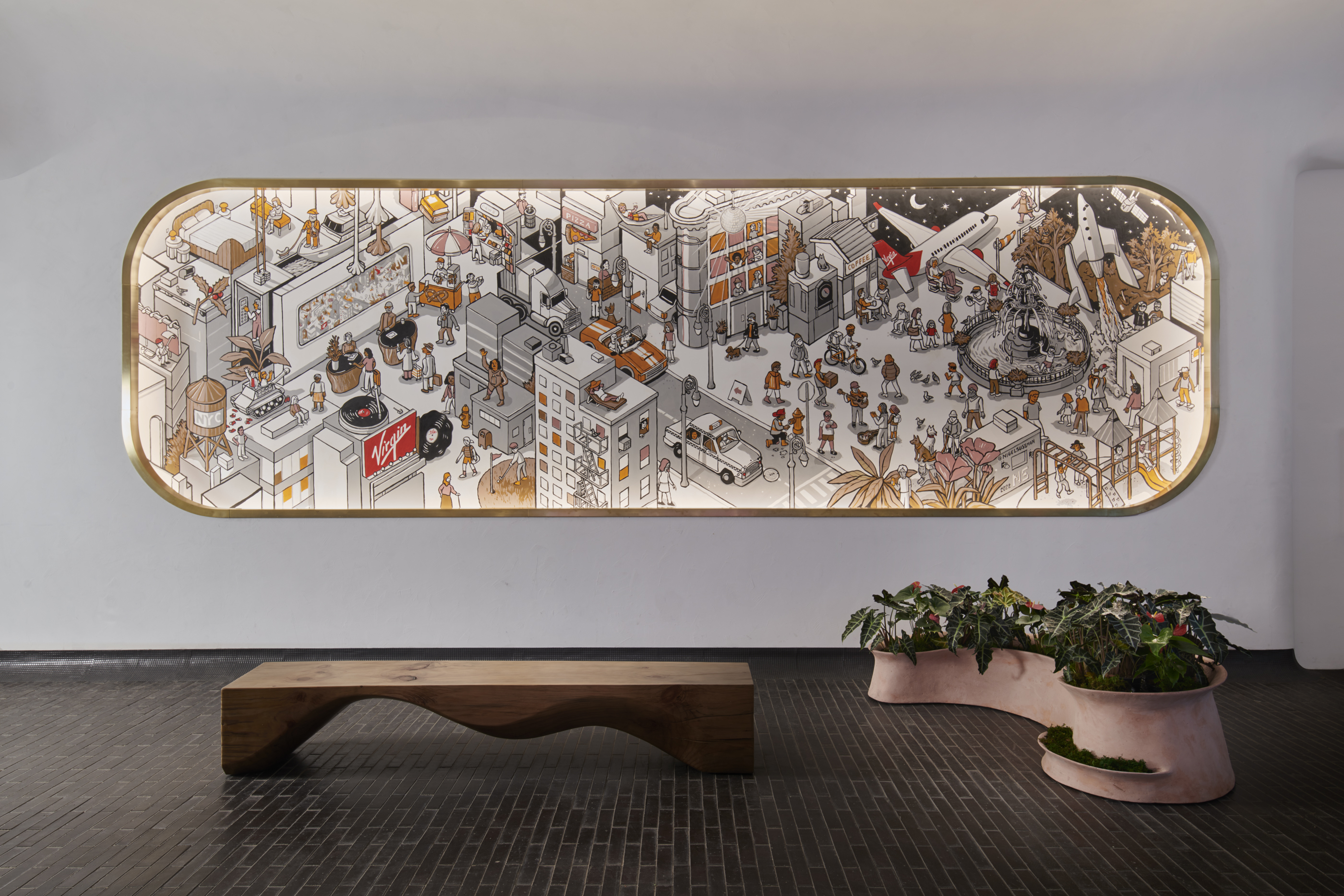 Dominating the minimalist lobby is the 'Where's Richard?' mural by Californian artist Nigel Sussman, with the big boss hidden somewhere within a busy Where's Wally-esque scene that depicts the Virgin story. Even the toppled cola cans feature.
The hotel's 460 rooms – or 'chambers' – are spread across 39 floors of a gleaming, purpose-built tower located in the up-and-coming NoMad neighbourhood (named so because it's north of Madison Square Park). Those feeling plush can book the penthouse suite, dubbed Richard's Flat, which spans the 35th and 36th floors, but guests are well-catered for whatever their room category.
'Chambers' are generously sized – by New York standards at least – and feature custom-made beds with a padded seat built-in to the bottom left-hand corner. This is, apparently, so business meetings can take place more efficiently – but there's little time to ponder what HR would say about that because the city views pressing against the floor-to-ceiling windows are more than a little distracting.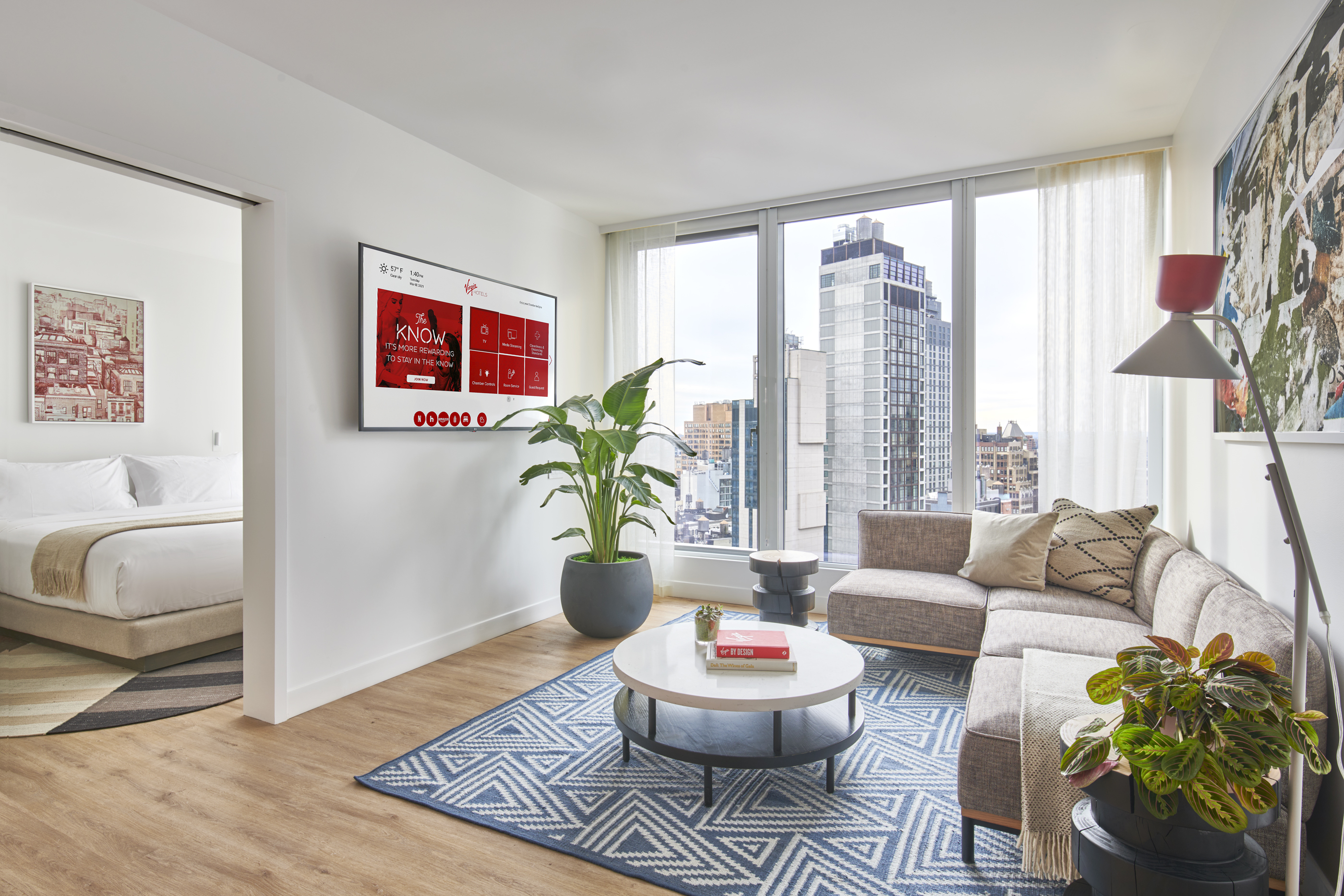 Across the room and on the other side of a sliding door (complete with peep hole) is a bathroom of white marble, back-lit mirrors and a walk-in shower.
There are flashes of Virgin-red everywhere, from the shower head to the miniature Smeg fridge that stands in as the mini bar. The scarlet theme continues throughout the hotel, from the striking spiral staircase on the third floor to the centrepiece grand piano that acts as a backdrop for live DJs and nightly jazz.
More than simply a place to sleep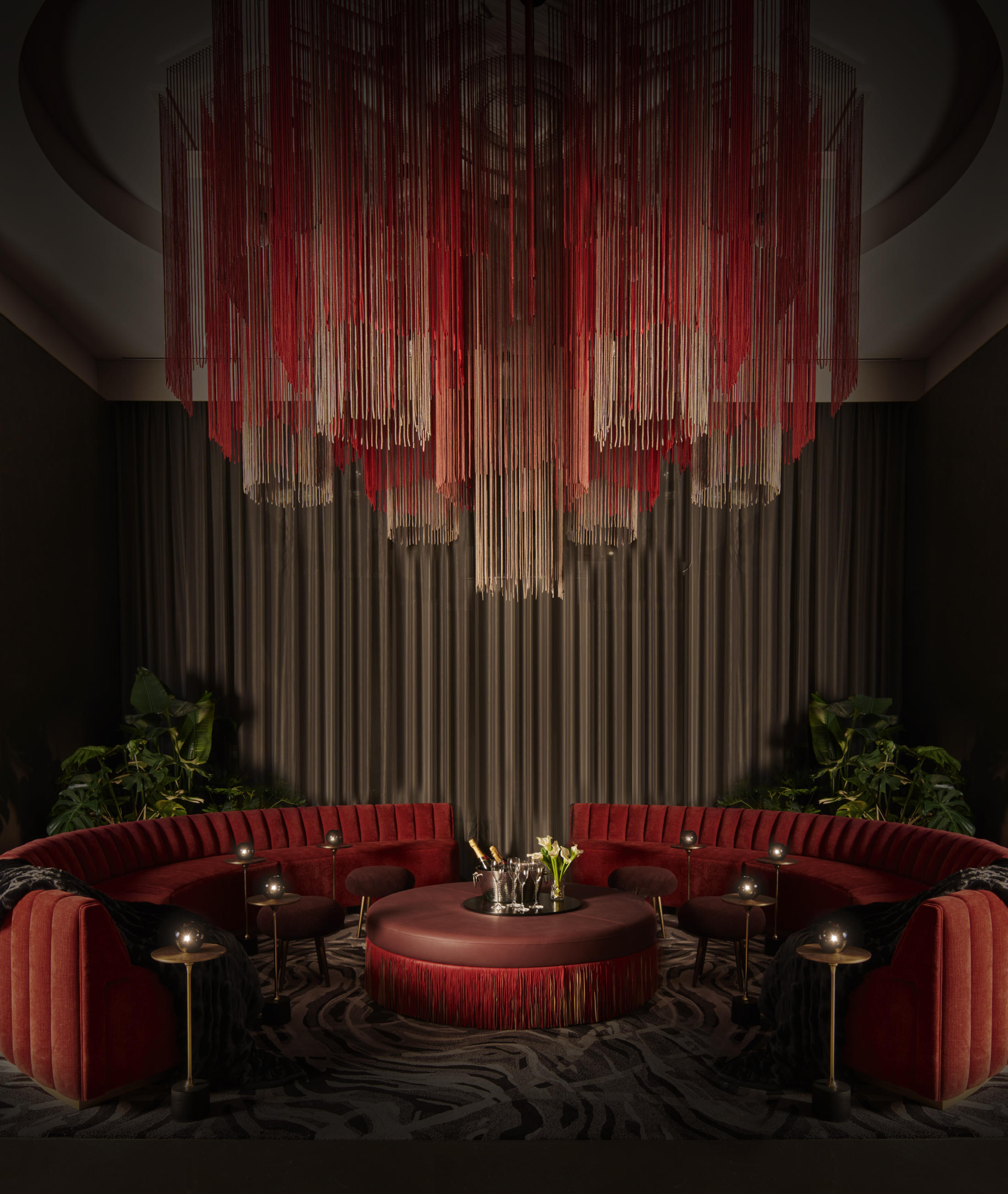 Keen to become a destination for hedonistic New Yorkers as well as out-of-towners, the hotel will soon open an as-yet-unnamed fine dining Italian-meets-Latin restaurant, headed by celebrated chef Freddy Vargas. Until then, its vibey Everdene space fills the void nicely.
There are cosy corners for hushed brunches, floral armchairs for coffees and chats, a decadent crimson-coloured cocktail lounge for a pre-dinner espresso martini and a striking dining space from which to enjoy dishes such as Nantucket Bay scallops and flat iron steak with black garlic jus.
Fancy something sweet for afters? Head out to the wraparound terrace and savour the sight of the Empire State Building, almost close enough to touch, dazzling in all its art deco splendour. It simply doesn't get much better than that.
How to plan your trip
Virgin Atlantic Holidays (virginholidays.com) offers three nights' room-only accommodation at Virgin Hotels New York City from £861pp, including flights from London Heathrow.
For more information about the destination, visitnycgo.com