Diana Henry's pumpkin tarts recipe
"Pumpkins and squash are great in tarts, and it's the mixture of sweet and salty in savoury pumpkin tarts that really gets me," says food writer Diana Henry.
Pumpkin tarts with spinach and Gorgonzola
Ingredients:
(Serves 6)
For the pastry:
225g plain flour, plus more to dust
175g butter, chilled and chopped
Sea salt flakes
For the filling:
450g pumpkin or squash
Olive oil
450g spinach, coarse stalks removed
2 large eggs, plus 1 egg yolk
275ml double cream
50g Parmesan cheese, finely grated
Freshly grated nutmeg
200g Gorgonzola cheese
Freshly ground black pepper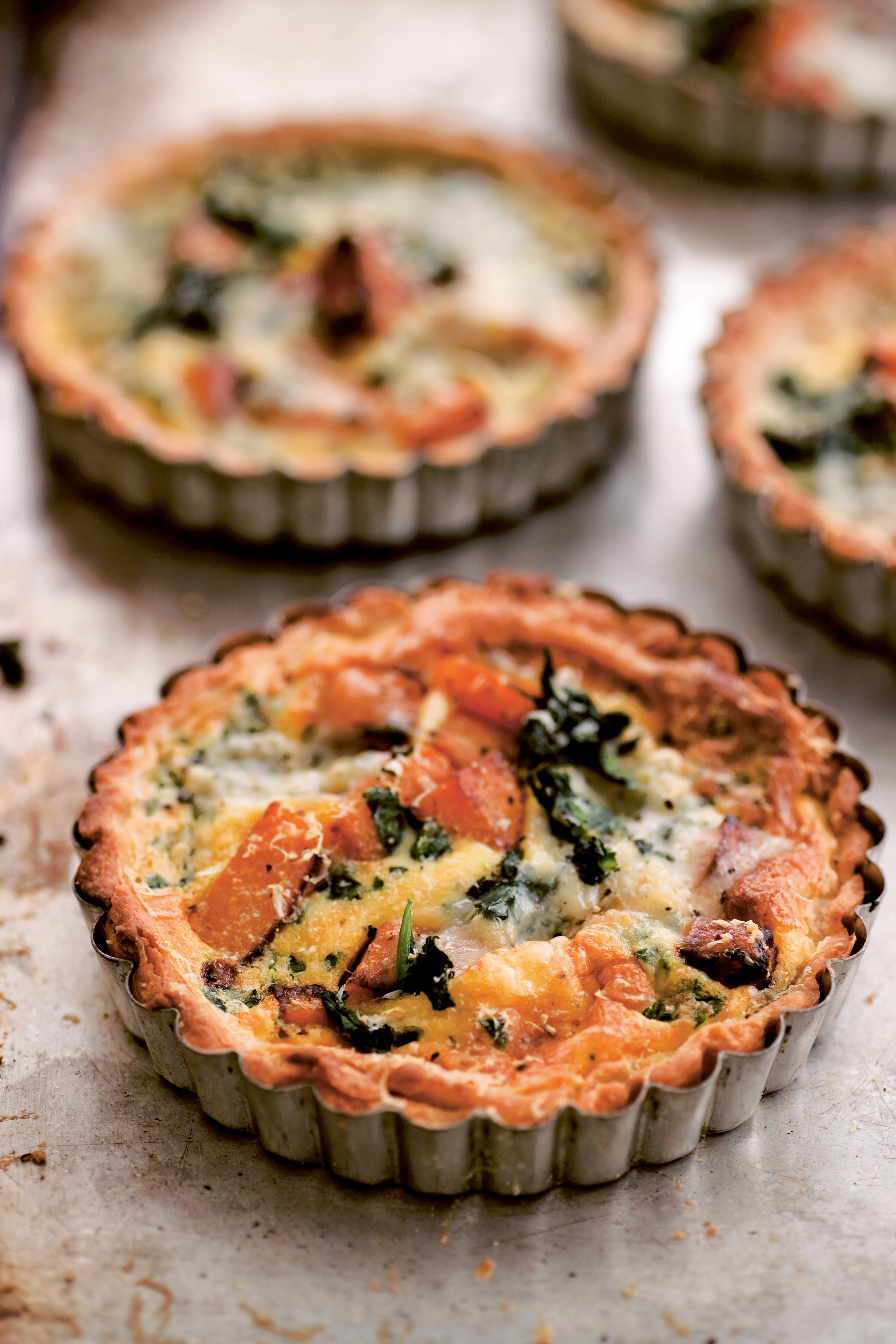 Method:
1. For the pastry, put the flour, butter and a good pinch of salt into a food processor and pulse-blend the mixture until it resembles breadcrumbs. Add just enough very cold water to make the pastry come together. Wrap it in foil or clingfilm and refrigerate for about half an hour.
2. Preheat the oven to 180C fan (375F), Gas 5.
3. Cut the pumpkin or squash from top to bottom into broad slices, remove the inner stringy bits and seeds, then peel. Brush lightly with olive oil and bake for 30-35 minutes, or until just tender. Turn off the oven. Put the spinach into a large saucepan, cover and wilt in the water left clinging to it (about four minutes over a medium heat). Drain well and leave to cool.
4. Make the custard by mixing together the eggs, egg yolk, cream and Parmesan. Season well. Roll out the rested pastry on a lightly floured surface and use it to line six individual tart tins. Chill for another 30 minutes (or just stick them in the freezer for about 15 minutes).
5. Preheat the oven again to 180C fan, Gas 5. Prick the bottom of the tarts with a fork, line them with baking parchment and put baking beans or ordinary dried beans on top. Blind bake for 10 minutes. Remove the paper and beans and cook the pastry cases for another five minutes.
6. Cut the pumpkin into small slices, about 10 centimetres long and one centimetre thick. Squeeze every last bit of water from the spinach and chop it up. Season both of these and add some freshly grated nutmeg to the spinach. Spread the spinach over the bottom of the tart cases, then add the slices of pumpkin and dot with nuggets of Gorgonzola.
7. Pour the custard mix over the tarts and bake for 25-30 minutes, or until the pastry is golden and the custard feels only just set when you put your forefinger in the centre of a tart. Leave for 10 minutes to let the custard finish cooking and set a little once you have taken it out of the oven.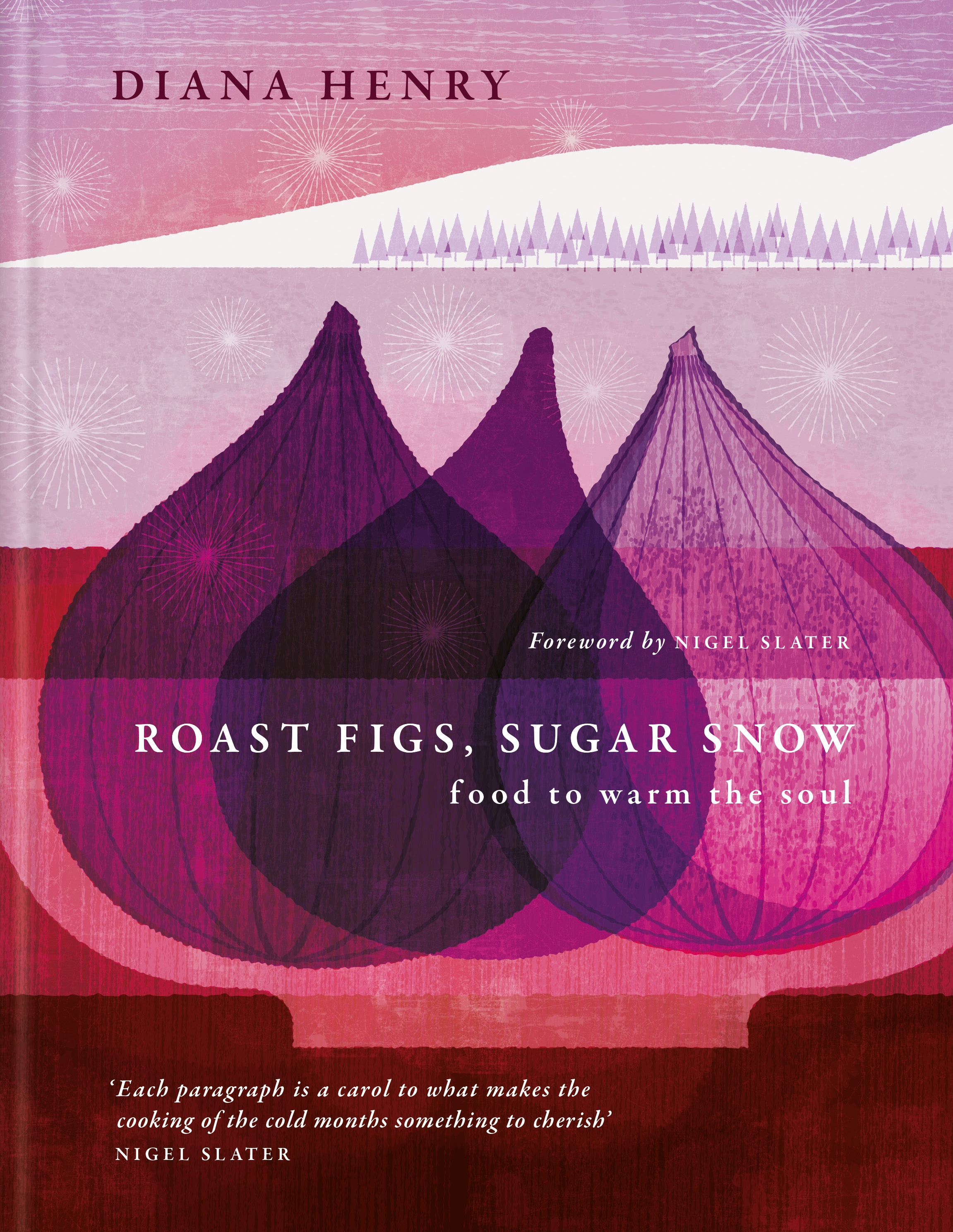 Roast Figs, Sugar Snow by Diana Henry is published by Aster, priced £22. Photography by Jason Lowe. Available now.