Angela Hartnett: I always think the cup is half full
You can have all the training and talent in the world – but as far as Angela Hartnett's concerned, running a successful kitchen is about more than the food.
"It's about how you treat one another," says the chef, whose Mayfair restaurant Murano achieved a Michelin star within four months of opening. "At the end of the day, why should a kitchen be any different from normal day-to-day life?
"Just treat people properly, and you do that in life too," adds Hartnett, 54, who also co-hosts the Waitrose & Partners podcast Dish with Nick Grimshaw. "You get what you put in."
She knows that can be "difficult for people to do day-in-day-out, when they're feeling tired and emotional and all the rest of it". For the Kent-born chef however – who cut her teeth in the mid-90s at Aubergine, Gordon Ramsay's first restaurant – it's a good aim to live by.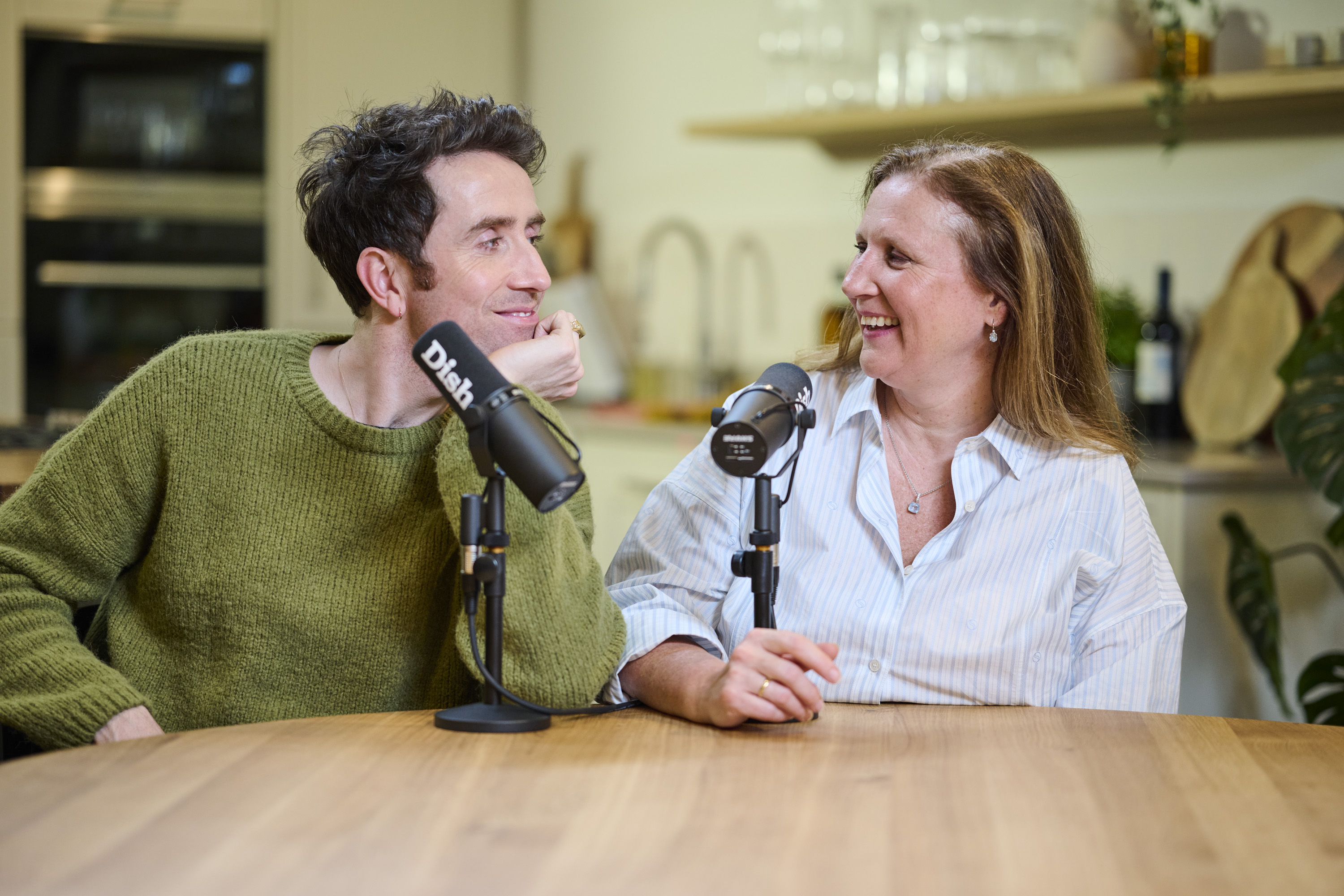 Hartnett, who lives in London with her husband, fellow chef Neil Borthwick, credits her Italian mother and grandmother for inspiring her deep love of food. Her father died when she was eight, after which she, along with her mother, brother and sister, moved to Essex to be closer to their grandparents – and she's often talked about learning pasta skills from her Nonna, and the cherished family mealtimes they all shared.
But Hartnett studied history before deciding to pursue a cooking as a career, skipping catering college and instead learning on the job. When she secured a trial at Aubergine, her mostly male cohorts predicted she'd last a week or two at most.
She ended up working with Ramsay for 17 years – going on to join Marcus Wareing at Pétrus and bagging her first Michelin star at The Connaught in 2004. She opened Murano in 2008 and is now one of the most high-profile women in the restaurant world.
For Hartnett though, it still boils down to the role food plays in bringing us together – something that was brought to the fore for many during the pandemic.
"It's a bit sad that it took a pandemic for people to realise that, but yes," she reflects. "I like to think people haven't gone back to old habits [now], but then life and work and all the rest of it gets involved, so we'll have to see how it goes."
Sitting down to eat together every night might seem unrealistic for many people, "but if you can do it twice a week, with your family or friends or whatever, then that's really a good thing", Hartnett adds.
It's something that features in Dish, which recently returned for a third series. Each episode sees Hartnett and Grimshaw chatting with a celebrity guest, while Hartnett whips up a dish in the background before they tuck in together.
Hosting a podcast was "never" something she thought she would do, but she says it's "fun" (there's usually a lot of laughing). So far, guests this series have included TV's Rob Delaney and Alex Jones, with a string of other famous names on the cards. The recipes are all shared online too (waitrose.com/dishrecipes) so listeners can recreate them.
Cooking isn't always about making things fancy, though. "At the end of the day, you can sit there and talk about Michelin stars until the cows come home, but we all need to eat – food is part of what keeps us alive. It's about sustaining your body, and no truer a word was said than 'you are what you eat'," says Hartnett. "And I think food shouldn't be rushed, sitting down and eating slowly is a good thing, it helps your digestion."
Hartnett is as refreshingly no-nonsense in her approach to wellbeing as she is with everything else.
"I try to walk as much as I can, I don't eat loads of stuff that's necessarily bad for you, but I do drink. I do stuff that makes me happy. And if drinking wine and eating red meat makes me happy, that's what I'm going to do," she says, when asked what her self-care regime looks like. Although she doesn't think we "need to eat meat every night".
She says: "If I'm honest, I don't consciously sit there and go: I'm going to do 'this' for my wellbeing. I don't know whether it's fortunate, but I suppose my thing is, I always think the cup is half full, rather than half empty. I'm always a more optimistic person than pessimistic."
Where does she think this optimistic outlook comes from?
"I think it's my upbringing. I don't think you can underestimate the influence of family and friends when you grow up. I was quite fortunate with good family connections, and I still have [that]," says Hartnett, who lived with her sister Anne until relatively recently (they now live down the road from each other).
"Probably the biggest influence on my life is my family, they're the people whose opinion I care about more than anyone's."
Working in kitchens can be "high pressure", she agrees, but "I don't think catering is any more pressured than a lot of other industries," Hartnett adds. "There are lots of things that are pressured, and it's how you deal with it, how you work out what's important. At the end of the day, we're cooking food, we're cooking carrot and a piece of lamb, you know, let's get it in perspective. We're not rocket scientists, we're not brain surgeons, we're not trying to cure cancer."
She says she's more of a take life "as things come" person than a goal-setter.
"I think sometimes there's a bit of fate involved, things that happen for a reason, and I think how you make your decisions is partly fate. I'm not saying that your life's planned out, and I'm sure that everyone can make changes. But I don't wake up and think: this is what we're going to achieve.
"I like the fact that life is changeable and nimble, and you react to situations, because you can't ever predict. You don't know if tomorrow you're not going to get run over by bus. Hopefully not – but you can plan forever, can't you, but you just don't know.
"So, live in the moment, live your life, do what you need to do," says Hartnett. "And look after the people you care about."
The new series of Dish, from Waitrose & Partners, hosted by Angela Harnett and Nick Grimshaw is available now on all podcast providers