Jack Monroe's risotto with peas and lettuce recipe
"The suggestion to put cold lettuce leaves into a warm dish may seem unusual, but it is one of my favourite things," says Jack Monroe.
"It is definitely not a revolutionary idea; gently wilted lettuce has topped slick hot burgers for a hundred years or thereabouts, so there must be something in it. If the idea really makes you shudder, use a hardier leaf for this recipe, like spinach, chard or cabbage, but I promise you, this is truly delightful."
Risotto with peas and lettuce
Ingredients:
(Serves 4)
300g rice
1tbsp oil or baking spread
2 stock cubes dissolved in 750ml boiling water or 750ml chicken or vegetable stock
2tbsp lemon juice
200g frozen peas
A pinch of pepper
¼ head of lettuce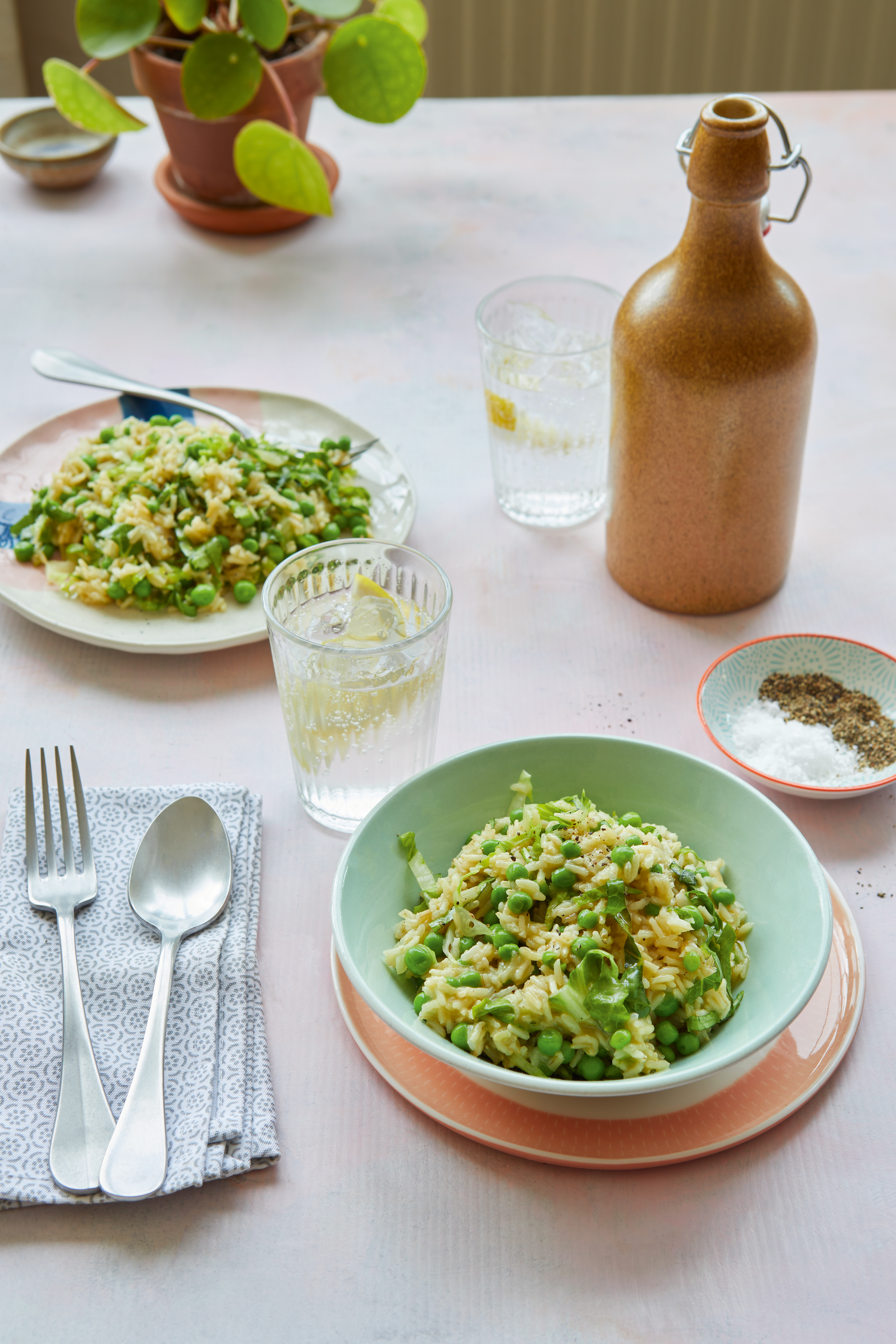 Method:
1. Grab a wide, shallow-based non-stick saucepan and pop it on the hob. Shake in your rice and add the oil or baking spread, then turn up the heat to gently toast it at the edges for a minute or two.
2. Add a splash of stock, and stir well to stop the rice from sticking and burning. Add a splash more. When it has been absorbed, add a splash more, and repeat until two-thirds of the stock has been used. This may seem laborious, but to me it is one of the joys of making a risotto; the ability to stand still for 20 minutes and lose myself in the methodical stirring and rhythmic hypnosis of a repetitive, gentle task. When the rice is starting to swell and almost all of the stock is absorbed, splash in the rest, along with one tablespoon of lemon juice.
3. Add the peas and pepper, and stir well. Finely slice the lettuce and set to one side; you will fold this through (gently stir it in) right at the very end, as do it any earlier and you will end up with a soggy rotten mess!
4. When the risotto is finished – that is, the rice is soft and sitting in a sticky, creamy liquid, bejewelled with bright green peas – remove it from the heat. Gently fold in the lettuce to wilt it, dash over the rest of the lemon juice and an extra smattering of pepper, and serve immediately for best results.
To keep: Leftovers will keep in the fridge for up to three days, but because of the rice content must be cooled completely before refrigerating and then be reheated until piping hot. This can also be frozen for up to three months, then defrosted and heated until piping hot
Thrifty Kitchen by Jack Monroe is published by Bluebird, priced £19.99. Photography by Patricia Niven. Available now.