The late Myna McAlinden – Behind every great man is a great woman
IT was with great sadness to learn of Myna McAlinden's passing on Wednesday of this week.
She was 99-years-old.
Myna married Jimmy McAlinden, the Belfast Celtic legend and FA Cup winner with Portsmouth in 1939.
Growing up in Ligoniel, north Belfast's grassy hinterland, Myna and Jimmy were neighbours of ours.
I became friends with their grandson Stephen who lived across the street.
In the summer we would play football every night.
Jimmy and Myna would stand at their gate and encourage their grandson.
Jimmy, who would have been in his 60s then, was Stephen's inspiration.
Stephen worshipped the ground Jimmy walked.
He wanted to follow in the footsteps of his grandfather.
Not long after we moved away from Ligoniel Jimmy passed away, in November 1993.
Belfast Celtic legend Jimmy McAlinden
After his playing days, Jimmy had a very successful managerial career in the Irish League and mentored a young Martin O'Neill when the St Malachy's student joined Distillery.
O'Neill once said: "I had a wonderful education under Brian Clough, there's no doubt about it. And people start to say: 'Well, he taught you the game'.
"In actual fact, Jimmy McAlinden taught me the game.
"Jimmy McAlinden had a supreme knowledge of the game; he had a supreme knowledge of individuals.
"He had a disparate group of boys [at Distillery]. You had Donnelly who was a strong Republican and then you had the absolute opposite in Rafferty.
"McAlinden had this fantastic ability of putting these boys together and being great mates.
"McAlinden had a great influence on the football club, and a great influence on those players because they would have died for him – and so would I."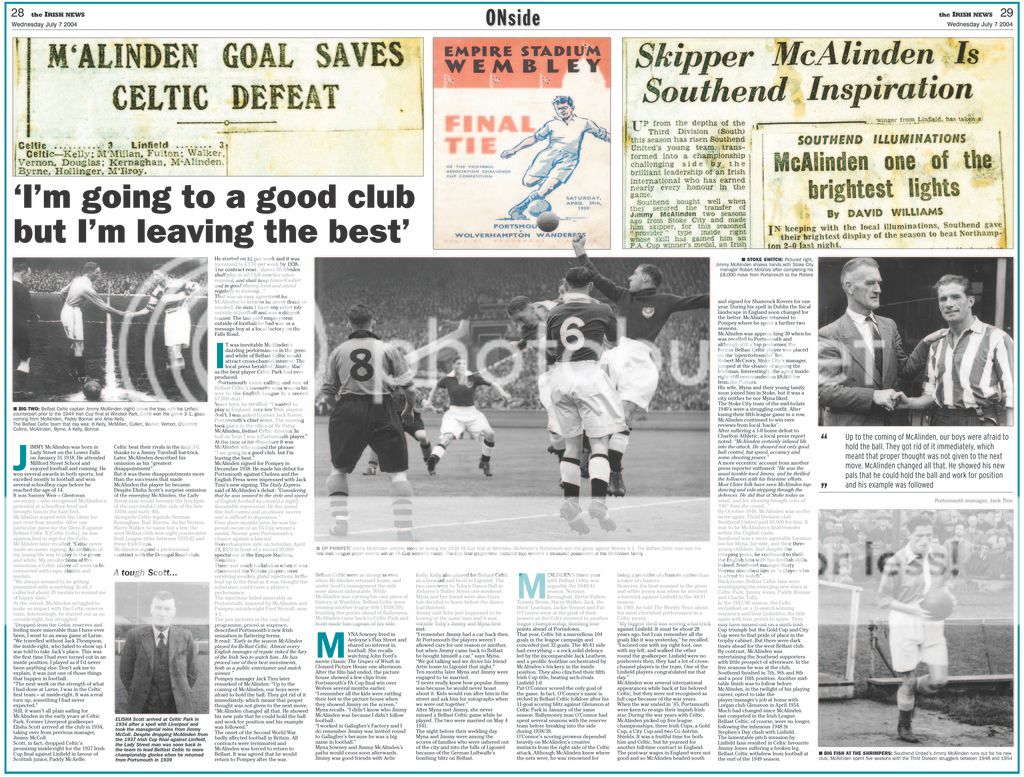 It was in 2004 I decided to research Jimmy's life for a piece in The Irish News.
I'd arranged to call to Myna's house one Friday evening as she'd promised to get all the scrapbooks, old photographs, Jimmy's pristine velvet international caps and countless medals to show me.
My research was done, thanks to Myna.
I spent a couple of hours with Myna and listened intently to when she first heard of this wonderful, gazelle-like footballer called Jimmy McAlinden.
It was while she watched John Ford's movie classic The Grapes of Wrath in the Clonard Picture House the screen flashed up footage of Portsmouth's FA Cup final win over Wolverhampton several months earlier.
"I remember all the kids were rattling their feet in the picture house when they showed Jimmy on the screen," Myna recalled.
"I worked in Gallagher's Factory and I do remember Jimmy was invited round to Gallagher's because he was a big name in football."
Myna, Sowney by her maiden name, lived in Ardoyne's Flax Street. It was at the nearby Toby's Dance Hall that she first met Jimmy.
Ten months later, they were engaged to be married.
In her kitchen with the scrapbooks open and sifting through photographs, Myna laughed: "I never really knew how popular Jimmy was because he would never boast about it. Kids would run after him in the street and ask him for autographs when we were out together."
Myna and Jimmy married on May 4 1941.
The night before their wedding day, they headed for the relative safety of the hills of Ligoniel as the German Luftwaffe bombed Belfast.
For those couple of hours back in 2004, Myna was transported back to her youth – and Jimmy was alive again.
It's true what they say: behind every great man, there's a great woman.
Myna was certainly that.
They don't make neighbours like Myna and Jimmy any more.
They were salt of this earth.
Myna will be laid to rest tomorrow morning at 10 o'clock from St Vincent de Paul Church, Ligoniel.
********************
NORMALLY when a team gets relegated and they're gone from the Championship after two games, there's managerial upheaval.
Given the ruthless nature of these statistics, the casual observer might consider that Antrim's senior footballers are going no-where.
And if they watched the last 20 minutes of last Saturday's All-Ireland Qualifier defeat to Sligo that view would be re-affirmed.
But, for once, the results don't really tell the story of Antrim's season.
I covered their Dr McKenna Cup game against Monaghan in Glenavy back in January and it made for grim viewing.
Joint managers Frank Fitzsimons and Gearoid Adams were tasked with building a team from scratch.
Despite gaining promotion to Division Three, some seasoned players couldn't commit to the 2017 set-up.
And so Fitzsimons and Adams flooded the team with young, new and largely unknown players.
Monaghan by contrast fielded eight Ulster medallists and hammered Antrim by 17 points.
Antrim had already lost to St Mary's and things didn't get any better with another heavy defeat awaiting them down in Fermanagh.
A whole host of players were thrown in at the deep end but, apart from their loss in Offaly, Antrim's NFL campaign was encouraging.
Antrim's defensive structure seemed much improved than in recent years. Undoubtedly, the team's Achilles heel is unearthing scoring forwards.
A gut-wrenching, last-gasp equaliser from Longford on the last day of the League season sent them hurtling back down to Division Four.
Donegal was always an unwinnable game in the Ulster Championship while the Sligo defeat was hugely disappointing.
To get an accurate picture of Antrim's season is to look at the individual graphs of all the new players.
Conor Hamill, Peter Healy, Stephen Beatty, Conor Small, Seamus McGarry, Odhran Eastwood, Eunan Walsh and Brendan Bradley have shown enough in their first seasons to be optimistic for the future.
It's equally important that the more experienced members of the squad Declan Lynch, Patrick McBride, Mark Sweeney, Patrick Gallagher, Chris Kerr, Matthew Fitzpatrick, CJ McGourty and Tomas McCann are retained in 2018.
On the face of it, Antrim don't look in great shape but there were crucial foundations dug in 2017.
The joint managers deserve the chance to build on them in 2018.