Jimmy McAlinden: A Belfast Celtic great, FA Cup winner and a true giant and gentleman of the game
The late Jimmy McAlinden was arguably one of the best players to ever have played for the famous Belfast Celtic. A true gentleman of the game, McAlinden carved out a brilliant professional career during the 1930s and 40s. In this feature, first published in The Irish News on July 7 2004, Brendan Crossan re-traces the steps he took to become one of the outstanding players of his generation
I WOULD have been about 12 or 13-years-old when I came to know Jimmy McAlinden.
We lived a few doors up from their house on Wolfhill Drive in Ligoniel. At that time, around the mid-1980s, Jimmy would have been in his midsixties.
From a child's perspective, Jimmy had all the characteristics of an old man – white locks, creased lines on his face and plenty of years in his voice.
But for some reason, beyond my tender years to understand, he didn't seem old to me.
He looked old, but he didn't seem old. And if he didn't seem old then he wasn't old.
There were contradictions in life some 12-year-olds couldn't understand and just had to live with.
I came to know Jimmy through his grandson, Stephen. Stephen would have been five or six years of age and lived across the street from his grandfather.
UP POMPEY: Jimmy McAlinden (centre) looks on during the 1939 FA Cup final at Wembley. McAlinden's Portsmouth won the game against Wolves 4-1. The Belfast Celtic man was the first Irish League player ever to win an FA Cup winner's medal. The Cup final programme (pictured top) remains a treasured possession of the McAlinden family
In the summer nights, Stephen would wait patiently for me at his gate with his mum, Roberta – or Mrs Maguire.
The summer light was usually fading by the time I'd be making my way home past Stephen's house.
He would come bounding out of his gates and ask excitedly if I would play football with him for just a while.
His mum was eternally grateful to me for spending 10, maybe 20 minutes kicking a football up and down the street with her son.
During those summer kick-a-bouts, Jimmy would wander out his driveway to his gates and watch Stephen play.
Jimmy clearly revelled in the fact that his grandson was fanatical about football. He would call out to Stephen to practice using his left foot, his weaker side, and would be full of praise.
Stephen, I remember, had a fine shot and great poise for one so young. Jimmy had dreams for Stephen and Stephen dutifully shared them.
Jimmy was a fine dresser of a man, who seemed to always don an unmistakable tartan cap before driving up the street with his golf clubs in the boot of his car.
I don't remember when and I don't recall who told me that Jimmy was a footballer of some repute.
To me, he was simply Stephen's grandfather. But somewhere along the line, Jimmy's illustrious past seeped into my consciousness.
Apparently, Jimmy McAlinden played for a team called Belfast Celtic and he had won an FA Cup medal.
Unaware of who or what Belfast Celtic meant or stood for, I was more impressed with Jimmy's FA Cup feat. That was the hook for me with regard to Jimmy McAlinden – not Belfast Celtic.
A few years passed when Stephen joined Lisburn Youth FC.
Animated as ever, Jimmy was always on the sidelines when he began to play organised football.
A few times I would have accompanied Jimmy to watch how his grandson was shaping up.
As ever, he would persist in calling out to him to use his weaker foot. When he did, Jimmy marvelled aloud.
Perhaps Stephen reminded Jimmy of himself when he played.
Maybe it was the drop of his shoulder or how he dribbled past a defender or how he shaped to strike the ball.
Only Jimmy knew what it was. Stephen, undoubtedly, had some of that old McAlinden magic – and it was of huge comfort to his grandfather.
A trial for the mighty Tottenham Hotspur awaited his grandson.
We soon left Ligoniel and I rarely got to see Stephen or Jimmy after we moved house. In fact, the next time I saw Stephen was at his grandfather's funeral in Ligoniel in 1993. Jimmy was 75.
//////////////// 0000 ////////////////
Glasgow Celtic manager Martin O'Neill speaking in a 2004 BBCNI Documentary
"Jimmy McAlinden had a supreme knowledge of the game; he had a supreme knowledge of individuals.
"He had a disparate group of boys [at Distillery]. You had Donnelly who was a strong Republican and then you had the absolute opposite in Rafferty.
"McAlinden had this fantastic ability of putting these boys together and being great mates.
"McAlinden had a great influence on the football club, and a great influence on those players because they would have died for him –- and so would I."
//////////////// 0000 ////////////////
LAST Friday, I returned to Jimmy's house in Wolfhill Drive to meet his widow, Myna and their daughter, Roberta, Stephen's mum.
Since BBCNI's excellent documentary on Glasgow Celtic's manager Martin O'Neill a few months back, Roberta's phone "hadn't stopped ringing".
O'Neill's warm tribute to Jimmy McAlinden in the programme warmed the hearts of all who knew the former Belfast Celtic great.
Family and friends were proud that O'Neill hadn't forgotten someone like 'Jimmy Mac'.
The Kilrea man's heartfelt words had re-awakened interest in Jimmy's life and indeed Belfast Celtic.
Earlier in the week, a TV journalist visited Myna McAlinden to record more memories of her husband's football life.
The scrapbooks and old photographs had not yet been put back into the dusty shoebox in the attic.
Indeed, Myna had gone to the trouble of visiting her bank to fetch Jimmy's 1939 FA Cup winner's medal to have it included in the TV snippet.
It remains in golden, pristine condition and will soon be returned to the bank's safe for peace of mind.
Eleven years on, Myna and Roberta have struggled to come to terms with Jimmy's passing.
They gaze at wellworn photographs of him in his Belfast Celtic youth as if it were the first time they had laid eyes on them.
From a cupboard, Myna unearths several caps he received for his international appearances for Ireland.
Jimmy was enjoying his second stint with English League side Portsmouth when he was selected to play against Portugal and Spain in June 1946.
Belfast Celtic players, Tommy 'Bud' Aherne, Jackie Vernon and Billy McMillan were also selected to play.
Apart from some stubborn dust the 58-year-old plush velvet caps remain in good condition.
A 2004 feature on Jimmy McAlinden: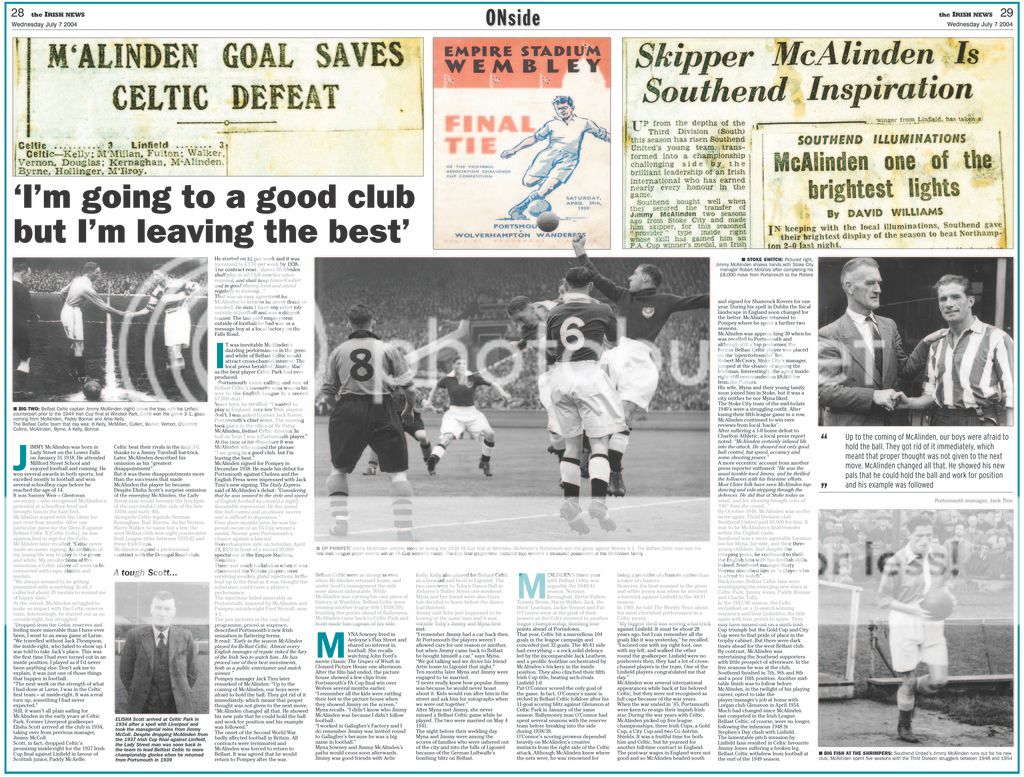 JIMMY McAlinden was born in Lady Street on the Lower Falls on January 31 1918. He attended Millford Street School and enjoyed football and running.
He won several awards in both sports, but excelled mostly in football and won several schoolboy caps before he reached the age of 14.
It was Sammy Weir – Glentoran secretary – who recognised McAlinden's potential at schoolboy level and brought him to the East End.
McAlinden stayed with the Glens for just over four months.
After one particular game for the Glens II against Belfast Celtic II [Celtic Colts], he was approached to sign for the Celts.
McAlinden later recalled: "Celtic never made an easier signing. An ambition of my young life was to play in the green and white. My recollections of five seasons as a Celtic player all seem to be connected with cups, shields and medals.
"We always seemed to be getting presented with something. In all, I collected about 20 medals to remind me of happy days."
At the outset, McAlinden struggled to make an impact with the Celtic reserve team.
BIG TWO: Belfast Celtic captain Jimmy McAlinden (right) takes the toss with his Linfield counterpart prior to the 1944 Irish Cup final at Windsor Park. Celtic won the game 3-1, goals coming from McAlinden, Paddy Bonnar and Artie Kelly. The Belfast Celtic team that day was: H Kelly, McMillen, Cullen, Walker, Vernon, O'Connor, Collins, McAlinden, Byrne, A Kelly, Bonnar
Interestingly, he started out as an outside-right, but struggled: "Dropped from the Celtic reserves and feeling more miserable than I have ever been, I went to an away game at Larne.
"We travelled without Jack Thompson, the inside-right, who failed to show up. I was told to take Jack's place. This was the first time I had ever turned out in an inside position. I played as if I'd never been anything else. Don't ask me to explain, it was just one of those things that happen in football.
"The next week on the strength of what I had done at Larne, I was in the Celtic first team – at inside-right. It was a real turn up, something I had never expected."
Still, it wasn't all plain sailing for McAlinden in the early years at Celtic Park. Former Liverpool goalkeeper Elisha Scott arrived at the club in 1934, taking over from previous manager, Jimmy McColl.
Scott, in fact, dropped Celtic's promising inside-right for the 1937 Irish Cup final against Linfield in favour of Scottish junior, Paddy McArdle.
Celtic beat their rivals in the final 3-0, thanks to a Jimmy Turnbull hat-trick. Later, McAlinden described his omission as his "greatest disappointment".
But it was these disappointments more than the successes that made McAlinden the player he became.
Despite Elisha Scott's surprise omission of the emerging McAlinden, the Lady Street man would become the lynchpin of the successful Celtic side of the late 1930s and early 40s.
Alongside Celtic legends Norman Kernaghan, Bud Aherne, Jackie Vernon, Harry Walker, to name but a few, the west Belfast club won eight consecutive Irish League titles between 1935-42 and three Irish Cups.
McAlinden signed a professional contract with the Donegal Road club.
He started on £2 per week and it was increased to £3.50 per week by 1938. The contract read: "James McAlinden shall play in all Club matches when required, and shall keep himself sober and in good playing form and attend regularly to training..."
That was an easy agreement for McAlinden to keep as he never drank or smoked.
He didn't have any other job outside of football and was a diligent trainer.
The last paid employment outside of football he had was as a message boy at a local factory on the Falls Road.
ELISHA Scott arrived at Celtic Park in 1934 after a spell with Liverpool and took the managerial reins from Jimmy McColl. Despite dropping McAlinden from the 1937 Irish Cup final against Linfield, the Lady Street man was soon back in the team to lead Belfast Celtic to more championship glories when he returned from Portsmouth in 1939

IT was inevitable McAlinden's dazzling performances in the green and white of Belfast Celtic would attract cross-channel interest.
The local press heralded 'Jimmy Mac' as the best player Celtic Park had ever produced.
Portsmouth came calling and one of Belfast Celtic's favourite sons was on his way to the English League in a record £7,000 deal.
Years later, he recalled: "I wanted to play in England, very few Irish players don't. I was asked to meet Jack Foster, Portsmouth's chief scout. The meeting took place in the office of Mr Patsy McAlinden, Belfast Celtic director. In half an hour I was a Portsmouth player."
At the time of his departure it was McAlinden who coined the phrase: "I am going to a good club, but I'm leaving the best."
McAlinden signed for Pompey in December 1938. He made his debut for Portsmouth against Chelsea and the English Press were impressed with Jack Tinn's new signing.
The Daily Express said of McAlinden's debut: "Considering that he was unused to the style and speed of English football he created a highly favourable impression. He has speed, fine ball control and an elusive swerve and is difficult to dispossess."
Four short months later, he was the proud owner of an FA Cup winner's medal.
No-one gave Portsmouth a chance against a fancied Wolverhampton side on Saturday, April 29, 1939 in front of a record 99,000 spectators at the Empire Stadium, Wembley.
There was much hullabaloo when it was discovered the Wolves players were receiving monkey gland injections in the lead up to the final as it was thought the substance could raise a player's performance.
The injections failed miserably as Portsmouth, inspired by McAlinden and Pompey outside-right Fred Worrall, won 4-1.
The pen pictures in the cup final programme, priced at sixpence, described Portsmouth's new Irish sensation in flattering terms.
It read: "Early in the season McAlinden played for Belfast Celtic. Almost every English manager of repute risked the fury of the Irish Sea to watch him...He has proved one of their best investments, both as a public entertainer and match winner."
Pompey manager Jack Tinn later remarked of McAlinden: "Up to the coming of McAlinden, our boys were afraid to hold the ball. They got rid of it immediately, which meant that proper thought was not given to the next move. "
McAlinden changed all that. He showed his new pals that he could hold the ball and work for position and his example was followed."
The onset of the Second World War badly affected football in Britain. All contracts were terminated and McAlinden was forced to return to Belfast.
It was agreed that he would return to Pompey after the war. Belfast Celtic were as strong as ever when McAlinden returned home, and under Scott's management the side were almost unbeatable.
While McAlinden was carving his own piece of history at Wembley, Belfast Celtic were winning another league title (1938/39), finishing five points ahead of Ballymena.
McAlinden came back to Celtic Park and Scott made him captain of his side.
MYNA Sowney lived in Ardoyne's Flax Street and shared no interest in football. She recalls watching John Ford's movie classic The Grapes of Wrath in Clonard Picture House one afternoon.
After the film had ended, the picture house showed a few clips from Portsmouth's FA Cup final win over Wolves several months earlier. "I remember all the kids were rattling their feet in the picture house when they showed Jimmy on the screen,"
Myna recalls. "I didn't know who Jimmy McAlinden was because I didn't follow football.
"I worked in Gallagher's Factory and I do remember Jimmy was invited round to Gallagher's because he was a big name in football."
Myna Sowney and Jimmy McAlinden's paths would cross soon afterwards. Jimmy was good friends with Artie Kelly.
Jimmy and Myna McAlinden
Kelly also played for Belfast Celtic as a forward and lived in Ligoniel.
The two men went to Toby's Dance Hall in Ardoyne's Butler Street one weekend. Myna and her friend were also there, but decided to leave before the dance had finished.
Jimmy and Artie just happened to be leaving at the same time and it was outside Toby's Jimmy and Myna first met.
"I remember Jimmy had a car back then. At Portsmouth the players weren't allowed cars for one reason or another, but when Jimmy came back to Belfast he bought himself a car," says Myna.
"We got talking and we drove his friend Artie home to Ligoniel that night." Ten months later Myna and Jimmy were engaged to be married.
"I never really knew how popular Jimmy was because he would never boast about it. Kids would run after him in the street and ask him for autographs when we were out together."
After Myna met Jimmy, she never missed a Belfast Celtic game while he played. The two were married on May 4 1941.
The night before their wedding day Myna and Jimmy were among the scores of families who were ushered out of the city and into the hills of Ligoniel because of the German Luftwaffe's bombing blitz on Belfast.
(It is with deep sadness that we learned of Myna McAlinden's passing on Wednesday past, June 21 2017).
McALINDEN'S finest year with Belfast Celtic was arguably the 1940/41 season.
Norman Kernaghan, Bertie Fulton, Tommy Breen, Harry Walker, Jack 'the Hack' Leatham, Jackie Vernon and Pat O'Connor were at the peak of their powers as the Celts stormed to another league championship, finishing four points ahead of Portadown.
That year, Celtic hit a marvellous 104 goals in the league campaign and conceded just 32 goals.
The 40/41 side had everything – a rock solid defence led by the incomparable Jack Leathem and a prolific frontline orchestrated by McAlinden's trickery in the inside position.
They also clinched their fifth Irish Cup title, beating arch-rivals Linfield 1-0. Pat O'Connor scored the only goal of the game.
In fact, O'Connor's name is etched in Belfast Celtic folklore after his 11-goal scoring blitz against Glenavon at Celtic Park in January of the same season.
Ballymoney man O'Connor had spent several seasons with the reserve team before breaking into the side during 1938/39.
O'Connor's scoring prowess depended heavily on McAlinden's creative instincts from the right side of the Celtic attack.
Although McAlinden knew where the nets were, he was renowned for being a provider of chances rather than a taker of chances.
However, his best moment in the green and white jersey was when he notched a hat-trick against Linfield in the 40/41 season.
In 1969, he told The Weekly News about his most cherished performance in a Celtic jersey.
"My biggest thrill was scoring a hat-trick against Linfield. It must be about 28 years ago, but I can remember all the goals like it was yesterday," he recalled.
"I scored one with my right foot, one with my left, and walked the other round the goalkeeper. Linfield were no pushovers then, they had a lot of crosschannel players in the team. One of the Linfield players congratulated me that day."
McAlinden won several international appearances while back at his beloved Celtic, but they were not recognised as full caps because of the war years.
When the war ended in '45, Portsmouth were keen to re-sign their impish Irish star. During the war years with Celtic, McAlinden picked up five league championships, three Irish Cups, a Gold Cup, a City Cup and two Co Antrim Shields.
It was a fruitful time for both him and Celtic, but he yearned for another full-time contract in England.
The post-war wages in England were not good and so McAlinden headed south and signed for Shamrock Rovers for one year.
During his spell in Dublin the fiscal landscape in England soon changed for the better.
McAlinden returned to Pompey where he spent a further two seasons.
McAlinden was approaching 30 when he was recalled to Portsmouth and although still a top performer, the former Belfast Celtic player was placed on the 'open-to-transfer' list.
Robert McCrory, Stoke City's manager, jumped at the chance of signing the Irishman.
Interestingly, the aging inside-right still commanded an £8,000 fee from the Potters. His wife, Myna and their young family soon joined him in Stoke, but it was a city neither he nor Myna liked.
The Stoke City team of the mid-to-late 1940's were a struggling outfit. After losing their fifth league game in a row, McAlinden continued to win rave reviews from local 'hacks'.
After suffering a 1-0 home defeat to Charlton Athletic, a local press report noted: "McAlinden certainly infused life into the attack. He showed not only good ball control, but speed, accuracy and some shooting power."
A more eccentric account from another press reporter enthused: "He was the usual twinkle-toed Jimmy, and he thrilled the followers with his first-time efforts.
"Most Ulster folk have seen McAlinden tapdancing and side-stepping through the defences.
"He did that at Stoke today as usual, and his shooting brought cries of 'Oh!' from the crowd..."
By October 1948, McAlinden was on the move again. Third Division club Southend United paid £6,000 for him.
It was to be McAlinden's final transfer within the English ranks. Southend was a more agreeable location too for Myna, his wife, and their three young children.
And despite the creeping years, he continued to thrill the English fans with his devilish skills.
Indeed, Southend manager Harry Warren described him as "a player who is a treat to watch".
Back home, Belfast Celtic fans were worshipping the emerging new stars at Celtic Park; Jimmy Jones, Paddy Bonnar and Charlie Tully. In the 1947/48 season, the Celts embarked on a 31-match winning sequence and beat Linfield to the title again with four points to spare.
They may have missed out on a ninth Irish Cup triumph but the Gold Cup and City Cup were to find pride of place in the trophy cabinet.
But there were dark times ahead for the west Belfast club.
By contrast, McAlinden was entertaining the Southend supporters with little prospect of silverware.
In the five seasons he was at the club, Southend finished in 7th, 9th and 8th and a poor 16th position.
Another mid-table finish was to follow before McAlinden, in the twilight of his playing career, opted to take the player/manager's job at home with Lurgan club Glenavon in April 1954.
Much had changed since McAlinden last competed in the Irish League. Belfast Celtic, of course, were no longer, following the infamous 1948 St Stephen's Day clash with Linfield.
The lamentable pitch invasion by Linfield fans resulted in Celtic favourite Jimmy Jones suffering a broken leg.
Belfast Celtic withdrew from football at the end of the 1949 season.
SUBSEQUENTLY, McAlinden spent 14 blissful years with the Mourneview club.
Soon enough his astuteness extended to the dug-out where he won every honour in Irish League football.
After a few seasons away from the local game, McAlinden returned to manage Distillery in February 1969, replacing Tommy Casey.
The Whites were perennial strugglers at the time but, within 13 games, Distillery were contesting an Irish Cup final against Ards, only to lose by the odd goal. So what was McAlinden's managerial secret?
In an interview with The Weekly News in June '69, the now-greying McAlinden revealed: "Just because I'm the boss doesn't mean I'm right all the time. I've heard managers who wouldn't admit it if they were wrong. Even though a player's point of view was correct they'd reply they're the boss and what they say is law.
"If I think one of my players is right, I'll acknowledge the fact and concede I've been wrong."
McAlinden managed many good young players at Distillery and built a team that won the 1971 Irish Cup.
A fresh-faced teenager by the name of Martin O'Neill was cutting his Irish League teeth under the guidance of McAlinden and was a mainstay of the side that won the cup in '71.
Alan McCarroll, Peter Rafferty, Joe Patterson, Geordie Lennox, Brian Hamilton, Geordie O'Halloran, Martin Donnelly and Gerry McCaffrey were others who made their mark at the Whites and sampled the congenial style of McAlinden.
"The thing that everybody thought about Jimmy McAlinden was that he was a complete and utter gentleman," remembers former Distillery striker Gerry McCaffrey.
"He was one of the nicest people you'd ever wish to meet. "From a footballing point of view he never dictated. He put his point to you and if you had a point you would put it to him. He talked things through with you. You usually came around to doing what he wanted anyway, but there was no forcing or dictating with him.
"If you said something and he disagreed with you he would say: 'Well, do you not think this way would be better?'. He did this repeatedly. You never heard him laying the law down to anybody.
McCaffrey added: "His philosophy in football was very, very simple. He got people who he thought could play and he let them play. He would have talked to players on an individual basis; that was the way he done things and he handled everybody exactly the same.
"He had vast experience while we were just young players still learning the game. Although at the time you thought you knew everything, but you soon realised you didn't and that Jimmy's way was better.
"He had the complete and utter respect of everyone that played for him. I never heard anybody say a bad word about Jimmy, even players who were dropped from the team."
STOKE SWITCH: Pictured right, Jimmy McAlinden shakes hands with Stoke City manager Robert McGrory after completing his £8,000 move from Portsmouth to the Potters
Jimmy enjoyed a distinguished period with the New Grosvenor club before moving to Drogheda United in 1975.
He brought the modest League of Ireland club to the FAI Cup final in 1976 and finished third on two separate occasions. After a few seasons the travelling became too much for McAlinden.
He had served the local game so well both on and off the field, but it was time to say goodbye to the game that he loved.
J IMMY McAlinden lived a full life. The newspaper cuttings in the family scrapbooks, dating back to the 1930s, are a faded yellow.
But in those dry, cracked pages the Belfast Celtic legend comes alive to us again. And it's with huge reluctance Myna and Roberta close the books.
The conversation in Jimmy's house on Wolfhill Drive last Friday evening was more animated when the scrapbooks were open.
There's a tameness when the scrapbooks close.
HISTORIC CLIPPINGS: Newspaper cuttings which were collected by Jimmy McAlinden's family, detailing his career as a player and manager
His daughter Roberta remarked that her father didn't dislike the Park Centre – where Celtic Park once was – he merely felt indifferent towards it.
She said he used to stand at various points in the shopping centre's carpark and remember particular moments.
He struggled with his bearings in the car park and would slowly build pictures from the past.
For a brief moment everything was tangible again – the texture of the pitch, the hordes of fans, Norman Kernaghan, Bud Aherne, Harry Walker... But it's all gone.
The clatter of a shopping trolley is a horrible-sounding reminder that Belfast Celtic is indeed all gone.
Cars and people appear and disappear like ants.
Constant and oblivious. Stephen, Jimmy's grandson, was good enough for a crack at professional football.
When Jimmy died, Stephen never kicked a ball again.
The dreams they shared when he was a boy just didn't seem to have purpose any longer.
Stephen is 25 now and is a successful musician and stage lighting manager.
Just like his grandfather, Stephen is living a full life.
//////////////// 0000 ////////////////
MARTIN O'Neill's football career could have been so different if only for a drunken football scout.
Former Belfast Celtic player and friend of Jimmy McAlinden, Jimmy Donnelly recalls how he alerted Newcastle United to the budding Martin O'Neill at Distillery. Donnelly had good contacts with the Tyneside club and wrote to St James' manager
Jackie Millburn about having the young Kilrea man watched.
Donnelly recalls: "Newcastle decided to send their top scout over to have a look at Martin. The scout had arranged to meet me at Castlereagh Park before one of Martin's games. About five or 10 minutes passed and he still hadn't arrived."
To Donnelly's dismay the Newcastle scout never appeared that day.
"By a strange coincidence a man called Frank Falls, who had a bar in Newtonards at the time, came to our house because he was organising pilgrimages to Lourdes," explains Donnelly.
"And he began to tell me about this guy in his bar who got so drunk. It turned out it was the Newcastle fella. He was so drunk they had to get him back to the airport.
"Martin ended up going to Nottingham Forest for £4,500. After a year or so when he had a dispute with [Brian] Clough, Newcastle tried to sign him and Forest wanted £75,000 at that stage."
Donnelly also alerted McAlinden about O'Neill when he watched him during a game at St Malachy's.
"It was a game between the students and teachers at the college. Martin was walking around the pitch because he was a boarder at St Malachy's.
"One of the lads said to get this lad on. He came on and he was outstanding. So I got onto Jimmy Mac. We went up to Celtic Park the following Saturday to watch him play for Star of the Sea in the Down & Connor League."
And Jimmy said: 'That's the man for me'. And Martin signed for the Whites."
//////////////// 0000 ////////////////
THERE continues to be much debate as to who were regarded the finest eleven players who donned the famous green and white jersey of Belfast Celtic.
After much research and consultation, the Irish News has came up with the following Belfast Celtic team.
Undoubtedly, this selection will prove contentious...
1. Tommy Breen
2. Billy McMillen
3. Bertie Fulton
4. Harry Walker
5. Jack Leathem
6. John 'Scotty' Walker
7. Norman Kernaghan
8. Jimmy McAlinden
9. Jimmy Turnbull
10. Walter Bruce
11. Charlie McIlroy
Do you agree?
If your opinion differs or you just want to express your thoughts on Jimmy McAlinden's career or Belfast Celtic, please do not hesitate to contact the Irish News on: Tel: 028 90337460 e-mail: sportsdesk@irishnews.com
Many thanks to: Myna McAlinden, Roberta Maguire, Jimmy Donnelly, Tommy Hawkins and Gerry McCaffrey.
Irish News sports journalist Brendan Crossan
http://www.in-house.org.uk/cloudpdf/2004/07/07/A27P3.pdf
http://www.in-house.org.uk/cloudpdf/2004/07/07/A28P3.pdf
http://www.in-house.org.uk/cloudpdf/2004/07/07/A30P3.pdf
http://www.in-house.org.uk/cloudpdf/2004/07/07/A27P3.pdf
http://www.in-house.org.uk/cloudpdf/2004/07/07/A28P3.pdf
http://www.in-house.org.uk/cloudpdf/2004/07/07/A30P3.pdf