Kindle Oasis review: The Kindle is finally waterproof – but at a price
Ever settled in for a nice relaxing bath with a good novel, but promptly dropped your book in the bath rendering it completely unreadable?
That's the problem Amazon is trying to address with the latest iteration of the Kindle Oasis – its first waterproof e-reader.
But at a penny shy of £230, is it worth the money?
If that price tag seems steep, it's worth noting that £229.99 is actually £40 cheaper than the previous version of the Oasis, but that drop in price brings minuses as well as some considerable plus points.
Most eye-catchingly, the new Oasis is waterproof.
That's great news if you like to read in the bath but have been so worried you might drop your device in the water that so far you have not taken your Kindle with you.
In fact, Amazon says the Kindle can withstand an hour underwater at a depth of up to two metres. That means if a holiday-goer fell asleep on an inflatable and dropped their Kindle to the bottom of the pool, it should still be okay.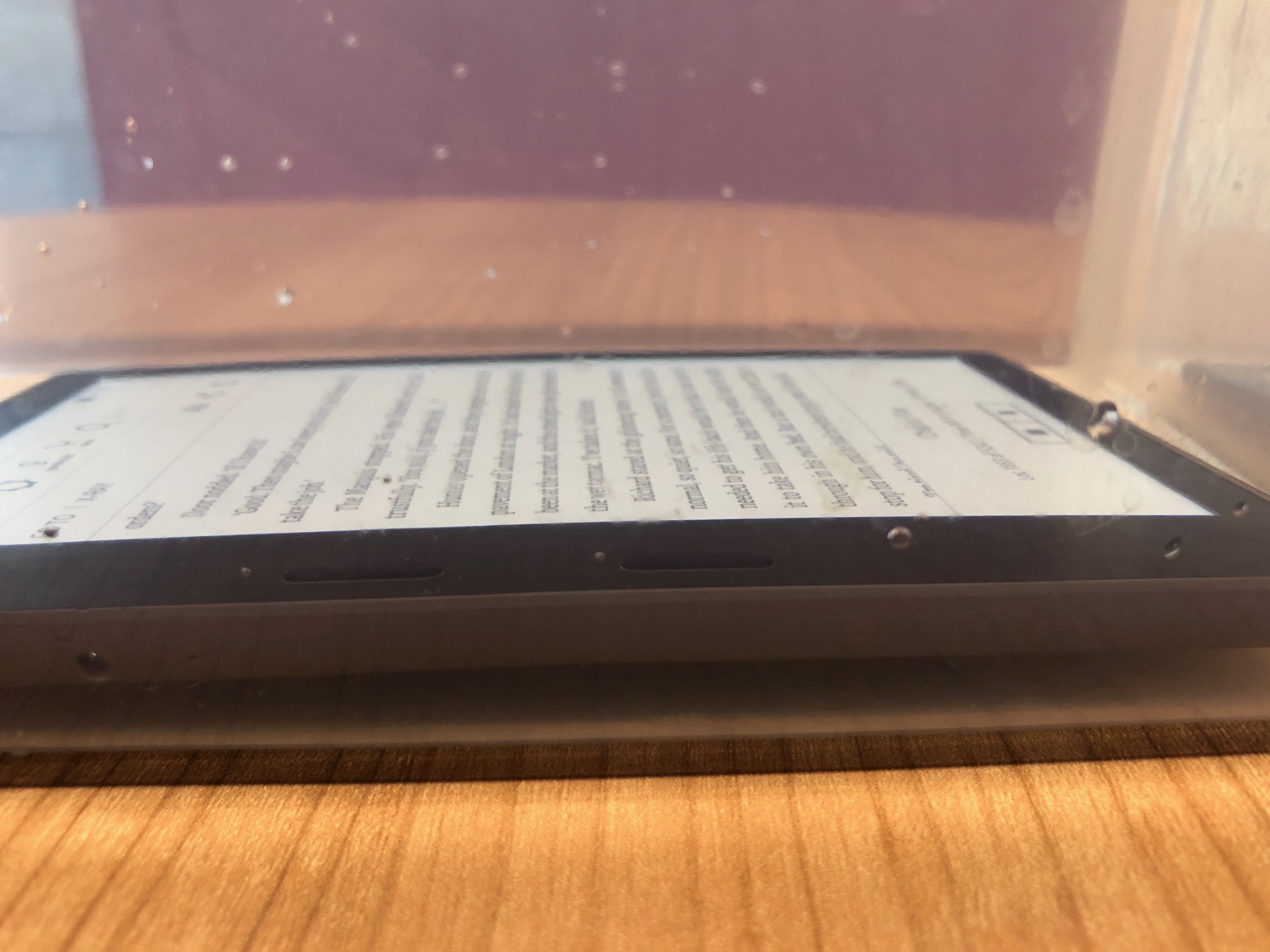 In testing we didn't quite take it that far, but we did put the Kindle at the bottom of a tub filled with water for five minutes and, except for the water colluding with the touchscreen to change the font size, it showed no ill effects.
But the upside of waterproofing comes with a downside.
The previous iteration of the Kindle Oasis contained a connection point that would attach to a special case containing a power source, boosting the battery life of the e-reader considerably. That's no longer there.
And the knock-on effect of that is a much heavier device – 194g compared to 131g – as that extra battery life, which Amazon says "lasts weeks, not hours", is shifted into the Kindle itself.
That is probably not a big deal for most readers, given many are likely to keep their Kindle's cover on most of the time anyway.
But if you do want a cover for your new Oasis, you'll have to buy one separately – it doesn't come included like it did with the last model.
For £39.99 – the price difference between the two Oases – you can add a cover made of a "water-safe" fabric – ie fine if it gets splashed but not great if it gets submerged.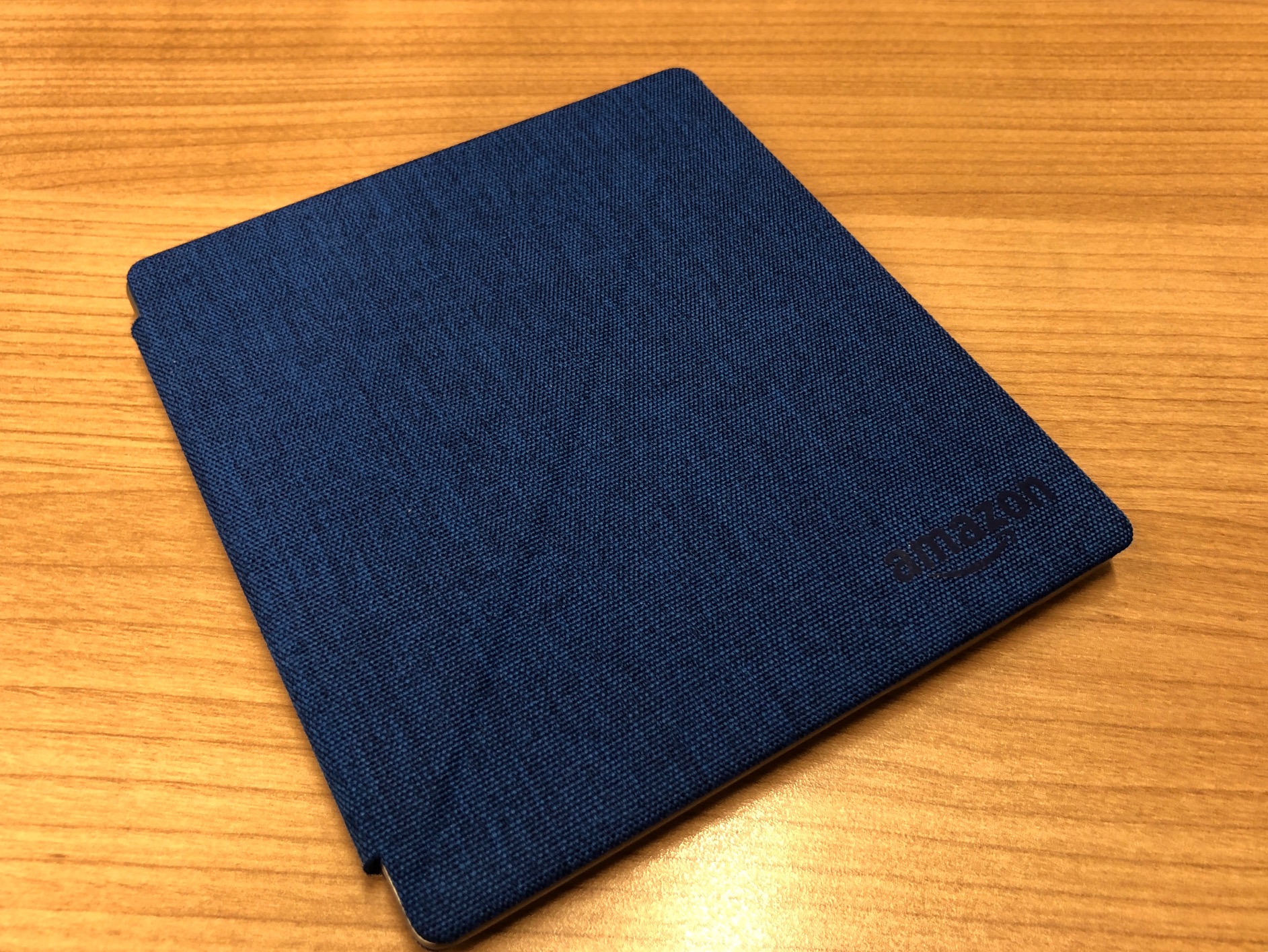 It's a nice bit of design that fits snugly with the device's unusual shape using magnets, and its texture "feels like the binding of a book", according to Amazon. As you'd hope, it wakes or puts the Kindle to sleep by opening or closing it.
Elsewhere, it's undeniably a premium experience, as is flagged by the metal finish which also contributes to the device's weight.
The seven inch-screen is bigger than other Kindle models, meaning more words per page and fewer page turns.
It's silky smooth, non-glare, clear and sharp – genuinely a pleasant and easy reading experience – with an adaptive front light which automatically adjusts to different conditions. It all happens so smoothly that you barely notice the change.
And with a storage capacity of up to 32GB you can carry thousands of books around with you – more than a lot of readers will get through in a lifetime.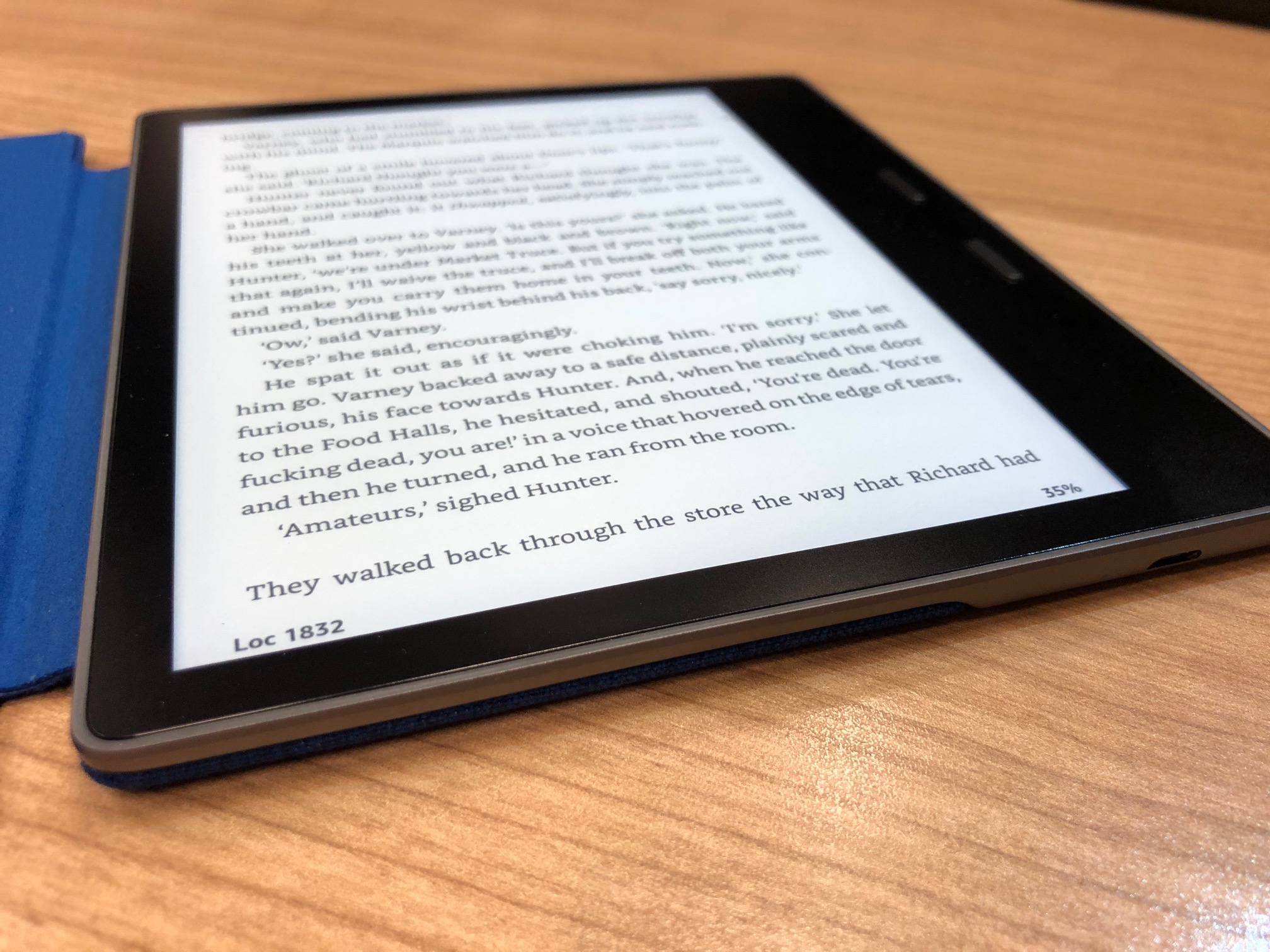 That increased storage will certainly help if you decide to make the most of another new feature. You can now listen to audiobooks on the Oasis via Audible – providing you have bluetooth-enabled speakers or headphones to connect with the device.
With an increasing number of books able to sync now between Kindle and Audible, it offers the chance to, for example, read your Oasis on your sofa then switch to the audiobook in your car when it's time to head out into the world – assuming you're willing to pay the extra money for the audiobook format.
It's clearly sensible for Amazon to make all of its book formats available via one device, but whether it's more convenient than using your phone for the same task is debatable.
It perhaps gets to the crux of the problem for Amazon when it comes to the Kindle.
The Kindle is a device that does one job very well – and there's not a huge difference between the job the most basic £60 Kindle does and that of the £230 Oasis.
All the bells and whistles undoubtedly make it a better product – but, for many readers, probably not £170 better.