First play: Assassin's Creed Origins is different while remaining the same
Assassin's Creed is back at E3 and after a break for the series and a Hollywood movie in the meantime, attention is once again on one of Ubisoft's flagship brands.
Origins is what it says on the box, an origin story, where players journey to Ancient Egypt to witness the beginning of the Assassin's Brotherhood.
The time away has also been used by Ubisoft to tweak and rework several mechanics within the game.
The most important of these is the combat system, which is much more fluid alongside general gameplay – moving in and out of combat no longer feels staged or like two separate sections coming together.
Instead, combat now happens seamlessly and the flow of the game has changed as a result.
It's not yet completely comfortable, as the rigidness of the former system did at least make combat sequences neater.
Right now, they still feel a little clumsy in Origins, with more wild swings of weapons and button mashing to attack than previous games.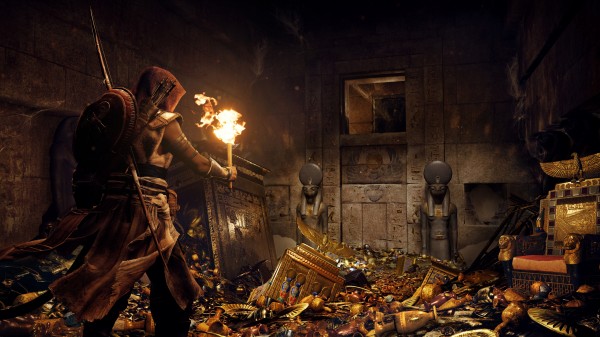 The setting for Origins, however, looks spectacular. Though we only saw a small fishing village and desert outskirts in our demo, the variety and vibrancy that Assassin's Creed often brings to its settings is still present.
The textures of the sand and water look stunning when viewed in 4K and naturally draw you in.
The game has shrunk vertically this time around – there are fewer tall towers to climb, but that scale has instead shot outwards with a regeneration of most of Egypt for the game's map.
This scale is nicely shown off with a twist to Eagle Vision – one of the core exploration tools of the series.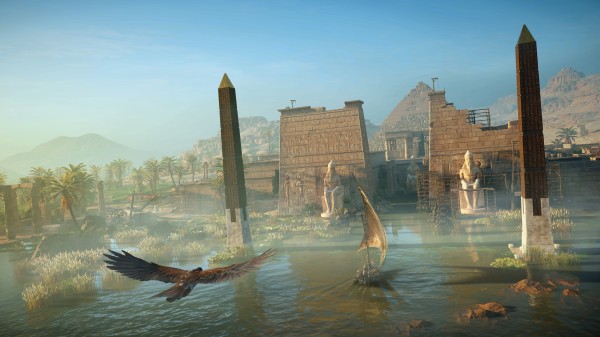 Main character Bayek is able to summon eagle Senu to take to the skies as a live version of the Eagle Vision, showing the moving world below as the bird soars above, with the player controlling it.
In the demo, Senu helped us spot enemies on a boat in the harbour as well as locate items we needed to retrieve.
Much like traditional Eagle Vision, it helps with planning and scouting, but with a new real-time twist.
Changes have also been made to customisation and character structure.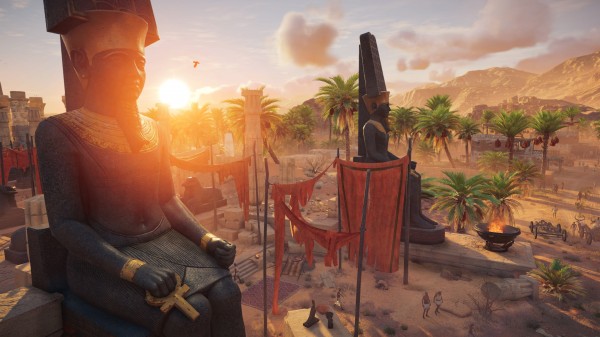 In Origins, players will level up and pick and choose abilities to mould their assassin as they see fit.
It's much more of a role-playing game (RPG) system than it has been in the past and should make for more individual experiences as a result.
Unlike a lot of the other major titles previewed at E3, the leading video games show, Origins is also due this year – in the autumn.
With the new changes in the current instalment, in addition to the gap since the last game, it should be enough to have fans of the franchise coming back again.