Nasa satellite takes stunning image of Earth from 600,000 miles away
A tiny Nasa tasked with testing new technology in space has managed to capture a breathtaking image of the Earth and the moon from more than 600,000 miles away.
MarCO-B, a CubeSat which is one of the US space agency's two The Mars Cube One satellites, used a fisheye camera to snap its first photo on May 9.
MarCO-B, along with MarCO-A, which are tiny satellites on their way to Mars, made history by becoming the first CubeSats launched to another planet.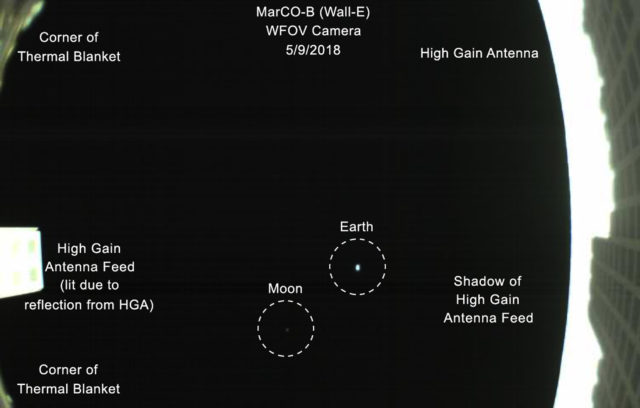 The CubeSats will follow Nasa spacecraft InSight on its cruise to Mars, testing out miniature spacecraft technology along the way.
Nasa said the new image, taken 621,371 miles from Earth, honours the photo taken by the Voyager spacecraft in 1990, which was famously described by physicist Carl Sagan as the "Pale Blue Dot".
Andy Klesh, MarCO's chief engineer at Nasa's Jet Propulsion Laboratory, Pasadena, California, said: "Consider it our homage to Voyager.
"CubeSats have never gone this far into space before, so it's a big milestone.
"Both our CubeSats are healthy and functioning properly. We're looking forward to seeing them travel even farther."
If all goes according to plan, the satellites will fly past Mars in November.
The CubeSats will attempt to send data to Earth from InSight during the lander's entry, descent and landing sequence, but the main purpose of their mission is to demonstrate that CubeSats can explore beyond Earth's orbit.