Scientists have created genetically modified pigs with 24% less fat
Genetically modified pigs have been bred to have 24% less fat than their normal counterparts.
Using a gene-editing tool known as the CRISPR-Cas9, scientists in China inserted a gene called UCP1 with the aim to help pigs burn fat better.
Pigs lack the UCP1 gene but other mammals, including humans, have it. This gene is responsible for helping regulate body temperature during the cold season.
The researchers inserted a mouse version of the UCP1 into pig cells and used them to create more than 2,000 cloned embryos.
These GM embryos were then implanted into 13 female pigs, three of whom became pregnant and gave birth to 12 male piglets.
Thanks to the UCP1 gene, the piglets were able to burn their own body fat to regulate their temperature in colder environments. It also meant these GM pigs had 24% less body fat than normal pigs.
Study leader Jian-Guo Zhao told NPR: "They could maintain their body temperature much better, which means that they could survive better in the cold weather."
The researchers hope these GM pigs will make it less expensive for farmers during the cold weather as well as help reduce piglet deaths in winter.
Zhao has said he is sceptical about whether the GM pork products would taste different to the regular ones.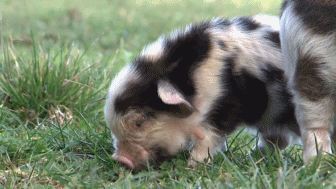 But whether GM pigs will be approved for public consumption still remains a question.
The European Commission has strict rules on GM produce and, at present, no GM animals or derived products are on the EU market.
The US Food & Drug Administration has approved a genetically modified salmon but getting the green light in the US is a tough process.
The research is published in the journal Proceedings of the National Academy of Sciences.