Nasa's futuristic Mars rover concept vehicle looks like something Batman would drive
Nasa has officially unveiled it's new Mars rover concept vehicle and it looks a lot like Batmobile.
The futuristic rover is on display at the Kennedy Space Center Visitor Complex in Orlando, Florida and its aim is to inspire the next generation of budding scientists and astronauts as the US space agency continues to develop plans for its journey to the Red Planet.
For comparison, here is what Batman v Superman: Dawn Of Justice director Zack Snyder tweeted in 2014 when he gave the world a sneak preview of Batman's (aka Ben Affleck's) Batmobile.
According to Rebecca Shireman, assistant manager of public relations for the Kennedy visitor complex, the concept rover is "an all-encompassing effort to review the history of our efforts to explore Mars and look ahead to what is being planned."
"We hope this will encourage young people to want to learn more about being a part of the effort to go to Mars," she added.
While Nasa's next robotic Mars rover is set to land on the Red Planet in 2020, their concept rover is part of the "Summer Of Mars" promotion and will not venture into deep space.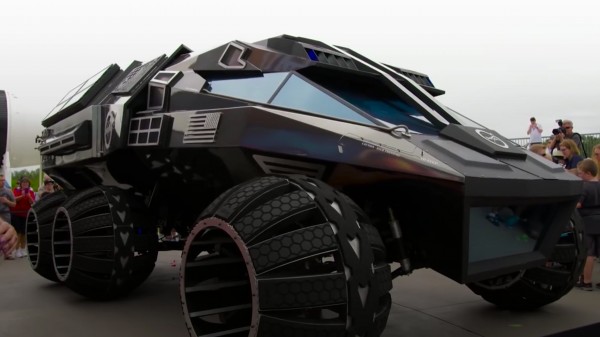 Instead, the agency's Mars 2020 rover will make its way to our neighbouring planet in three years' time as planned to search for signs of past microbial life and collect core samples for a potentially future return to Earth.
The concept rover operates on an electric motor, powered by solar panels and a 700-volt battery, and is equipped with a radio and navigation provided by the Global Positioning System.
The back section serves as a laboratory which can disconnect for research.