Snoop Dogg: The controversial gangsta rapper turned Hollywood Walk of Famer
Snoop Dogg emerged from the 1990s West Coast hip-hop scene and became one of the most successful rappers of his generation.
He is famous for his laidback delivery and persona, as well as for his connection to marijuana, of which he is a prominent supporter.
In 2012, Snoop, who reportedly earned his nickname due to a supposed likeness to cartoon dog Snoopy, told fans he smoked 81 cannabis blunts a day.
Snoop Dogg, real name Calvin Broadus Jr, was born in Long Beach, California, and shot to fame following the release of his 1993 debut album, Doggystyle, which featured singles including Gin & Juice, Murder Was The Case and Doggy Dogg World.
As a teenager he spent time in prison for a drug offence before one of his early mixtapes impressed NWA co-founder Dr Dre, who invited him to an audition.
After featuring on Dre's debut solo album, The Chronic, Snoop Dogg's own maiden record was much anticipated.
Doggystyle's release catapulted him to mainstream fame, selling millions of copies around the world.
It also attracted criticism for its themes of violence and crime, with the West Coast hip-hop scene and gangsta rap at the centre of calls for censorship.
By the time Snoop Dogg's second album – Tha Doggfather – had been released in November 1996, the controversy surrounding hip-hop had increased.
One of its leading figures, Tupac Shakur, had been shot and killed in September that year while another prominent rapper, The Notorious BIG, would be murdered in 1997.
Despite the controversy engulfing the genre, Tha Doggfather proved to be another huge success thanks in part to the single Snoop's Upside Ya Head.
But by now Snoop was embroiled in a row with his record label, Death Row Records, about the terms of his contract and the alleged withholding of royalty payments.
He left the label in 1998 and a year later released his autobiography, The Doggfather.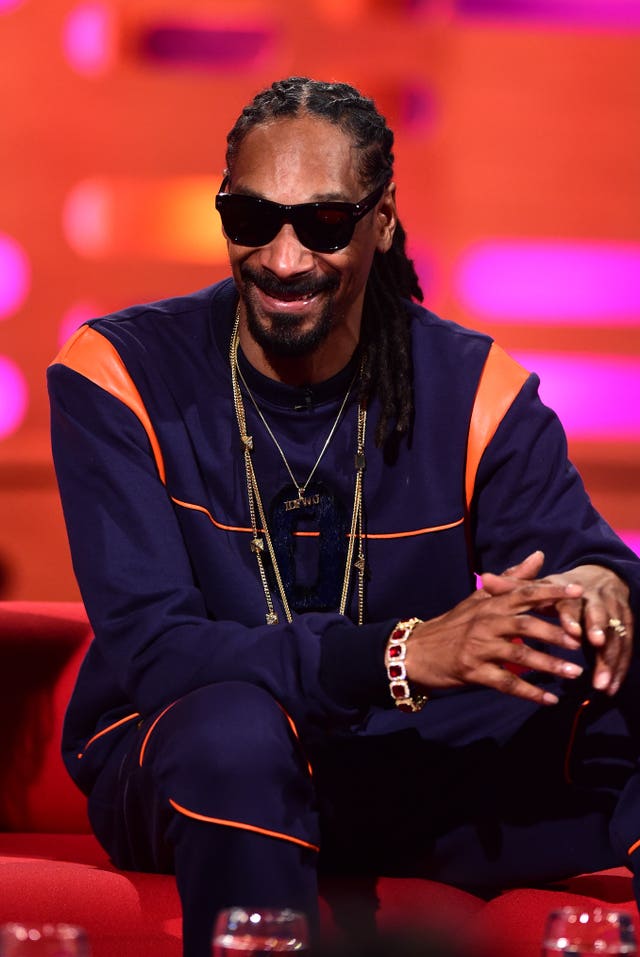 The next decade brought more success for Snoop, who by now was an established mainstream star.
Albums such as Paid Tha Cost To Be Da Boss, Tha Blue Carpet Treatment and Ego Trippin' were all big hits.
But time and success had not completely erased his penchant for troublemaking.
In 2006 he was banned from the UK following a disturbance at Heathrow Airport and he was also banned from Norway for two years in 2012 after taking marijuana into the country.
In 2012 he introduced a new stage name, Snoop Lion, after announcing he had converted to Rastafarianism.
His most recent album, Bible Of Love, was released in March and marked his first foray into gospel.
In November 2018 he was honoured with a star on the Hollywood Walk of Fame.