Darcey Bussell suffers wardrobe malfunction during Strictly Come Dancing
Strictly Come Dancing fans saw more than they bargained for when Darcey Bussell suffered a wardrobe malfunction during the live show on Saturday.
The judge was moving her skirts as she was making her grand entrance down the staircase on to the dance floor when she inadvertently showed off her nude underwear to viewers.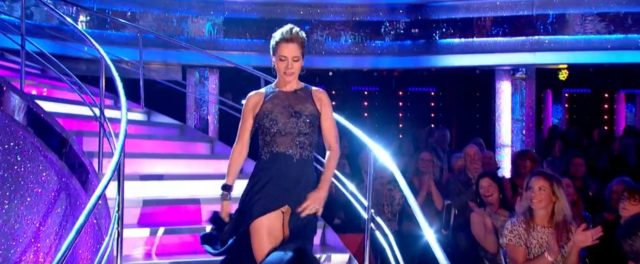 One viewer wrote on Twitter: "Did Darcey accidentally flash her knickers! That would be absolute nightmare on TV!"
Another wrote: "Whoops Darcey just flashed her knickers doing her silly dress flapping intro on #StrictlyComeDancing."
Anohter viewer said: "Glanced up and saw Darcey's knickers…at least she was wearing some."
One viewer was less than impressed, writing: "To Darcey Bussell it is a no no to show the front of ur knickers while being introduced on the show . Tut tut ."
Another fan simply said: "Blimey! Darcey! Steady on…"
Strictly Come Dancing continues on Sunday on BBC One at 7.15pm.