Chris Evans and wife pose with new-born twins
Chris Evans and his wife Natasha Shishmanian have introduced their new-born twins to the world.
The couple, who welcomed a boy and a girl at Frimley Park Hospital in Frimley, Surrey on Wednesday evening, posed with the babies along with their sons Noah, nine, and six-year-old Eli.
The parents beamed as Shishmanian cradled the twins in her arms.
Earlier on Thursday, Evans confirmed the twins' arrival on the Radio 2 Breakfast Show, which was guest hosted by Sara Cox.
The statement, read out on air, said: "Ping and Pong arrived safe and well last night.
"Ping popped her head out at 22.10, Pong popped his head out 12 minutes later at 22 minutes past 10.
"Both healthy, both strong, happy and blessed, as was mum throughout.
"Infinite thanks to the amazing team at Frimley Park Hospital, amazing people, amazing professionals, helping dreams come true. Thank you."
Last week, Evans said Ping and Pong was a "working title" for his babies, and that he was considering using them as middle names.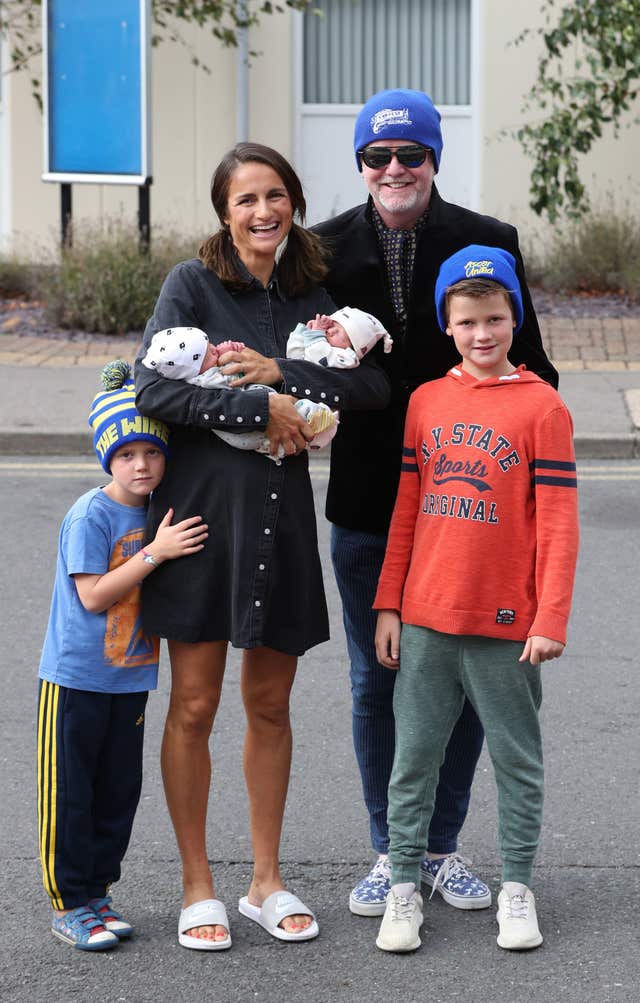 He told Janet Jackson, a guest on his Breakfast Show: "We call them Ping and Pong because they are the unborns. We have a working title!"
But he added: "It's so cute I want to keep them as the names Ping and Pong."
When singer Jackson asked whether he meant nicknames, Evans replied: "Or middle names."
Evans is expected to return to the Breakfast Show on Friday.
Evans and Shishmanian married in 2007.
As well as his two other sons with Shishmanian, Evans also has a 32-year-old daughter from a previous relationship.