Jeremy Clarkson compares himself to The Hoff in seaside snap
The Grand Tour host Jeremy Clarkson has jokingly compared himself to David Hasslehoff's Baywatch character in a social media post.
Clarkson, 58, posted a photo on his Instagram profile of himself in swimming trunks bounding into the sea with a blue bodyboard tucked under his right arm.
To his right was a woman in a bikini holding a red bodyboard also wading into the waves.
In a caption next to the snap the former Top Gear presenter drew a comparison between himself and fictional lifeguard Mitch Buchannon, writing: "David f*****g Hasslehoff."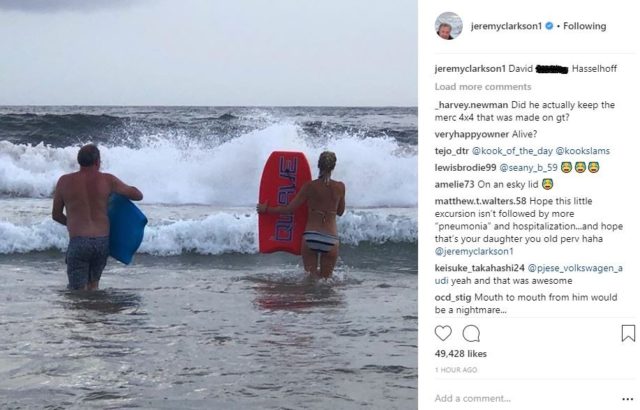 Jeremy Clarkson has compared his seaside shot to a scene from 1990s show Baywatch.
Hasselhoff, 66, with co-stars including Pamela Anderson and Alexandra Paul, famously ran down a Los Angeles beach and into the sea in slow motion as part of the drama's opening titles sequence.
Some of his followers seemed unable to see the likeness between the Knight Rider star and motoring broadcaster, with one suggesting Disney "Free Willy" was a more apt lookalike.
Other saw the humour in Clarkson's post with one follower replying: "This is the best caption I have ever seen."
Earlier this year Clarkson presented special revival episodes of ITV game show Who Wants To Be A Millionaire?
Viewers were shocked after he wrongly told a contestant he had correctly answered a question.
Hasselhoff married his long-term partner, former sales assistant Hayley Roberts, 38, in a ceremony in Italy in July.