Michael Buerk: Sir Cliff Richard case shows juices still flowing at BBC
Michael Buerk has said he has sympathy with the BBC over the Sir Cliff Richard privacy case and is pleased that the "juices are still flowing" at the corporation.
The singer sued over BBC coverage of a South Yorkshire Police raid on his home in Sunningdale, Berkshire, in August 2014, following an allegation of child sexual assault.
Mr Justice Mann this month ruled in Sir Cliff's favour following a trial in London, concluding the coverage was a very serious privacy invasion and awarded the singer £210,000 damages.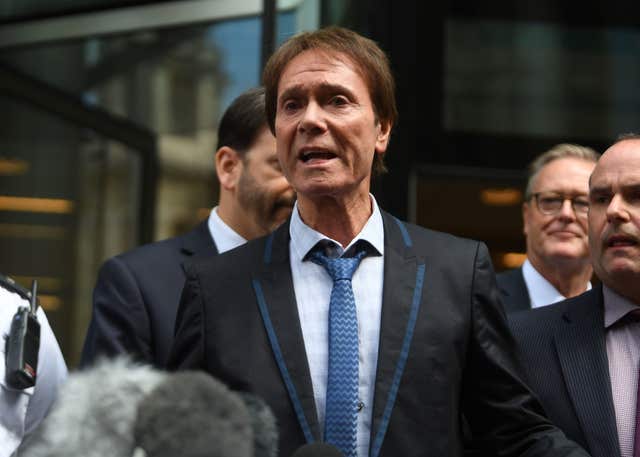 Writing in the Radio Times, the veteran news journalist said there was a time when "scoop" was a "dirty word" at the BBC and the ideal news story was "serious, significant and reassuringly dull".
He added this is now no longer the case, writing: "I sympathise, though. Journalism is not the priesthood, even at the BBC. It's a hard, competitive business.
"The average age of the Ten O'Clock News audience is now in the 60s. The young are too busy on Twitter talking about Love Island, and everybody has to shout louder to get heard.
"I'm pleased that the juices are still flowing at an organisation that can often look flatulent, bureaucratic and complacent.
"Great that the newsroom can still 'go bananas' over a 'cracking story' – even if it wasn't.
"Nobody comes out of it very well. The BBC reporter got a genuine scoop, at the height of the hysteria over Jimmy Savile.
"Difficult to say it was not in the public interest or, as the law stood, that it was wrong to name a suspect before it could reasonably be expected he would be charged, however famous he might be.
"But the way the BBC almost blackmailed the South Yorkshire Police into co-operating doesn't look great. And neither does the schoolboy glee."
Buerk said there is a "legal no-man's land" in the 1998 Human Rights Act between the right to privacy and the right to free expression, leading to the law being made and the freedom of the press redefined by single judges.
He added: "This is potentially damaging. We have too much secrecy as it is. The world has changed, even if judges haven't noticed.
"In the cacophony of social media everything is everywhere anyway, suspects would be named almost instantly, however much you bind the steam-age media limping along behind.
"The line between privacy and freedom is one of the most important decisions a civilised society has to make. It's time it was drawn by parliament and not left to be worked out piecemeal by judges on the basis of individual cases."
But Buerk also questioned whether investigations into historical sex allegations were the best use of police time.
He said: "Recent crime figures showed killings, knife and gun violence rising sharply.
"The murder rate in London recently overtook New York's. In only one in 10 recorded cases is anybody charged. They've got better things to do."