Sir Cliff Richard ruling does not mean blanket restriction for reporters – judge
A High Court judge who handed Sir Cliff Richard more than £200,000 in a ruling on a privacy fight with the BBC says he has not imposed a "blanket" restriction on journalists.
Editors said Mr Justice Mann's ruling had "worrying consequences" for press freedom.
They said his decision would make it harder for journalists to scrutinise police.
But the judge has raised concerns about the way his ruling is being interpreted.
Sir Cliff, 77, had sued over BBC coverage of a South Yorkshire Police raid on his home in Sunningdale, Berkshire, in August 2014, following a child sex assault allegation.
The judge had heard that, in late 2013, a man made an allegation to the Metropolitan Police, saying he had been sexually assaulted by Sir Cliff during an event featuring evangelist Billy Graham at Sheffield United's Bramall Lane football stadium in 1985, when he was a child.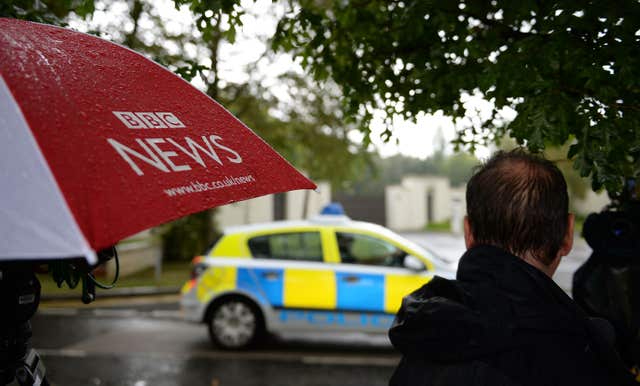 Metropolitan Police officers passed the allegation to South Yorkshire Police in July 2014.
Sir Cliff denied the allegation.
He was never arrested and in June 2016 prosecutors announced that he would face no charges.
Earlier this month Mr Justice Mann ruled in Sir Cliff's favour following a High Court trial in London.
The judge concluded that coverage was a "very serious" privacy invasion and awarded Sir Cliff £210,000 damages.
He said the award would be made up of £190,000 to cover the "general effect" coverage had on Sir Cliff's life – plus £20,000 because the BBC had aggravated harm by nominating coverage for an award.
Mr Justice Mann raised concern about the way his ruling had been interpreted when analysing a number of issues at a follow-up High Court hearing in London on Thursday.
He complained about "erroneous reading" of his ruling and added: "It is simply wrong to suggest there is now some blanket restriction on reporting investigations."
BBC bosses say they are considering an appeal.
They have to get permission to appeal by showing that they have a realistic chance of overturning the ruling.
Either Mr Justice Mann or a Court of Appeal judge could give that permission.
Mr Justice Mann on Thursday refused to give permission.
He said BBC lawyers had not established that an appeal had a "real" chance of succeeding.
BBC bosses could make a separate application to a Court of Appeal judge.
– The BBC has agreed to pay lawyers' bills run up by Sir Cliff during trial, Mr Justice Mann heard. Barrister Justin Rushbrooke QC, who leads Sir Cliff's legal team, gave the judge the news on Thursday. He did not give an overall figure for the amount the singer had spent but said BBC bosses had agreed to pay £850,000 on account. Sir Cliff had told the trial he had spent more than £3 million on the case. Barrister Gavin Millar QC, who leads the BBC legal team, said it was "appropriate" for the BBC to pay legal costs incurred by Sir Cliff relating to issues determined as a result of the trial.
– Mr Justice Mann has yet to decide how badly Sir Cliff was left out of pocket and the singer is in line to get more damages. Sir Cliff had told how plans for "professional work" had been "seriously disrupted" and he said he had been left "in effect in creative limbo" for two years as a result of the BBC's coverage. He also said he had run up tens of thousands of pounds paying for public relations advice. Lawyers say the amount the judge awards to compensate for financial loss could be more than £210,000.
– The judge has heard that South Yorkshire Police had agreed a £400,000 settlement with Sir Cliff. The singer initially sued the BBC and South Yorkshire Police after complaining about coverage of the raid.