Stephen Fry urges Harry Potter fans to join Hogwarts League for Sport Relief
Stephen Fry is urging people to join a Hogwarts League and get stepping for the Sport Relief Billion Steps Challenge.
The league, which is within the Sport Relief app, gives Harry Potter fans the chance to go head-to-head to step their house to the top of the leaderboard.
Fans taking part can sign up to their Hogwarts house as teams Gryffindor, Hufflepuff, Ravenclaw and Slytherin.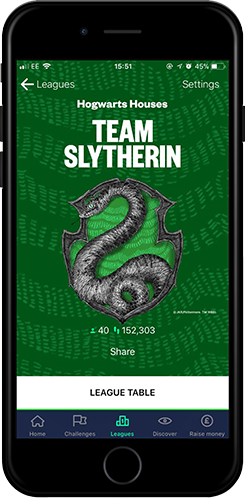 They then see who can do the most steps, helping the nation to beat the Billion Steps A Day Challenge, every day from March 17 to 23.
Fry – who recently revealed he had undergone surgery for prostate cancer – said: "I don't need a Sorting Hat, I've downloaded the Sport Relief app, and I'm stepping for Slytherin.
"Help your house step to victory!"
People can also compete in a Quidditch-themed challenge to unlock never before-heard audio clips from the upcoming Quidditch Through The Ages digital audiobook.
Sport Relief is unveiling the league in partnership with Pottermore, the entertainment and news company for Potter author JK Rowling's Wizarding World.
Pottermore publishing director Tom Greene said they were "thrilled" to be partnering with Sport Relief and hoped the league would help the nation reach the steps target.
Comic Relief CEO Liz Warner said: "We are very excited to be able to call on all Harry Potter fans to join the Hogwarts League and help the nation beat the Billion Steps Challenge, and raise funds for our projects during the week of Sport Relief.
"We're looking forward to seeing whether it will be Gryffindor, Hufflepuff, Ravenclaw or Slytherin who step their way to the top of the league for good causes."
To join the app and Hogwarts League, visit www.sportrelief.com/app.