Jazz musician Hugh Masekela dies at 78
South African jazz musician and anti-apartheid activist Hugh Masekela has died at the age of 78.
A statement issued by his family said he died peacefully in Johannesburg, surrounded by his family, after suffering from prostate cancer.
It read: "It is with profound sorrow that the family of Ramapolo Hugh Masekela announce his passing. After a protracted and courageous battle with prostate cancer, he passed peacefully in Johannesburg, South Africa, surrounded by his family.
"A loving father, brother, grandfather and friend, our hearts beat with profound loss.
"Hugh's global and activist contribution to and participation in the areas of music, theatre, and the arts in general is contained in the minds and memory of millions across 6 continents and we are blessed and grateful to be part of a life and ever-expanding legacy of love, sharing and vanguard creativity that spans the time and space of 6 decades. Rest in power beloved, you are forever in our hearts.
"We will, in due course, release details of memorial and burial services. Hugh Masekela was someone who always engaged robustly with the press on musical and social political issues.
"We laud the press for respecting his privacy through his convalescence, and during this, our time of grief. Our gratitude to all and sundry for your condolences and support."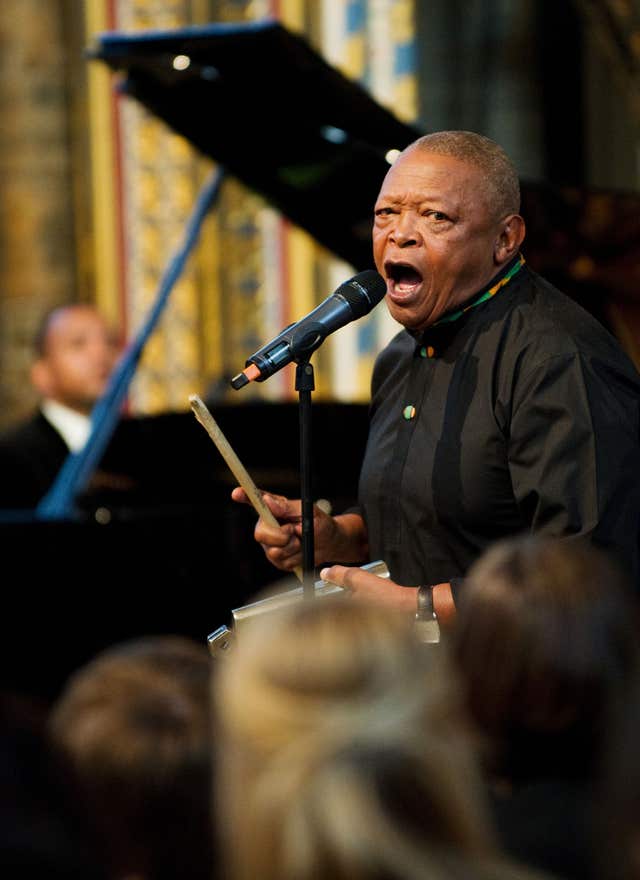 A family statement issued on Twitter Tuesday says Masekela passed away in Johannesburg after a lengthy battle against prostate cancer.
Masekela learned to play the trumpet at the age of 14 and gained fame for his bright, lively playing.
He went into exile after the 1960 Sharpeville killings in which 69 protesters were shot dead.
In 1968 he scored an international hit with Grazing In The Grass.
He collaborated with many musicians including Paul Simon and Harry Belafonte.
Many of his compositions were about the struggle for majority rule in South Africa and full democratic rights.
Masekela's composition Bring Him Back Home, calling for Nelson Mandela to be released from prison became an international anthem for the anti-apartheid movement.