Actress Bella Emberg was looking at new projects just days before her death
Comedy actress Bella Emberg had been considering embarking on new projects just days before she died, her agent has revealed.
The former television favourite died aged 80 on Friday morning with her former co-star Russ Abbot leading the tributes.
He described Emberg, who appeared alongside him as Blunderwoman on The Russ Abbot Show, as "a huge comedy talent" and "a woman of immense warmth and generosity".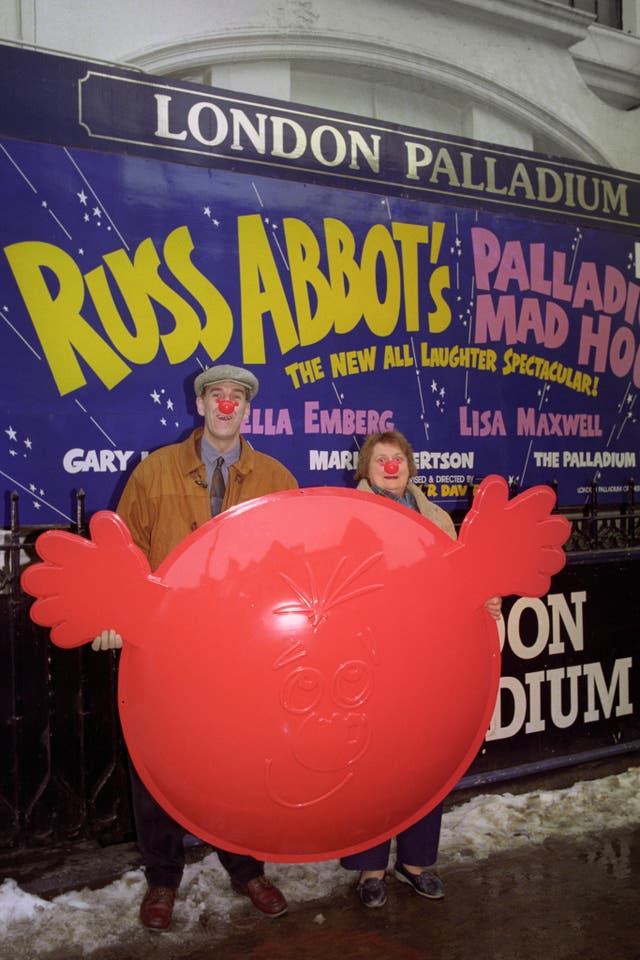 Emberg's agent said although the actress "had not been in the best health for some of this year", she had been speaking about possible new projects just two days before she died.
The veteran star had also completed filming scenes for In The Long Run, a Sky One comedy created by Idris Elba, before Christmas.
Gaynor Sheward, director of Emberg's representatives, SCA Management, described her as a "much-loved client".
She added: "She leaves a wonderful legacy and we are proud to not only have been her agents, but her friends as well.
"Though we were aware that Bella had not been in the best of health for some of this year, she recently completed a new comedy series called In The Long Run for Sky just before Christmas, which she was extremely excited about, and my colleague, Lyndsey, was speaking to her on Wednesday regarding possible new projects.
"Her untimely death is a huge shock to us and she will be greatly missed by myself and my colleague Lyndsey Toon.
"RIP Bella.. our love goes with you, we will miss you".
Former co-star Les Dennis and personalities including Paul Chuckle and Cheryl Fergison also paid tribute to Emberg, who had roles in Doctor Who and Z Cars.
In a statement issued to the Press Association, Abbot, 70, said: "It is with a heavy heart that I heard the news about Bella. She was my leading lady throughout most of my career.
"She was not only a great sport but a huge comedy talent. A genuinely funny woman, but most of all a woman of immense warmth and generosity. I count myself very lucky to have worked alongside her.
"She really was a one off. RIP Bella."
Dennis, who appeared on The Russ Abbot Show, shared a photo of himself with Emberg on Twitter, saying he was "so sad" to lose a "funny, lovely friend".
Chuckle, real name Paul Elliott, who performed in pantomime with Emberg, remembered her as "the funniest fairy ever", while EastEnders star Fergison said she was "lovable and always an inspiration".
During a television career spanning six decades, Emberg appeared in several famous programmes including The Benny Hill Show.
However, it was for her turn as Blunderwoman, the comic sidekick of Abbot's Cooperman in the 1980s, that she will be best remembered.
In a June 2017 interview with the Daily Mirror she said the role was a boost for her career, but the success of her character became a burden.
She said: "Blunderwoman saved my career – and I still view her as a complete blessing.
"After it ended in 1996 I couldn't get work. I went for jobs and they'd say: 'We'd love to hire you but you're too well known with Russ'."