Channel 4's first Great British Bake Off prepares to crown winner
Great British Bake Off finalist Steven Carter-Bailey has said he does not think his life "will ever be normal again" as the first series to air on Channel 4 prepares to crown its winner.
The last episode of the series will see marketer Carter-Bailey compete against health and safety inspector Kate Lyon and former Army officer Sophie Faldo as 12 baking hopefuls have been whittled down to the final three.
Carter-Bailey, who has been named star baker three times throughout the series, has impressed judges Paul Hollywood and Prue Leith with his lavish decoration, while Lyon is known for raiding the history books in pursuit of unusual flavours and Faldo has dazzled with her attention to detail in delicate patisserie.
Leith joined the show as a new judge this series, replacing Mary Berry when the show departed BBC One.
Noel Fielding and Sandi Toksvig were brought in as presenters to replace previous hosts Mel Giedroyc and Sue Perkins.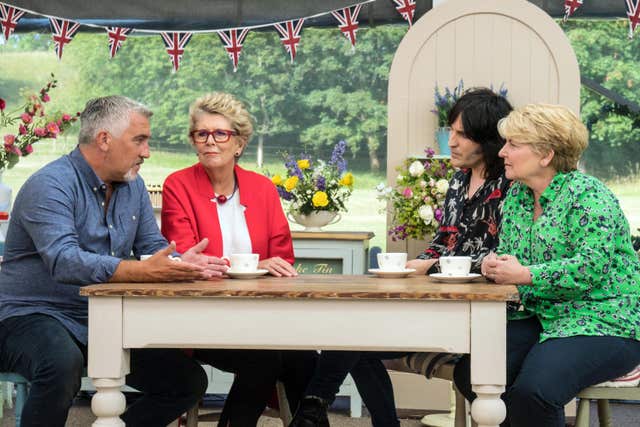 Carter-Bailey said he was delighted to make it to the end, and never thought about how far he would like to get in the competition.
He said: "I was too frightened to think beyond the week I was in. I didn't want to get my hopes up week after week because I didn't know how I would take disappointment.
"When I got to the final, the reality hit and I didn't know what to think. I am still amazed I made it, but also incredibly proud."
He said he thinks going on the show will now change his life, saying: "I don't think my life will ever be normal again and that is both terrifying and amazing at the same time.
"Change always used to scare me, but this time I'm going to try to enjoy it."
Asked if he would do it again, he replied: "I would drop everything to do this all over again.
"Without a doubt I would walk back into that tent tomorrow and start over."
Lyon said entering the tent for the last time in the final felt like a win in itself.
She said: "Walking in the tent for the last time was great! I didn't feel the pressure – it was an achievement to get to the final.
"I was appreciative of the fact it was the last time we would all be baking in the tent so I just enjoyed the last challenge, had fun with it and did my best."
She added: "I really loved the final showstopper. I of course knew that it would be the final challenge of the series and the last time I would be baking in the tent.
"There wasn't the same pressure – it was more about just enjoying the experience."
Faldo, who was crowned star baker in the semi-final, said she had hoped to make it to the top five so was thrilled to be in the final.
She added: "It was a very different feeling walking in for the final.
"I don't think I was as nervous because, by then we were used to how it all happened and what we needed to get done, but there was so much more riding on the last week and I certainly felt that."
Asked if she would do the show all over again, she replied: "Ha ha, if I had to!
"But the charm of it is the ignorance and not knowing what to expect. It would be a very different beast going back with the knowledge I have now. "
The final of The Great British Bake Off is on Channel 4 on October 31 at 8pm.