Ozzy Osbourne and Shaun Ryder become travel announcers for BBC Music Day
Commuters in Birmingham, Manchester, Liverpool and Blackpool were surprised on their journeys to work this morning by some famous voices announcing their stops.
Ozzy Osbourne took over the announcements on the Midland Metro trams, Shaun Ryder called out the stops on Manchester's Metrolink, Miles Kane's voice could be heard on the Merseyrail Network and Alfie Boe was the well-known announcer for Blackpool Tramway.
The four singers took on transport duties as ambassadors for BBC Music Day, an annual celebration of music that takes place across the UK and this year included a drumming world record attempt and a bell ringing event.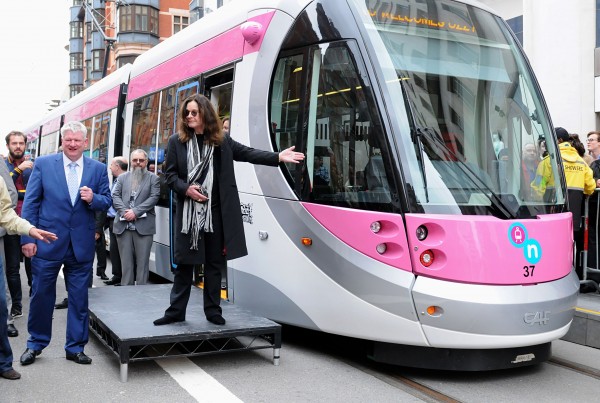 Ozzy's recognisable voice could be heard telling passengers: "Hold on tight all you hellraisers and I'll see you on the other side."
He added of being an ambassador: "Music has given me such an incredible life, so a special day that celebrates this, like BBC Music Day, is better than Christmas for me."
Shaun told commuters: "Shaun Ryder here, twisting your melon for BBC Music Day.
"I'm going to be taking over Manchester Metrolink and giving you a tour of the best city in the world, so all you 24-hour party people better listen up while I take you on the best trip of your life."
Producer of BBC Music Day Rebecca Sandiford said: "BBC Music Day aims to unite generations and communities through their love of music, so we thought we'd give commuters a reason to smile as they make their daily journeys."
Other ways in which the event was marked on Thursday included Music Day plaques being unveiled to celebrate people and places that have influenced the musical landscape.