'Formidable actor' Adam Sandler showered with praise for The Meyerowitz Stories
Adam Sandler has won rave reviews for his performance in The Meyerowitz Stories (New And Selected), following its premiere at Cannes.
The US comedian – a former winner of several Razzie "awards" for questionable acting – was the toast of the event for his portrayal of a divorced father and the unappreciated son of Dustin Hoffman's aging artist.
The Guardian said Adam, 50, had shown he was a "formidable screen actor", while Screen Daily said it may represent his "most nuanced screen work".
Variety said it was "the best role in 15 years" for the star.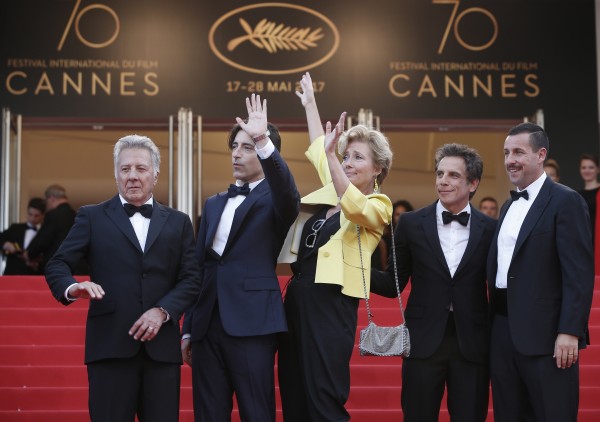 Adam has said he was full of joy when he first read director Noah Baumbach's script for the comedy drama, which also stars Emma Thompson and Ben Stiller.
Speaking at the event on the French Riviera, he said: "I was misty-eyed, laughing.
"I just couldn't believe we were going to do this movie."
The actor went on: "It's different for a comedian to get an offer like this. My first thought is I don't want to let anyone down."
The Meyerowitz Stories screened in competition for the Palme d'Or — the festival's coveted top prize.
Critics have hit out at its inclusion as it is a Netflix film.
A new rule has been introduced for next year requiring films to have had theatrical distribution in French cinemas.
A host of stars attended the film's glitzy premiere, including singer Mary J Blige, actresses Jessica Chastain, Olga Kurylenko and Andie MacDowell and model Coco Rocha.