Caprice Bourret breaks down as she speaks about brain tumour: 'I feel very vulnerable'
Caprice Bourret broke down in tears as she spoke of saying goodbye to her three-year-old sons and her partner before going into surgery for a brain tumour.
The model and businesswoman, who earlier this year pulled out of winter sports programme The Jump after being diagnosed with the growth, said she had a new appreciation for her life after initially fearing she was going to die.
The 45-year-old US star told ITV's Loose Women that learning of the brain tumour was particularly difficult because she waited for a long time to find the "right partner" – Ty Comfort – and have children.
With her voice breaking, Caprice said of going into surgery: "I told my boys I was going away for work.
"But I do remember, I told Ty to just drop me off at the hospital. I said: 'I'm going to be fine, I know it, I feel it'.
"So he dropped me off and he ended up coming in, and when he left, I just remember being in my bed and praying to my dad in heaven."
Speaking through her tears, the lingerie company boss said: "I'm like, 'please I just want to wake up and I want to be OK'.
"And it was the first time it really hit me, when something like this happens, you're just in shock."
Having only recently spoken about her health battle, Caprice, who underwent a seven-and-a-half-hour operation a month ago, said talking about it now makes her feel "vulnerable".
"I was such a pillar of strength because I thought this was the right thing for my family," she said.
"I didn't have the support system because I didn't tell anyone. And then this is the first time I'm really talking about it. But it's a good thing, because I came out of this and I'm OK now.
"I feel very supported and very vulnerable, because I haven't been vulnerable (yet)."
Caprice learned of the non-cancerous growth after suffering a minor injury while taking part in Channel 4′s The Jump in Austria, having undergone a full body scan.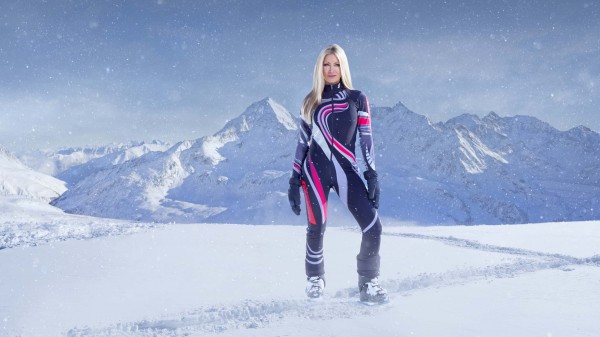 She visited a neurosurgeon who told her the news. She said her first thought was for her family because she was away from home.
When asked if she felt alone, she said: "That's the first thing you think about.
"I'm 45 now, but I had waited for the right partner. I met the right partner at 39, I waited for my kids.
"It's terrifying and I'm relatively healthy and I've never done drugs and I've lived a pretty healthy life, and I just couldn't believe what they were telling me."
Caprice said she is doing well after the operation, which she topped off with a "party" to celebrate.
She said: "When something like this happens, you really change a lot. I appreciate life.
"I'm not going to work this hard, I'm going to enjoy my children, I'm going to enjoy my life and I've appreciated so much."