Stars join protesters to demand Donald Trump publish his tax returns
Celebrities have joined thousands of protesters across America to call on President Donald Trump to release his tax returns.
Organisers said marches took place in about 150 US cities on Saturday, while violent clashes with Trump supporters were reported in Berkeley, California.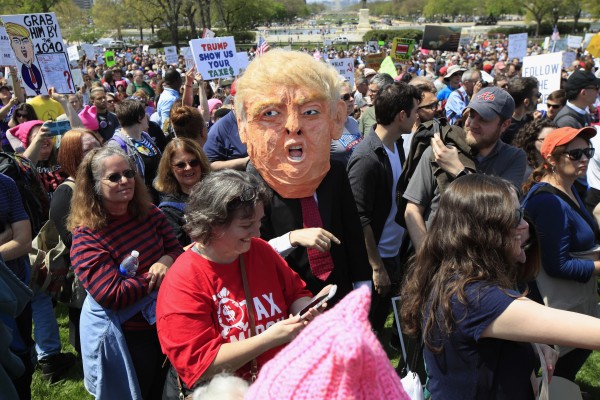 Trump broke a long-held tradition during his presidential campaign by not revealing his tax history, and later claimed that the public were not interested after he was elected.
Comedienne Sarah Silverman and Will And Grace actress Debra Messing were among the demonstrators in New York City.
Debra told MSNBC: "We know for a fact our current administration has deep links to Russia.
"The only way we can know what kind of business ties our president has with businesses all over the world is by looking at his tax returns.
"I would just say; 'Mr Trump, if you have nothing to hide then please release them. Why not?
"'If you release them and you're not hiding anything, the American people can feel rest assured that at least our democracy is protected.
"'If you care about the American people, you will release your taxes.'"
Two And A Half Men star Jon Cryer and comedian Andy Richter joined thousands of people at a march in Los Angeles.
Jon tweeted a photo of a placard showing Star Wars villain Darth Vader next to a picture of Trump with the caption "Taxi Vader".
Hollywood stars Chris Evans and Mark Ruffalo voiced their support for the marchers on social media.
Captain America actor Chris wrote on Twitter: "Looks like it's more than just reporters who wanna see your taxes, @realDonaldTrump. Bad news pal, we're not going away."
The Hulk star Mark tweeted: "Show us the g-damn tax returns!"
The rallies were organised to coincide with the time of year that Americans have to submit their annual tax returns.
Police said 13 people were arrested following the violence in Berkeley.