Toyota replaces burnt truck of hero nurse who saved lives in California fire
Toyota is to buy a new truck for a hero nurse whose Tundra was burnt while he was helping victims of the California wildfires.
Allyn Pierce said the customised truck, which he calls the Pandra, saved his life as helped others around his hometown of Paradise while the fires raged.
He wrote on Instagram: "This truck literally saved my life today. My little town of Paradise was literally burning down around me and @the_pandra got me to safety where I could help others…twice."
Pierce manages the intensive care unit at Paradise's Feather River Hospital and was integral in helping its evacuation during the blaze.
New York Times journalist Jack Nicas told his story via Twitter, writing: "Then he hopped in his truck with two colleagues and headed for safety.
"Like many residents in Paradise, they quickly hit gridlock.
"But unfortunately for them, they were stuck in the middle of the fire. Flames licked at the side of his truck, and as Allyn watched other cars catch fire, he thought his was next."
He continued: "Allyn held his coat against the window – a futile guard from the intense heat – and put on Peter Gabriel's In Your Eyes to calm himself. He recorded a goodbye message to his family: 'Just in case this doesn't work out, I want you to know I really tried to make it out'.
"Suddenly a bulldozer appeared & knocked a burning truck next to him out of the way. There was some room to maneuver. But instead of going forward toward safety, he turned around & drove back into the heart of Paradise."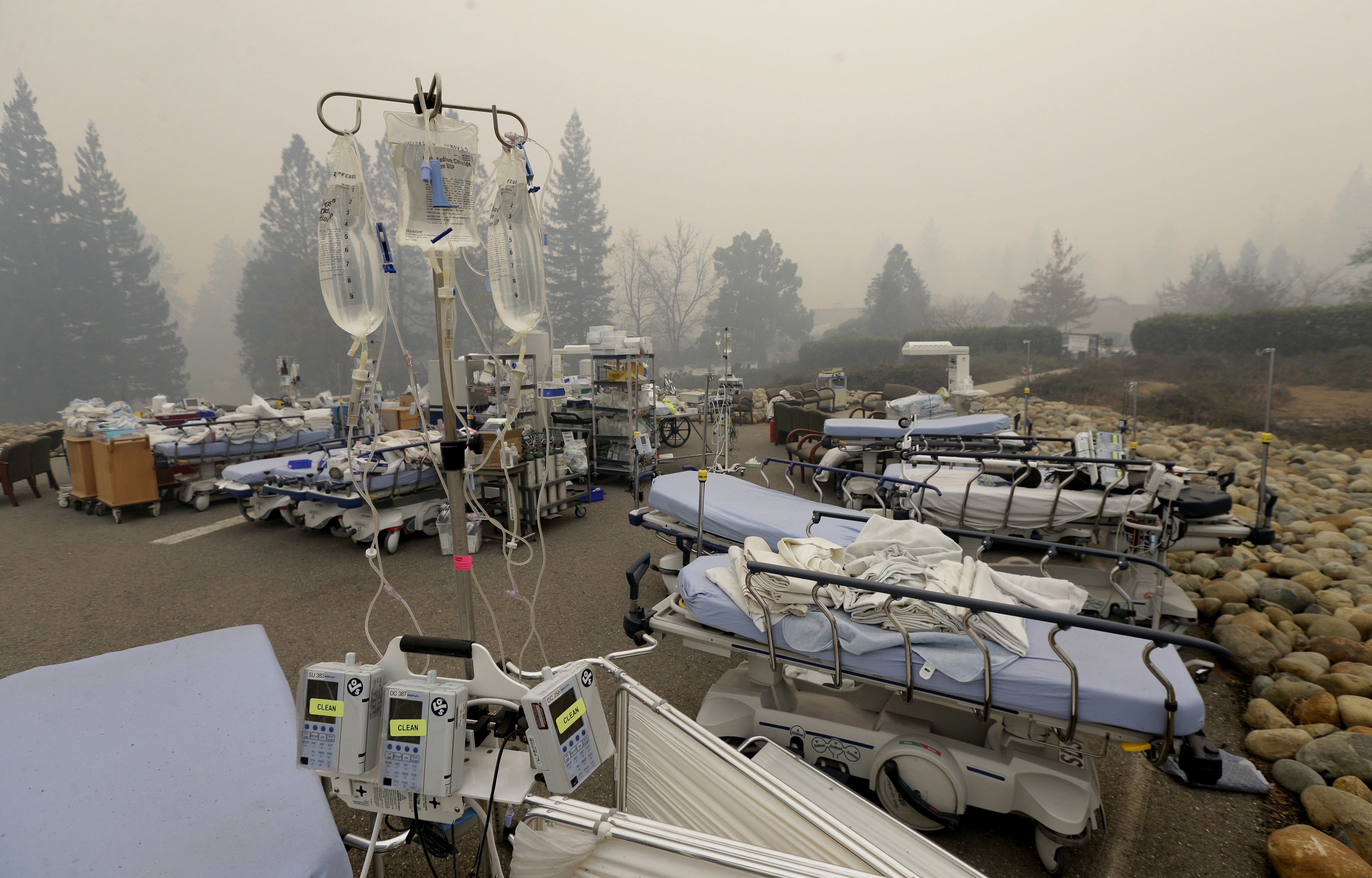 Pierce, whose family lost their house to the fire, then helped as hospital staff set up a triage centre in the hospital car park.
Then, when the hospital caught fire, they moved everyone to the centre's helipad instead.
Pierce's part in the unfolding drama of the California fires has captured the imagination of people around the world, and a gofundme page set up to raise money for him and his family surpassed its 15,000 dollar (£11,500) target in two days.
On top of that, somebody at Toyota noticed too – and the company is now supplying Pierce with a brand new Tundra.

A Toyota statement read: "Our hearts go out to the victims of the devastating California wildfires. We are extremely grateful to all of the emergency crews who are working tirelessly to extinguish the fires and helping people to safety.
"We are especially thankful to one hero in particular, Allyn Pierce, for risking his life and sacrificing his Toyota Tundra to drive people to safety.
"Toyota is so humbled by Mr Pierce's selfless act that we're pleased to offer him a brand new Tundra."
Fires have devastated areas of California up and down the state.
At least 42 people have died, with that number expected to rise.