The inspiring story behind the suit this 20-year-old wore to his graduation
Four years ago Robert Twaddle went to his high school prom wearing a suit that made him feel "uncomfortable".
"I felt that I had to wear it," the 20-year-old from Scarborough told the Press Association. "That if you were a guy that's just what you had to do."
Robert has just completed another educational milestone but the suit he wore this time, to his graduation, has had an entirely different effect.
The photos comparing himself from four years ago to the present day have gone viral, with tens of thousands liking his post on Twitter and hundreds offering support.
"The response has been a little overwhelming," said Robert. "I posted it on my way to a BBQ yesterday and thought nothing of it, and by the time we had arrived my phone started buzzing non-stop with mainly comments of love and support.
"One person pointed out how much happier I look in the second photo. I hadn't really thought about it but I am visibly more confident, both in my face and my more open body language."
On the suit of four years ago, Robert said: "It felt like a strict reinforcement of ideals that I didn't agree with and I went along with it anyways.
"Now don't get me wrong, I wouldn't have worn a dress either, I wasn't out as a gay man, I couldn't just flip the script and turn up cross dressed. I'd have lost my head for it!
"I just wanted to wear my version of formal, and forget about the suits and the dresses, the blue and the pink, the Barbies and the Action Men. I just wanted to go as myself. As Robert."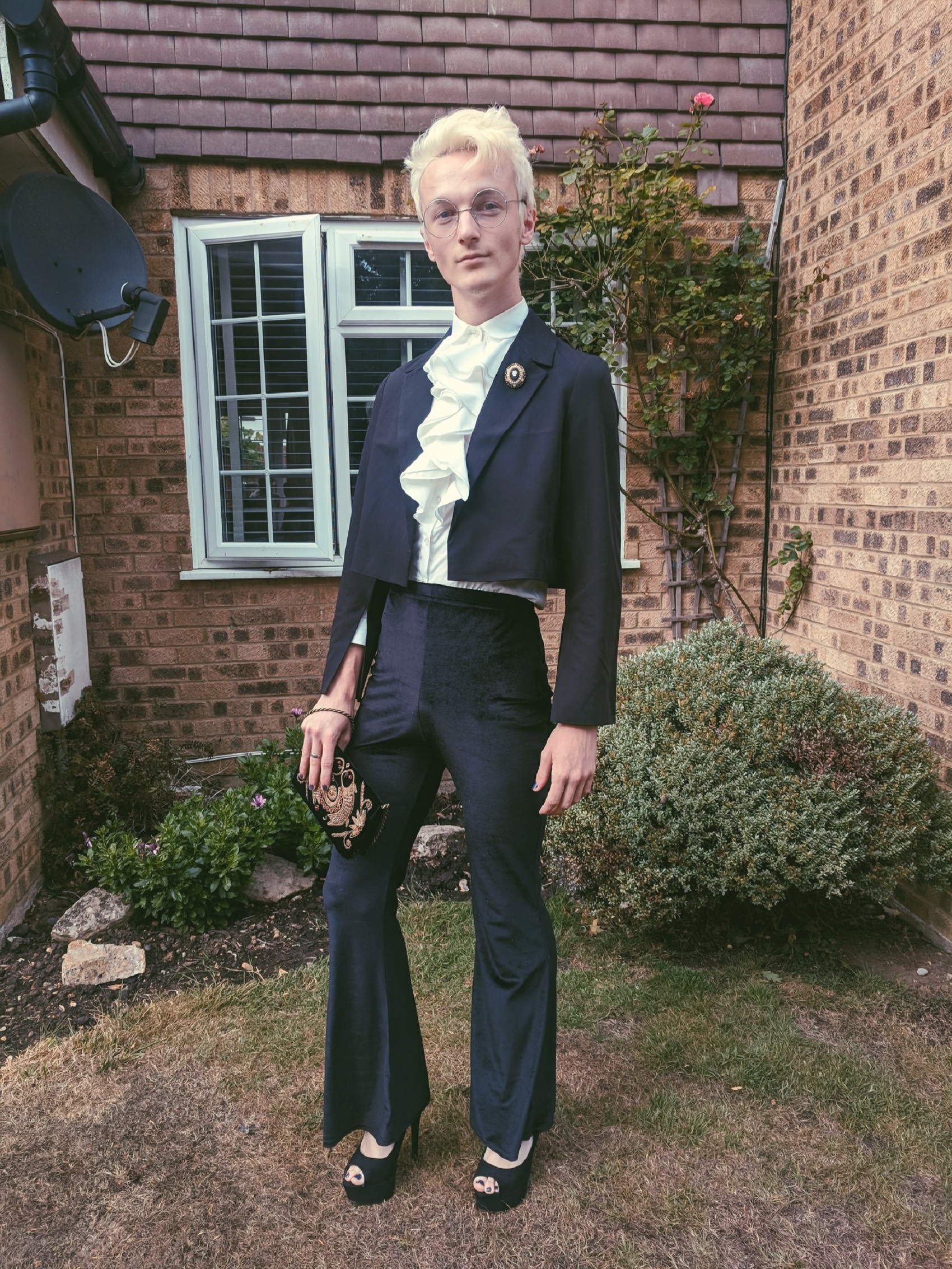 Robert was finishing a year on an actor development course called Peer Productions, and he said the outfit he wore to his graduation was a development of "what we see as masculine and feminine".
"I wanted to try and get the traditional silhouette of a suit and turn it on its head," he said. "By swapping out some of the key components of what makes something masculine (whatever that means) I found a nice middle ground.
"I got a cropped blazer and a high-waisted flared trouser to give the whole thing more shape, added some ruffles, a nice clutch and a killer pair of tall black stilettos.
"I felt unstoppable."
He noted that there is "a massive gap in the market for more androgynous formal wear" as it took him "bloody ages" to find anything.
Despite a largely warm reception, Robert added that some comments on Twitter were less warm-hearted.
"As with anything like this there are also masses of hate messages alongside the positivity," he said. "People saying that 'If I was his dad, I'd disown him after this'.
"The comments online aren't anything that affect me too much. I'm used to it.
"Not that I should be however, I just think that these comments now are nothing new, I'm almost desensitised to the homophobia."
Robert hopes the tweet will give some people "permission to be visible".
"The same way I do when I see a queer couple holding hands down the street, I want them to feel that they are allowed to be themselves whatever it is that that means to them," he said.
"It's about self confidence, self love, and just absolutely rocking your own skin."
Robert has a GoFundMe page, where he hopes to raise the money to go to his dream drama school.