Just a couple of baby penguins doing baby penguin things
Two adorable penguin chicks have been introduced to their new home at San Diego zoo.
Three-month-olds Lucas and Dot have been released inside the new Africa Rocks habitat after weeks of planning.
Soon after joining the 29 other residents in the colony, the curious young ones started swimming and climbing rocks.
However, the chicks will not be venturing out unsupervised just yet.
"We will be pulling them back at night," said zookeeper Debbie Denton.
"We want to give them a few days out here with the rest of the colony and make sure that they are comfortable enough to do OK on their own overnight."
The chicks will act as representatives for the species, the zoo said, as part of its animal ambassador programme.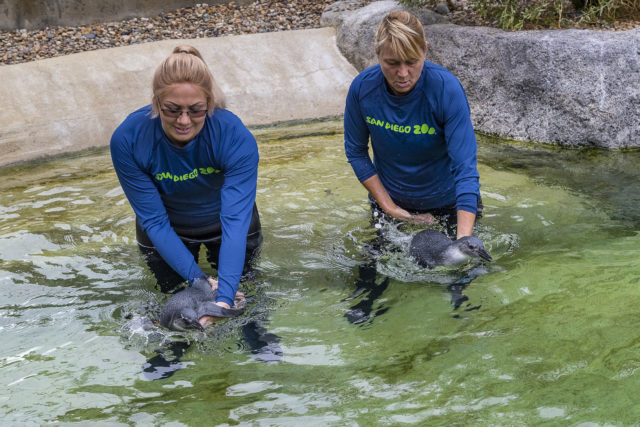 It is hoped that their presence will inform visitors and the public of the endangered status of the African penguin.
The species has seen a 60% decline in its population in nearly 30 years – from one million breeding pairs to just 23,000 today due to threats from climate change, over-fishing and oil pollution.