This church held a 'commitment ceremony' with AR-15 rifles, causing a nearby school to shut
A school in Pennsylvania closed its doors to students as worshippers at a church down the street took AR-15 rifles to a "commitment ceremony".
Most attendees donned white dresses and suits, and some wore crowns made of bullets.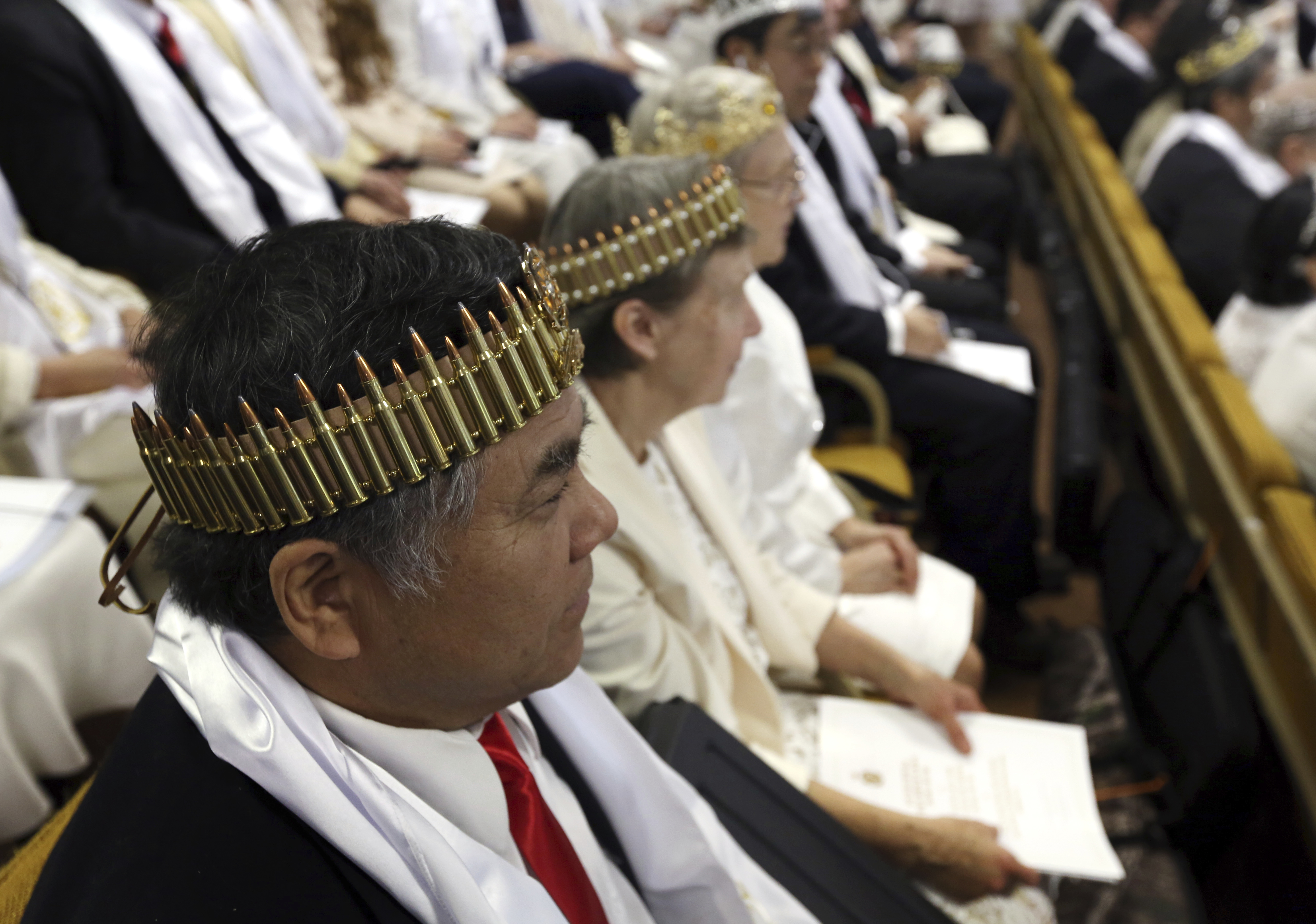 It came two weeks after a gunman used an AR-15-style rifle to kill 17 people at Marjory Stoneman Douglas High School in Parkland, Florida.
Members of the World Peace and Unification Sanctuary in Newfoundland, Pennsylvania, gathered with similar weapons, which symbolise the "rod of iron" from the book of Revelation, the church says.
Inside the church, couples in wedding regalia drank holy wine and renewed their vows, and many carried guns and rifles.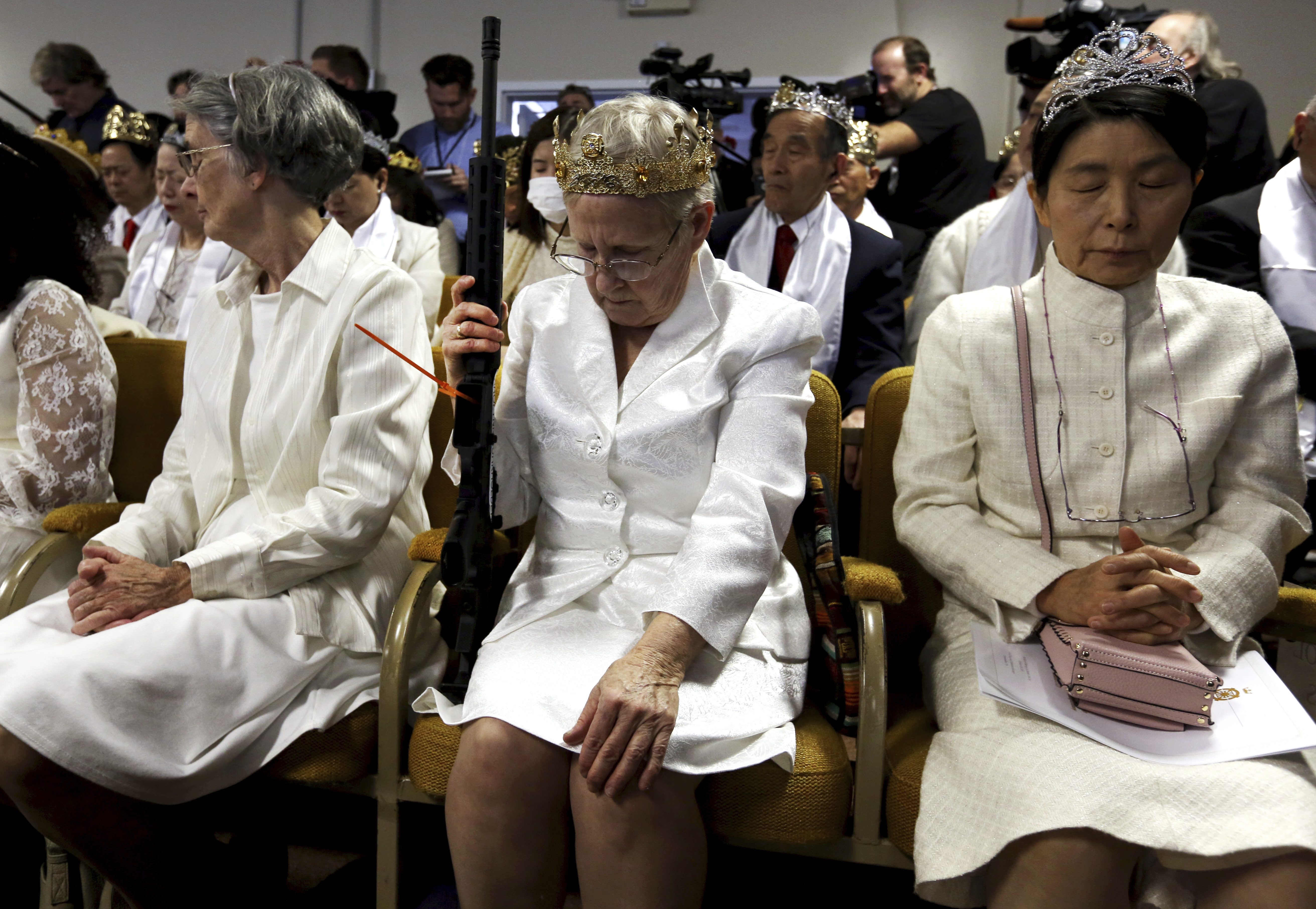 Down the road, students from Wallenpaupack South Elementary School were taken to other campuses in the area.
In a letter to parents, local school authorities said that, although the event posed "no direct threat to our school or community", because of its "nature" students would be taken to schools 15 miles away, and there would be extra security all week.
Education spokesman Michael Silsby told parents: "We respect your decision if you choose to keep your children home for the day."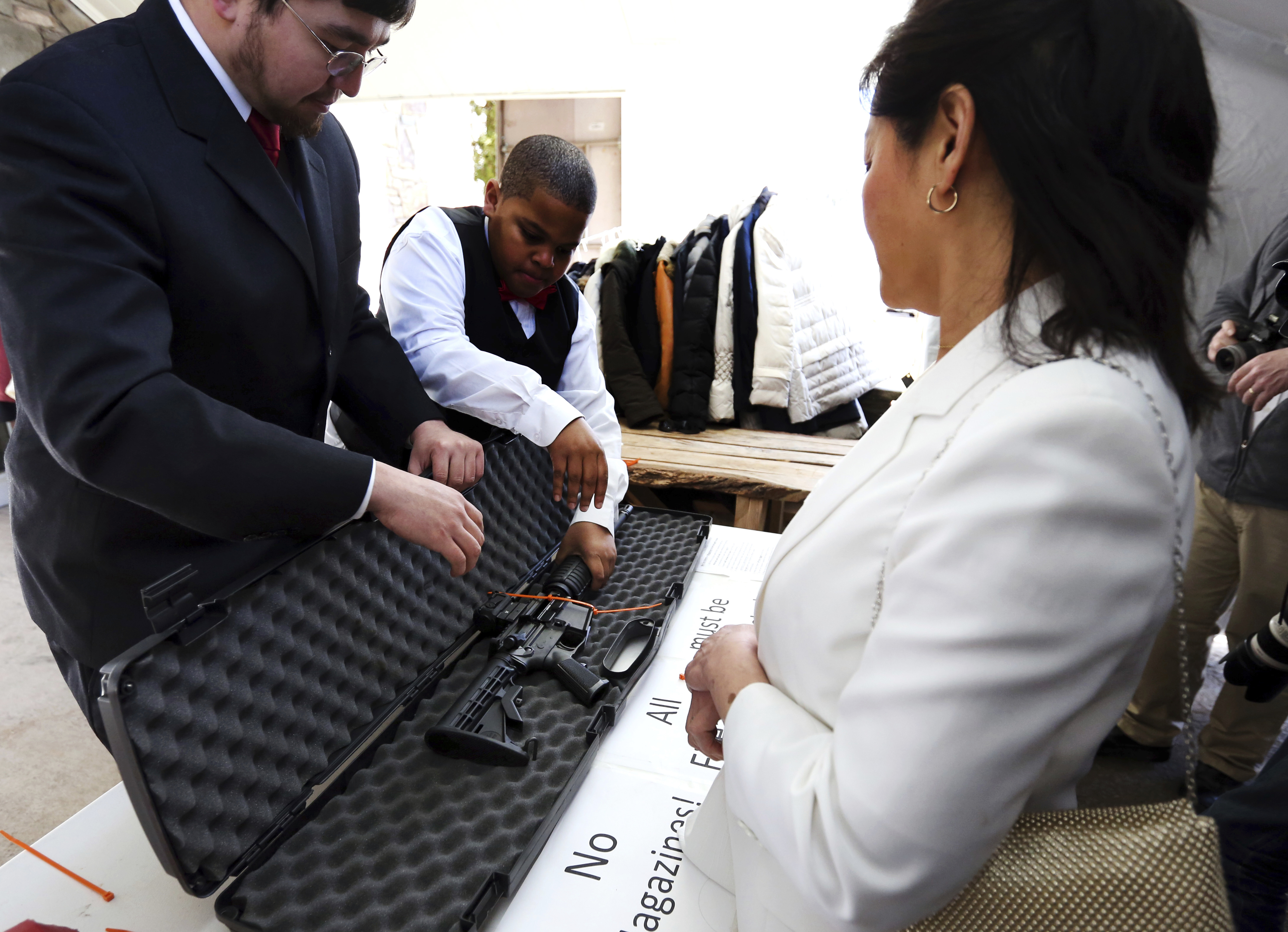 Church-goers had their weapons checked at the door. They were unloaded and sealed with zip ties.
At the ceremony, the Rev Sean Moon prayed for "a kingdom of peace police and peace militia where the citizens, through the right given to them by almighty God to keep and bear arms, will be able to protect one another and protect human flourishing".
Dozens took AR-15-style weapons, called "religious accoutrements" by the Unification Sanctuary's director of world missions, Tim Elder.
Protesters gathered outside, with one asking a church member: "It's scaring people in the community, are you aware of that?"
AR-15-style semi-automatic rifles were used at the Sandy Hook massacre in Connecticut in 2012, where 27 were killed, the Las Vegas shooting last year when 58 were shot dead from a hotel window, and the Pulse nightclub attack in Orlando where 49 were murdered in 2016.
AR stands for ArmaLite Rifle, after its original designer. The rights to the rifle were later sold to manufacturer Colt, but when the patents ran out in the 1970s, other firearms companies starting making their own similar weapons, which are now collectively referred to as AR-15s.
Although they can be adapted with accessories, AR-15-style weapons are semi-automatic, meaning pulling the trigger once fires one round.
Founded by Mr Moon, and with a worldwide following, the World Peace and Unification Sanctuary is a breakaway from the Unification Church, founded by Mr Moon's father, the Rev Sun Myung Moon, famous for conducting mass weddings in Korea and beyond.
Mr Moon Snr proclaimed he was the messiah, and his church has been accused of being a cult.
The original Unification Church distanced itself from the Pennsylvania event.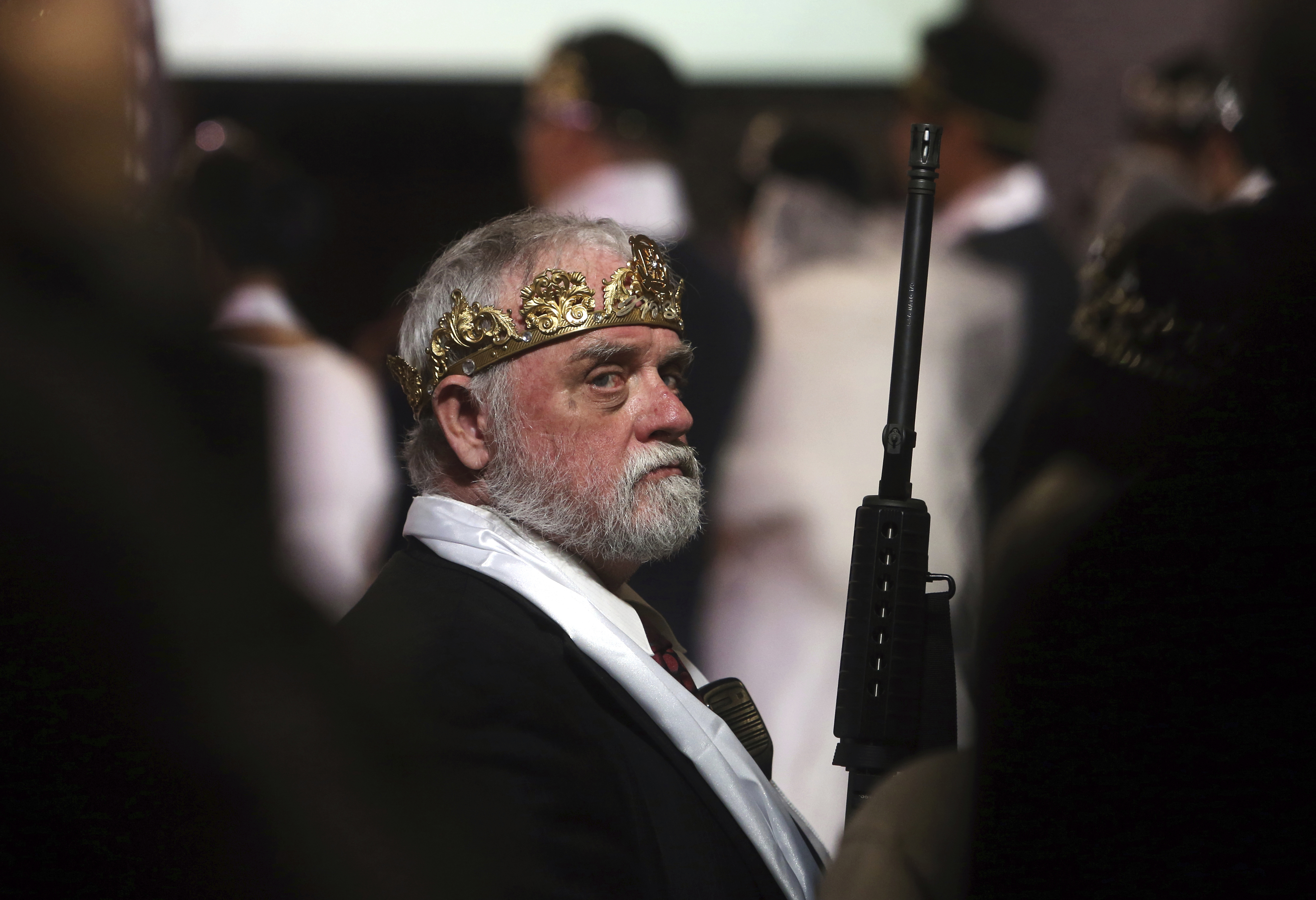 One woman who attended the ceremony with her husband said: "People have the right to bear arms, and in God's kingdom, you have to protect that."
The gun debate in the US has been reignited following the Florida shooting, but the church says the event was planned long before the massacre on February 14.
In recent years there have been several mass shootings in churches as well as schools.
In 2015, a 21-year-old shot dead nine black worshippers after joining them in a prayer service at a church in Charleston, South Carolina, in attempt, he said, to ignite a "race war".
Last November, a gunman killed 26 people at a church in Sutherland Springs, Texas.