This spam email from a fake Theresa May has to be seen to be believed
A spam email sent from a fictitious Theresa May account has gone viral.
Writer Emmeline May, who shared the unsolicited email on Twitter, declared it the "greatest spam mail ever".
It has been liked and retweeted tens of thousands of times.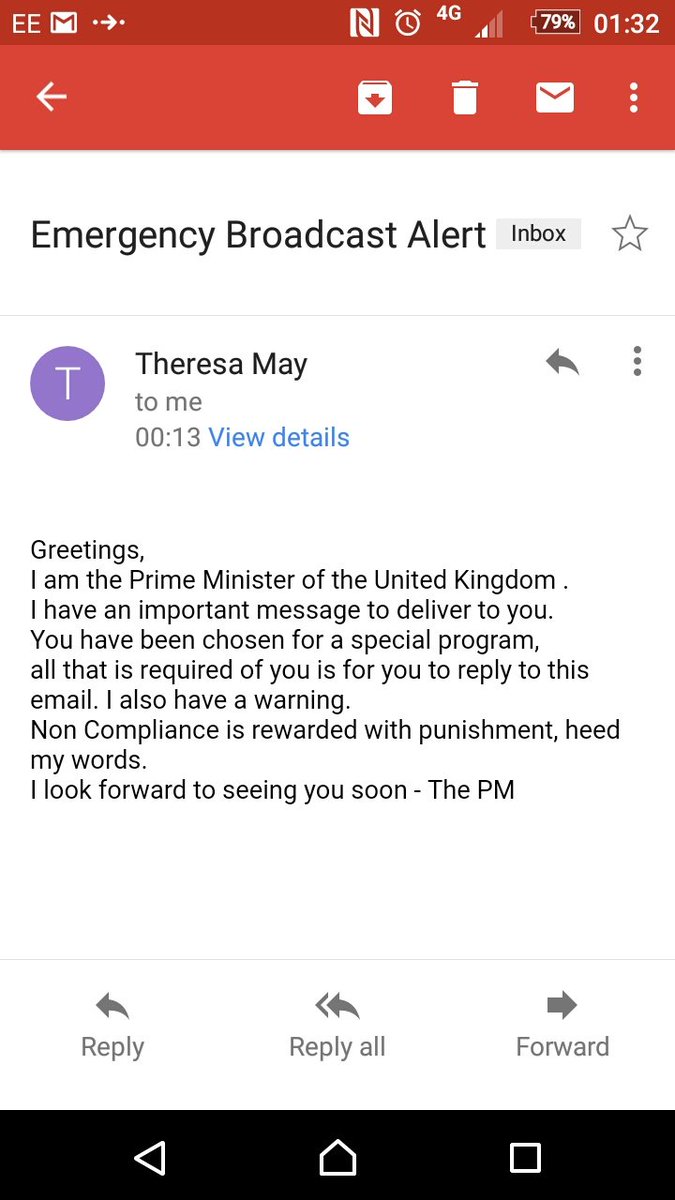 The short message reads: "Greetings, I am the Prime Minister of the United Kingdom . I have an important message to deliver to you.
"You have been chosen for a special program, all that is required of you is for your to reply to this email.
"I also have a warning. Non Compliance is rewarded with punishment, heed my words. I look forward to seeing you soon."
It is signed simply "The PM."
May (Emmeline, not Theresa), who lives in London, said: "There was no attachment or link to click, which is unusual for a spam email.
"A lot of people have asked me to reply to find out what happens but I suspect replying to spam emails, however funny they are, is generally a bad idea."
Action Fraud issues advice to people about phishing emails – messages which look like they come from an individual or brand known to the receiver, when actually they are from a fraudster.
A spokesman said: "The aim is always to trick you into thinking you're giving up personal information or making payments with someone you can trust, such as your bank, a government agency or a business or brand name.
"The fraudsters will use your details to steal your identity, or simply take the money you've paid and break all contact."
Bogus emails, phone calls and social media posts can be reported online or by calling 0300 123 2040.