Captain Planet asks Australians to vote Yes on gay marriage
Captain Planet is inspiring people around the world once more with his latest plea to Australians.
The official Facebook page for the 90's hero shared a post with a picture of the show's characters running under a rainbow, with text reading 'Heart not hate' above them.
The accompanying message reminds Australian fans to register for a postal vote in the upcoming plebiscite on same-sex marriage in the country.
Using his signature catch phrase, the environmental superhero tells Australians "the power is yours" to vote for the legalisation of gay marriage in the country.
The vote is voluntary (unlike voting in elections in the country) and non-binding, so the government would not have to act on the outcome.
It is hoped by some supporters of same-sex marriage that a Yes vote would inspire parliament to get moving on enshrining the decision in law.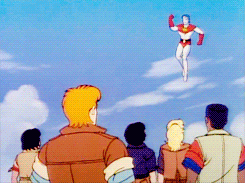 Some commenters on the Captain Planet Facebook post questioned the character's intervention. One said: "Now i know for sure Captain Planet don't [sic] manage his own account" to which the people behind the account replied: "Actually I very much do, with the people who made the show. The Power Is Yours!"
In reply to another comment, the team behind the page wrote: "People are a huge part of our planet and caring about each other is one of the most important things we can do to make our world a better place.
"The power of heart is all about compassion, caring about our planet and each other – and like when we did episodes about children in war torn countries, Aids and gun violence – we care."
Australians must register to vote by the 24th August.