A beached whale stunt had Parisians confused over whether the washed-up predator was real or fake
The sight of a beached "sperm whale" on the banks of the River Seine left Parisians baffled as the washed up mammal lay lifeless on the ground.
But the attention-grabbing appearance over the weekend turned out to be a stunt, orchestrated by Belgian art group, The Captain Boomer Collective.
Tourists and city dwellers speculated on whether the 23ft long predator was real or not, as the artists, posing as forensic scientists from the fictitious "North Sea Whale Association", examined its "carcass".
The aim of the installation is to raise awareness about environmental issues.
"You have the ecological dimension to the project, of course. It's also a confrontation with death and with the force of nature, and also with the child in everyone who is still puzzled by what is real and what is not," artist Bart Vanpeel told Al Jazeera.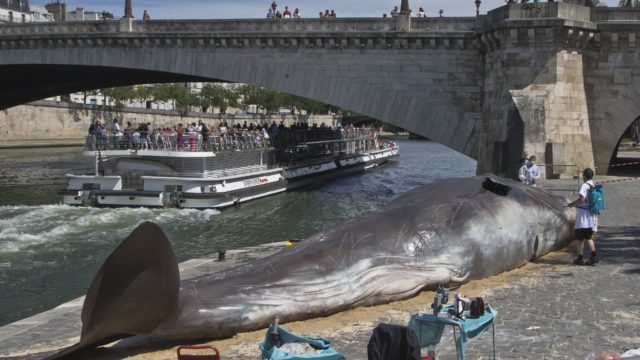 The Collective's website outlines the process of bringing the statue to Europe's shorelines, from transporting the whale's carcass to the location overnight, to preparing "the bleeding and the smell".
The "scientists" are also made to interact with the media and passers-by as if the carcass is real, to enhance the performance.
The beached whale has made a number of appearances around European cities in recent years, and came to the banks of the River Thames in 2013.