The Audi SQ5: a perfect all-rounder
What's new? 
The Audi SQ5 was the German manufacturer's first diesel S-badged car it had ever created. With oil-burners being given something of a bad reputation in recent years, this latest SQ5 comes as a petrol only – though it's likely that a diesel will be quietly introduced later on. Under the bonnet sits a 3.0-litre turbocharged V6 petrol churning out 349bhp and an impressive 500Nm of torque. There's no doubting it has performance on its side, as well good looks and plenty of badge appeal. Where the old SQ5 triumphed was its ability to compromise between performance and everyday usability – and it would appear that this latest car has pulled off the same trick.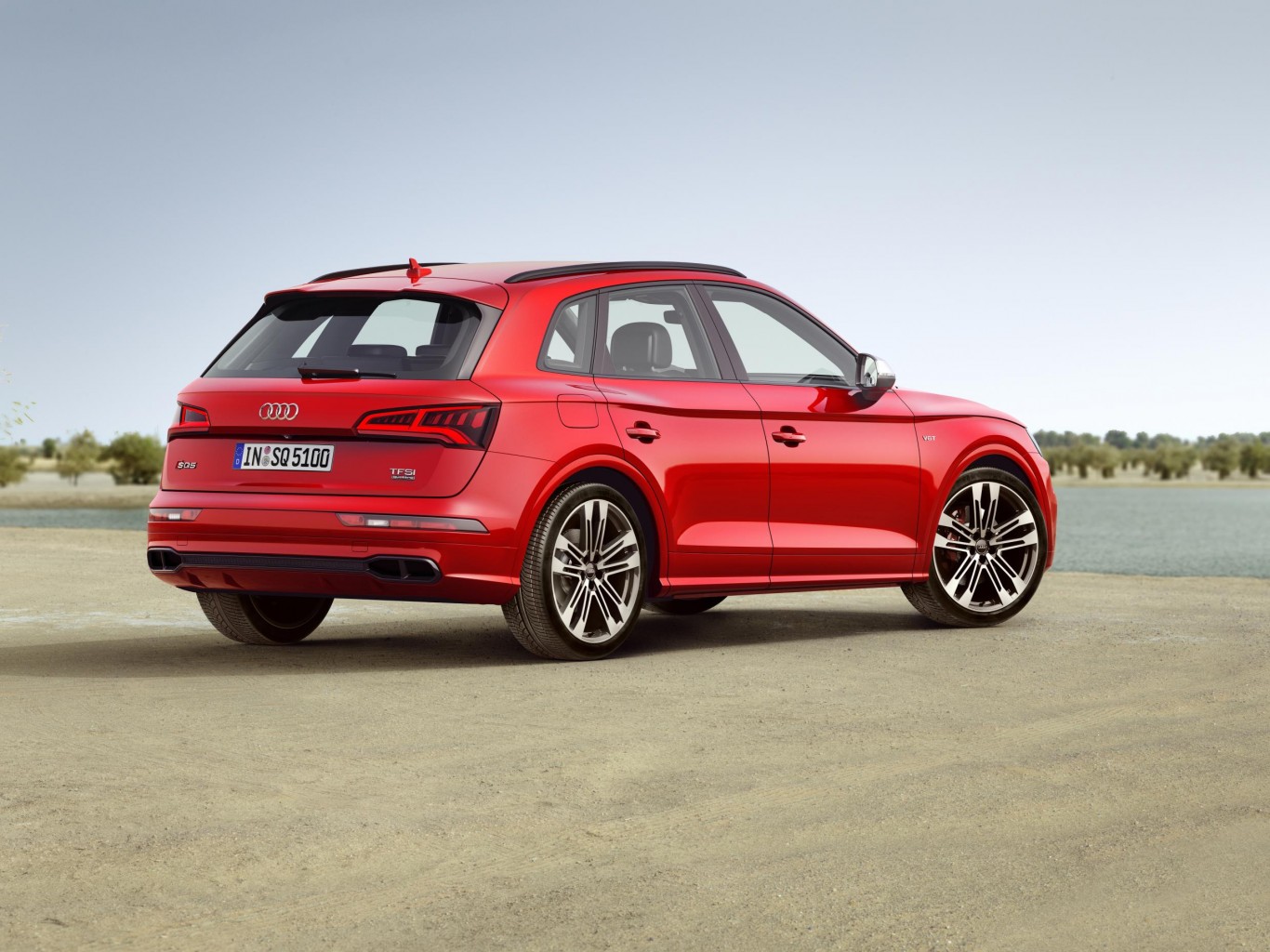 Looks and image
The SQ5 looks neatly refreshed over the car that it replaces. It benefits from LED running lights up front, sat either side of a chrome grille that is more prominent than ever. The satin silver wing mirrors remain as a trademark 'S' car style cue, and the overall effect is one of understated performance. One negative can be found when you move to the back of the car, however. Look closely and, rather than finding four individual exhaust pipes, you'll see four blanked-off plastic panels – hardly the performance touches that you'd expect on a car like this.
Space and practicality
Because the SQ5's performance makes no impact on the standard Q5's size, it still remains an impressively spacious place to be. There's plenty of room for both front passenger and driver, while those in the rear get a good amount of leg and headroom.
Boot space sits at 610 litres, rising to 1,550 litres with the rear seats folded down. This is around the average mark for the segment, with the Mercedes GLC offering 610 litres of seats-up luggage room, rising to 1,600 litres with them set flat. It's a great car if you're looking for plenty of practicality but within a relatively compact-sized car.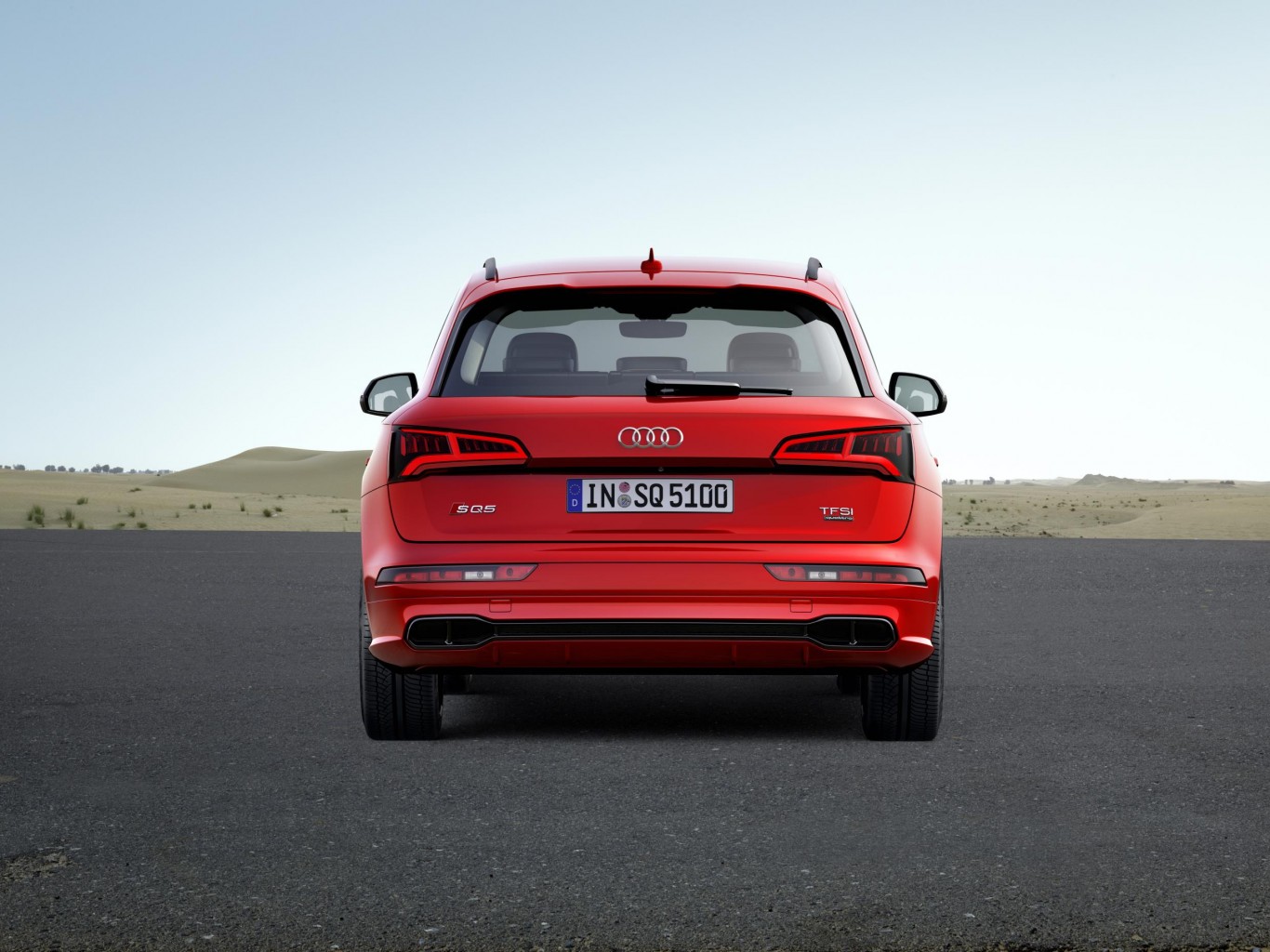 Behind the wheel
From the moment you step into the SQ5, you're aware that it's set up slightly differently to a standard SUV. The flat-bottomed sports steering wheel with paddle shifters feels more purposeful, while the throaty grumble emitted once you press the red starter button ensures that you don't mistake the engine under the bonnet for a standard 2.0-litre diesel.
The car's performance is impressive. Upon heavy acceleration, there's an good amount of shove, with the Quattro all-wheel-drive system ensuring that there's no wheel spin no matter what the conditions. Surprisingly, the ride is also very good despite the 21-inch alloy wheels. Of course, around town it feels rather firm, but the by-product of this setup is very little body roll. It means you can corner flatly and without fuss, even at higher speeds.
Value for money
 Prices for the SQ5 start at £49,715. However, our car, fitted with options such as a sports differential, 21-inch alloy wheels and adaptive cruise control came in at £60,285. There's no mistaking it – the SQ5 is an expensive car. However, its all-round usability and effortless performance does make it a great everyday SUV, and one that would be ideal for those who want plenty of practicality backed up with a sports car drive.
Who would buy one?
The SQ5 would be ideal for the family car owner who doesn't want to forsake an involving drive for practicality. It looks relatively understated, performs well and yet has enough space for four to travel in comfort. It's also quick enough to give an everyday sports car a run for its money, while offering all the build quality you could want from an Audi product.
THE KNOWLEDGE
Model: Audi SQ5
Model as tested: SQ5
Base price: £49,715
 Engine tested: 3.0-litre turbocharged petrol V6
Power: 349bhp
Torque: 369Ib-ft
Max speed: 155mph
0-60mph: 5.2 seconds
MPG: 34mpg
Emissions: 195g/km