The Queen's hat resembled the EU flag, Twitter points out
The Queen has made her speech outlining the Government's policies for the next few years, with a toned-down ceremony at the Houses of Parliament.
Twitter users were on usual glittering form, poking fun at the pomp and ceremony of the day.
The Queen's hat resembled the EU flag.
Twitter users spotted a canny resemblance as the Queen spoke about the Government's plans for exiting the European Union, and were reading all sorts of things into her choice of millinery.
There was a lot of shouting in Parliament and people just weren't ready for it.
As well as being told to take their hats off, a lot of shouting to warn us of approaching speakers, monarchs and MPs really surprised some.
Dennis Skinner added to the shouting with his annual quip. This year, in a reference to Royal Ascot, he said: "Get your skates on, the first race is half past two!"
The dress code was hardly smart casual.
Others really enjoyed the idea that this year the dress code was ever-so-slightly more "casual" than most years.
It seems the trappings of the uniform got too much for one of the Queen's bodyguards, who escorted from his position after being overcome by heat during the ceremony.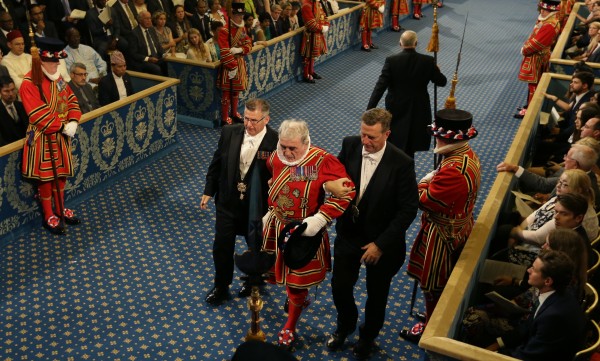 Ascot was on people's minds.
As the day clashed with Royal Ascot, some speculated the Queen was in a rush to get there and watch her horses take part.
Things looked frosty between Theresa May and Jeremy Corbyn.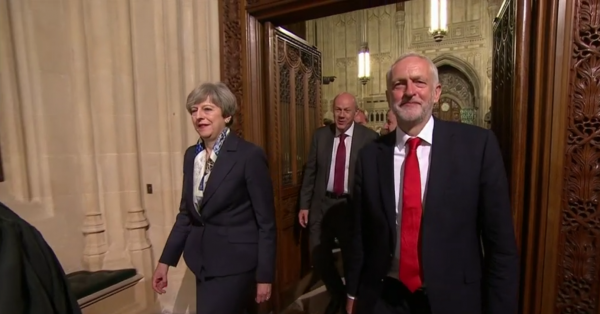 May and Corbyn's awkward silence was juxtaposed by the jolly chatter of the MPs behind them. They barely said a word to each other on the walk from the House of Commons to the Lords.
It was an eventful morning and that's without the speech itself.