#DayOfRage or #DayOfWage? The internet is divided about the march on Parliament
A few hundred protesters took to the streets of London in a march termed a "Day of Rage" after the Queen's Speech at Parliament on Wednesday.
The demonstration, started by Movement For Justice By Any Means Necessary (MFJ), was billed as a day of action for the victims of the Grenfell Tower inferno.
Before the march was due to begin, tensions were running high on Twitter, with many using the hashtag to denounce the protesters.
The wave of criticism even led to the rise of a new hashtag on Twitter – #DayOfWage – which trended simultaneously to the #DayOfRage hashtag.
In a press release, the organisers of the march stated: "We are marching because we are furious, we are raging and we demand change.
"We march because Theresa May and her coalition of millionaires and bigots have lost all authority to govern.
"We march because Justice for Grenfell can't be won while this rotten government clings to power."
The Clement James Centre, which has been helping those displaced by the fire, shunned the movement as opportunistic.
"There has been a 'Day of Rage' announced for Wednesday, trying to bring London to a standstill," a spokesman said.
"We cannot emphasise enough how against this many of the affected residents we've spoken to are and they do not want their grief hijacked for any violent or destructive means."
According to police, 500 people turned up to the march, which started in Shepherd's Bush Green and ended outside Parliament.
Tempers began to boil over outside the gates of Downing Street when protesters and police squared off, the activists yelling angrily.
Dozens of officers flooded in to calm the situation, forming a tight barrier between the activists and Number 10.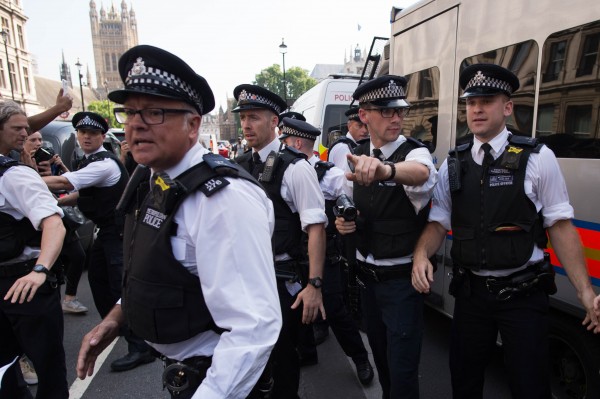 One man was restrained as he screamed in the face of an officer, while colourful flares were let off in the background.
Another skirmish with police resulted in a man being led away in handcuffs. The suspect was seen shouting at the crowd of protesters and was then taken aside by officers.
It was unclear if he had been involved in the day of action.