What we know about the two 'terrorist incidents' at London Bridge and Borough Market
Police have responded to two terrorist incidents in London after reports of a vehicle hitting pedestrians on London Bridge on Saturday night.
Here's what we know so far.
Police were called to London Bridge at 10.08pm.
British Transport Police said there were reports of "multiple" casualties following the major incident on the bridge.
Nick Brandon of the BTP's force control room said he had received reports of an incident possibly involving a knife and a vehicle, however the seriousness of the injuries is not yet known.
Holly Jones, a BBC reporter at the bridge when the incident happened, said a van had swerved off the road into a crowd of pedestrians.
"A white van driver came speeding – probably about 50mph – veered off the road into the crowds of people who were walking along the pavement," she told BBC News.
"He swerved right round me and then hit about five or six people. He hit about two people in front of me and then three behind.
"I'd say there are about four severely injured people. They all have paramedics assisting them at the moment."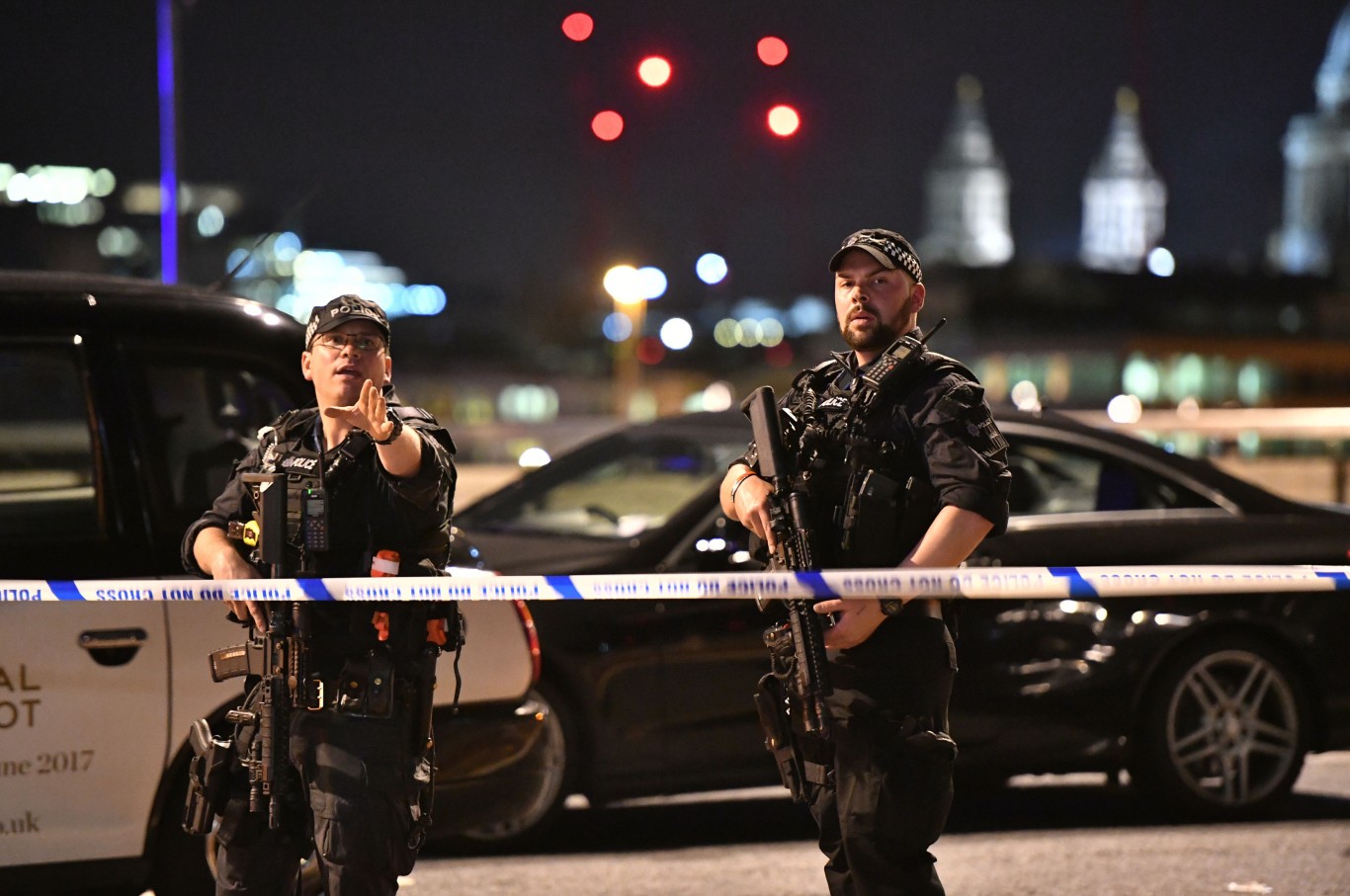 Jamie, a witness who was in a restaurant on Rochester Walk near London Bridge, told the Press Association: "We were in the Black and Blue restaurant, we heard a fight and everyone got up and everyone rushed out of the restaurant and we heard a massive, massive bang.
"Then we hid under the table and people came into the restaurant and knocked a bunch of stuff over, like the till.
"And then we ran into the restaurant into the kitchen, where there was a bunch of other people and a guy had been stabbed and he was cut and he was bleeding quite a lot."
He added that they waited in the kitchen for "quite a while" before they were evacuated.
Shortly after, police also responded to an incident at Borough Market.
After reports of stabbings in nearby Borough Market, armed officers attended the area and shots were fired.
Shortly before 1am on Sunday, police said the two incidents had been declared terrorist incidents.
Husband and wife Ben and Natalie told BBC Radio 5 Live they were outside Borough Market, coming up the entrance of the underground when they saw the incident.
Ben said: "We saw people running away and then I saw a man in red with a large blade, at a guess 10 inches long, stabbing a man, about three times.
"It looked like the man had been trying to intervene, but there wasn't much he could do. He was being stabbed quite coldly and he slumped to the ground."
Ben said the man walked away boldly with another person, and went towards the Southwark Tavern. He said they saw a metal chair being thrown towards the man.
"Then we heard three gunshots, definitely gunshots, and we ran."
Police also responded to reports of a stabbing in the Vauxhall area, but said it was not related to the previous two.
Trains were not stopping at London Bridge Station or Borough.
Tranport for London advised travellers both stations were closed, trains would not be stopping at either and to stay away from the area.
Vauxhall and Bank stations were also temporarily closed but were reopened shortly after.
Theresa May is on her way back to No 10.
The Prime Minister had been out on her General Election campaign and is returning to Downing Street to receive further briefings from security officials.
A Downing Street spokesman said: "The Prime Minister is in contact with officials and is being regularly updated on the incident at London Bridge."
She will chair a meeting of the Government's Cobra emergency committee on Sunday.
Labour leader Jeremy Corbyn called the incidents "brutal and shocking" in a tweet in which he thanked emergency services.
In a tweet, US president Donald Trump said: "We need to be smart, vigilant and tough. We need the courts to give us back our rights. We need the Travel Ban as an extra level of safety!"