What do the polls during an election campaign actually mean?
As polls show the Conservative lead over Labour narrowing, some headlines have suggested Theresa May could be in danger of losing her majority in the House of Commons.
But how much can be read into the polls when it comes to predicting what will happen on June 8?
How have the polls changed during the campaign?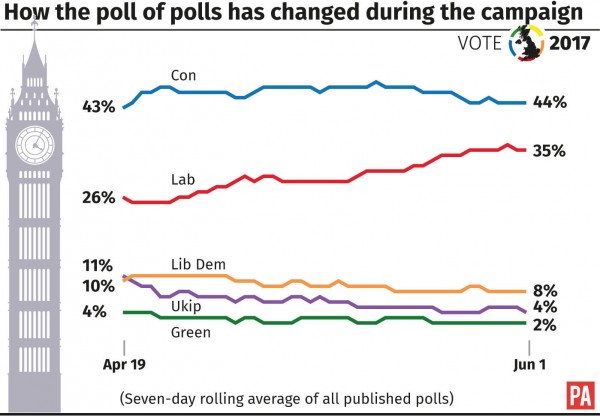 On April 19, the day after Theresa May called the election, the Tories' average poll lead over Labour was 17 points. Today, one week from polling day, the lead is nine points. That's a big drop – bigger than anything seen in any general election campaign since at least 1979. But it's not due to the Tories falling in the polls: their average share of the vote on April 19 was 43%, and today it is 44%. Instead it is Labour that has closed the gap by moving up, from 26% on April 19 to 35% today.
It's not the case that Labour has simply piled on support from other parties, however. There are likely to have been shifts in support between all the parties, with both the Tories and Labour benefiting from a decline in popularity of the smaller parties. Since April 19 Ukip has dropped from 11% to 4%, the Lib Dems from 10% to 8% and the Greens from 4% to 2%.
An average lead of nine points suggests the Tories are still on course for a big win – is that right?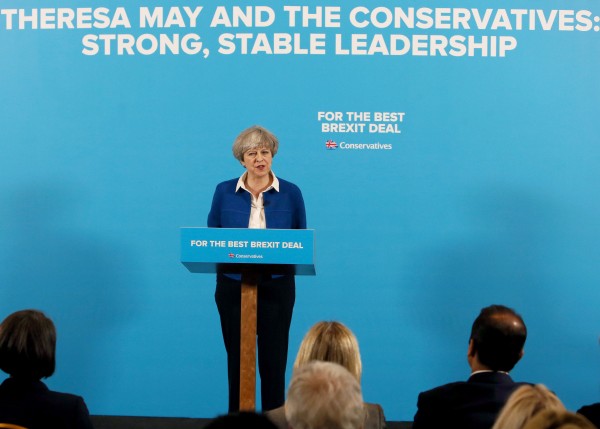 If it was reflected on election day, a nine-point lead for the Tories would not translate into a landslide victory. More likely it would mean a majority of around 40 – a moderate increase on the majority of 12 they won in 2015.
The Tories finished roughly seven points ahead of Labour in 2015, so finishing nine points ahead this year doesn't equate to much of an improvement.
Why are the polls showing such different things at the moment?
We've had Tory leads this week ranging from three points (YouGov) to 12 points (ICM). All polls are consistent in showing the Conservatives ahead of Labour. The difference is due to the way the various polling companies compile their data and produce their numbers.
Some adjust their figures based on past voting preference. Others try to make allowances for turnout. ICM, for example, calculates its figures on an assumption that younger people will be less likely to vote than older, and less affluent people are less likely to vote than the wealthy.
What do the polls tell us about how young people might vote?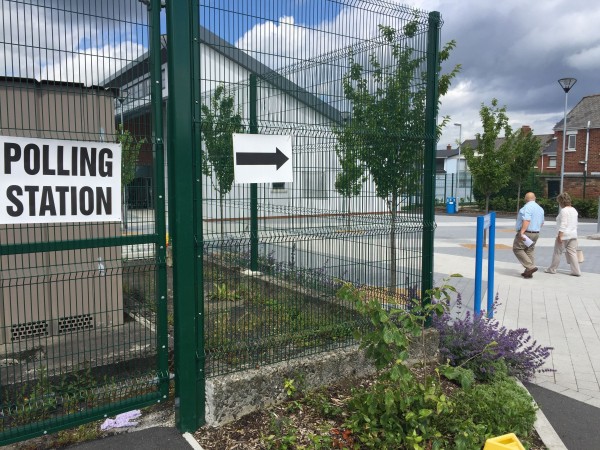 There is a huge difference in voting intention between young and old. The latest YouGov poll suggests 69% of 18-24 year-olds would vote Labour and 19% Conservative. By contrast, 60% of people aged 65 and over would vote Conservative and 23% Labour.
Whether this makes any difference on polling day will depend a lot on turnout. At the 2015 general election just 43% of 18-24 year-olds were estimated to have voted, compared with 78% of people aged 65 and over.
What needs to happen for there to be a hung parliament?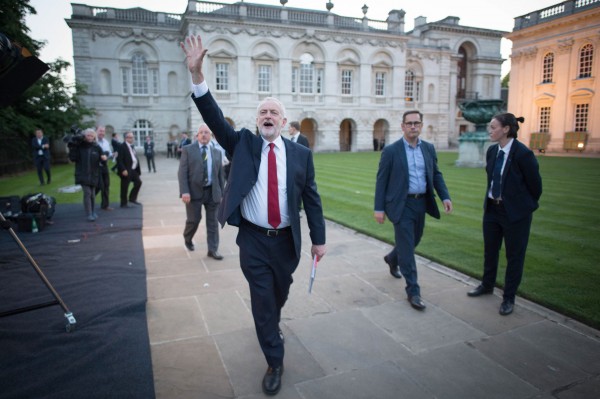 If the Conservatives finish around three points ahead of Labour – say, 40% to Labour's 37% – that could be enough, if reflected across the country on polling day, for the Tories to lose their majority in parliament. They would still be the largest party, however, and therefore in prime position (as in 2010) to try to form a coalition.
The Tories would still be the largest party in a hung parliament even if Labour finished ahead of them in the share of the vote. For example, if Labour finished on 40% and the Tories on 37%, this would translate into a hung parliament with the Tories the largest party but 35 seats short of a majority.
Labour needs to be at least six percentage points ahead of the Conservatives to be sure of being the largest party in a hung parliament.
And what about Labour winning an overall majority?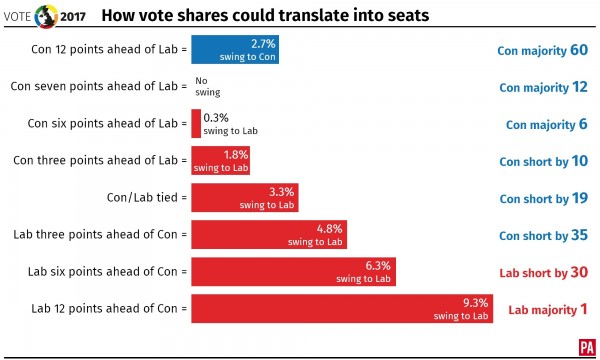 For that to happen, they would need to finish at least 12 points ahead of the Conservatives.
That's because so many of the Tories' seats are relatively safe – Labour would need a big swing in its direction to claim the number of those it would need to win an overall majority.