The Weather Channel's homepage seems entirely appropriate after Donald Trump's climate decision
Donald Trump's decision to pull the US out of the world's first comprehensive deal on climate change has drawn widespread international criticism, but perhaps the best reaction came from the Weather Channel.
The channel provides local and national weather forecasts among other things, and their website appeared entirely appropriate after the US president's announcement.
Trollin' indeed.
Trump said the US would withdraw from the Paris Agreement, secured in the French capital in December 2015, which commits countries to curbing rising global temperatures.
But he also raised the possibility of negotiating to re-enter the Paris Accord or an entirely new deal on terms that were "fair" to the US.
Former US president Barack Obama and former vice president Al Gore were among the decision's critics, as well as tech businessman Elon Musk.
Featured on the Weather Channel's home page were a video on Antarctica turning green, a story on California losing its iconic coastline due to rising sea levels, and a piece about "How sea level rise, salt water and sprawl are dooming a wilderness" among other things.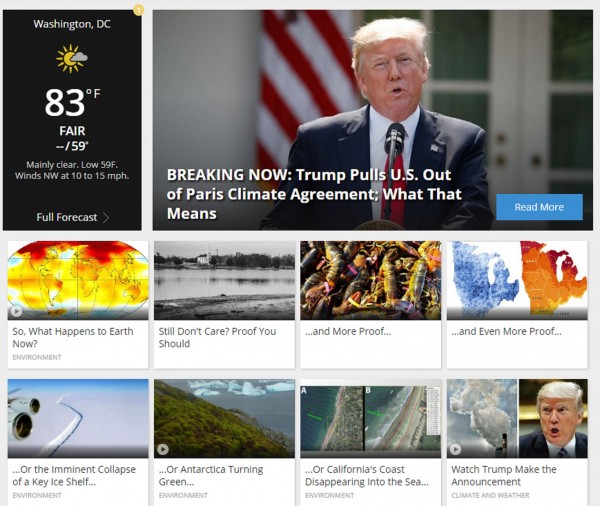 The Weather Channel aren't the only people to make their point online however.
The Merriam-Webster dictionary has a history of checking Trump's tweets, such as the time the president claimed he'd come up with the phrase "prime the pump".
The internet's getting sassy these days, isn't it?